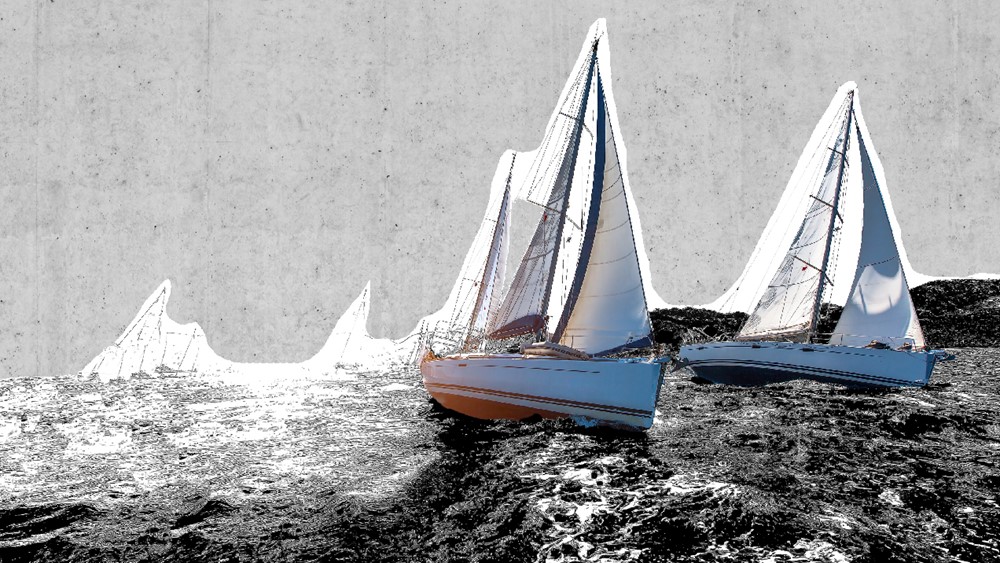 The Wind is Shifting for Insurers in the Caribbean and Bermuda. How Do They Change Course?
The future has crept up on insurers in the Caribbean and Bermuda. How can they catch up? A brief guide to successful core transformation.
---
Digital Transformation is accelerating in the Caribbean and Bermuda
It's no secret that change and digital transformation in the insurance ecosystem of the Caribbean and Bermuda have been much slower than in other major insurance markets such as the US or Europe. For many decades, insurers in the Caribbean and Bermuda have enjoyed relatively stable markets without major developments: Mostly standardized products and the same unchanging customers.

The Caribbean and Bermuda have traditionally been isolated from the digital boom of the last decade, and for the right reasons. Much pre-COVID business in these regions was, and still is, based on in-person interactions with offline payments and services at physical branches. Many customer records were kept offline in actual cabinets, without the need ever arising to capture the data online to allow automation, self-service, and data analytics. A sizeable share of the clientele in these regions don't use online payment methods like credit cards or have email addresses for communication.
Now, however, COVID has given these insurers a painful but real preview of the future that awaits. The lockdown demonstrated what will happen when clients stop coming into the branches and doing business in person. During lockdown, many of these insurers weren't able to write new business or service their clients at all. This first-hand experience is now driving them to finally pull the trigger on their change plans – prompting a once-in-a-decade change at these insurers. Despite the sadness and challenges COVID has brought, it is also serving as an effective agent of transformation in these insurers' long-term horizon. The combination of due changes, a pandemic-driven digital push, and the availability of modern core systems with greater ease of implementation is accelerating digitalization in these regions.
Digital Transformation will be especially challenging for insurers in the Caribbean and Bermuda
The digital transformations confronting these insurers are slightly different from the mainstream digital transformations in developed markets, as they face different problems along the road to change:
Most insurers in these regions are not ready for the generational shift in clients: 

Although it may have not been felt from year to year, the generational shift in the client base is well under way. This is a crucial factor for insurers in the Caribbean and Bermuda, as most of their customers are in the older generation. Insurers should consider, sooner rather than later, taking drastic steps to adapt their business operations and systems to the new decision-makers and their digital preferences. A simple set of online services and functionalities will not suffice for this new generation. A holistic end-to-end digital experience is the norm for them, and it will require coordinated front- and back-office changes to accomplish a successful transition to a truly digital environment. Another important implication of this generational shift is that insurers are now expected to offer new and improved products and services at the same rate technologies are advancing. Instead of changing or upgrading their system once a decade, companies will need a future-proof system, and will have to continuously work on their digital capabilities.

These insurers are most concerned for their long-term employees' job Security: 

Digital transformation often leads to a reshuffle of employees' roles and responsibilities and, at times, to layoffs. A new system substantially eliminates or automates manual processes, meaning fewer people are required to operate it. At the same time, the new system will require new skills and people (e.g. system engineers and architects) that could also be sourced as a service from an outside provider. This is a critical concern for insurers in these regions with their family-like, tight-knit culture, and it's one of the main reasons they're postponing their transformation plans. But with appropriate retraining and upskilling, their employees can become even more valuable – performing more value-adding work – than before. For these insurers to both transform digitally and keep their employees, they're going to need thoughtful change management efforts, all the way from the beginning of their digital transformation to stabilizing people in their new roles.

The bigger the change, the bigger the challenge:

Insurers in these regions have delayed changes for many years, to the point that it's no longer viable to apply and maintain "band-aid" fixes and manual workarounds to their legacy systems and processes. Many are still operating with mainframe systems without centralized data management with capabilities, for example, to meet the personal data privacy legislation and AML/ATF requirements across different business units. Applying any kind of modern technology and IT architecture will mean a huge change for insurers. With such a large gap between legacy and modern technology, the risk of failure is greater. On the bright side, insurers can now draw on a decade of innovation, with a range of options from both established and new technology vendors. Depending on their circumstances, needs, and objectives, these insurers can choose to pursue a complete core system change or a "wrapper" system around their legacy system, while still reaping all the benefits that the new technology offers.

What is Core Transformation?
Core transformation typically consists of meaningful changes in IT architecture, target operating model, data management, and systems/applications along the entire insurance value chain – all based on the business strategy defined by the organization. There are many goals, but the main objective is to achieve the anticipated operational efficiency while best supporting the organization's business strategy.
Globally, core transformation undertakings have proven to be difficult, often failing despite significant investments in terms of capital and time. The results are worse in regional markets where such transformations are infrequent. Insurers in the Caribbean and Bermuda also face these unfavorable odds as they plan and initiate their core transformation with limited resources. Moreover, small- to mid-size insurers, who owing to cost constraints often undertake these transformations with their own internal resources and little to no external support, suffer the most, as they lack the expertise and experience needed to successfully execute core transformations throughout the entire journey (see figure 1, Core Transformation Journey).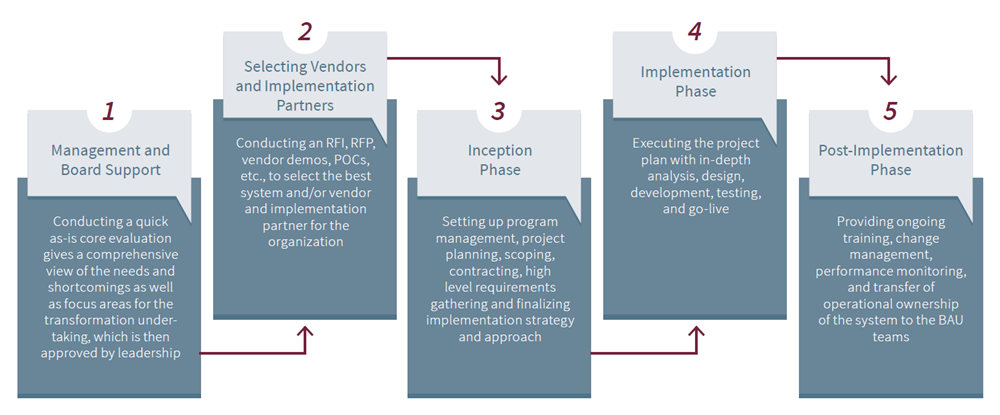 Why Core Transformation?
In addition to business strategy and operational efficiency, other factors such as M&A, competition, and regulatory changes are prompting insurers to pursue core transformation. Core transformation has great benefits for insurers with a longer-term investment horizon (see figure 2, Benefits of Core Transformation).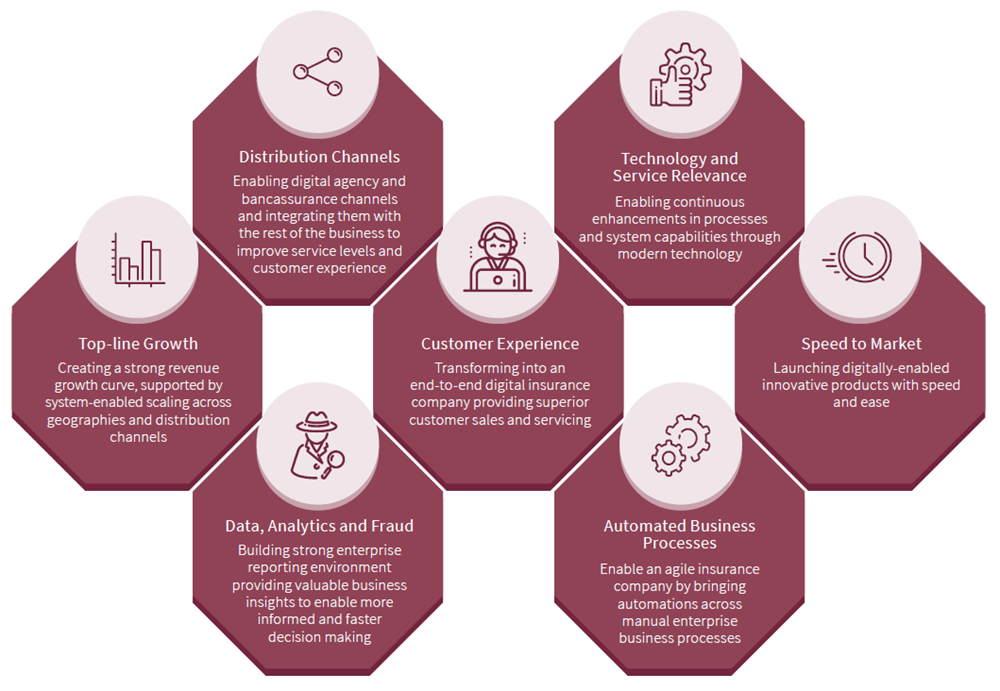 Download our complete guide to successful core transformation for insurers in the Caribbean and Bermuda.
Download for free
Download our complete guide and continue reading
We gathered even more insights for you and put them in our guide to successful core transformation for insurers in the Caribbean and Bermuda. Click to continue reading an download the whole guide for free.
We will cover this and much more:
Setting the right expectations: 

Core transformation initiatives can often be expensive and take a long time to materialize. Many of these efforts run over budget – both in costs and time – and can still fail to implement/adopt the new system or realize the expected benefits after the implementation. This means it's important to have the right expectations before embarking on core transformations.

We show you what to look out for.

Avoiding the common mistakes with a few tips from the experienced:

 Every core transformation faces critical challenges, both foreseen and unexpected. Some challenges are difficult to overcome despite anticipation and careful preparation, while others can be mitigated or even avoided. If not properly managed and addressed, they pose significant risks to the success of the transformation.

We list the most common mistakes that insurers overlook on core transformation journeys and share our tips with you.

Outlook:

 As in many regional insurance markets, insurers in the Caribbean and Bermuda can no longer delay changes or pursue only minimal changes. At the same time core transformations are difficult and challenging. However, when done correctly with the right people, core transformations can secure insurers' future and significantly enhance their business and competitiveness.

We tell you how you can get started and how we can support you along your journey.
Continue reading and get our complete core transformation guide for insurers in the Caribbean and Bermuda.
Keep reading
How Synpulse can support you
Synpulse has an established insurance core transformation practice with significant presence and experience in the Caribbean and Bermuda, as well as a proven track record of core transformation projects in the major insurance markets in the US, Europe, and APAC. Synpulse has supported numerous insurers of various sizes through their core transformation journeys with personalized solutions around strategy, as-is core system evaluation, business case development, vendor selection, project inception, project planning, implementation, and change management. For more information about how Synpulse can help, please reach out to us.