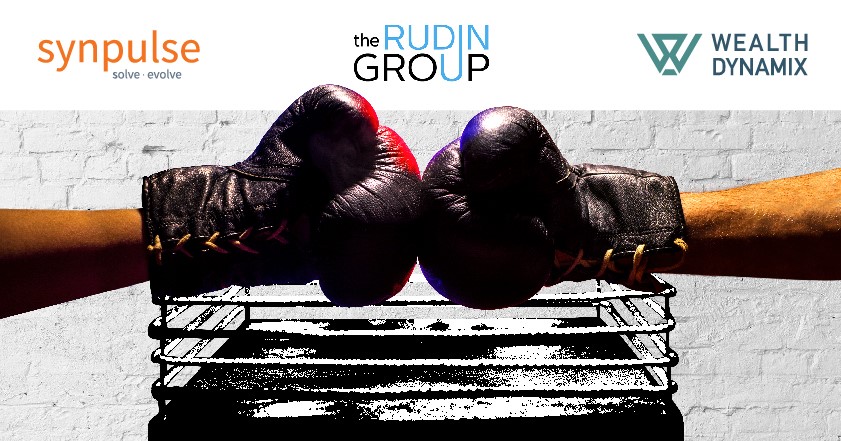 So Two Boxers Step into the Ring for Wealth Management Dominance…
Corporate decisionmakers have to make sure there's progress toward certain goals. But what happens when they reach a crossroads and have to make a tough choice between the client and the business? In wealth management, there seem to be two competing options: client experience and operational efficiency. The experience of clients is at the forefront of innovation, with practice management habits changing frequently to meet their demands. On the other hand, operational efficiency helps when it comes to delivering services and capabilities to these clients – but it's expensive and can run up against fee pressures and competing business agendas. So where do you place your bets?
---
Fight Night…
In a recent virtual bout on LinkedIn Live, I found myself in the orange corner fighting for the client experience camp. I got to square off in the ring against the arch-rival school of thought − operational efficiency − to see who should get the pennies. In the green corner, my worthy opponent, Antony Bream, Managing Director, EMEA and Americas at Wealth Dynamix, fought for the interests of operational efficiency.
Our goal was to duke it out to get to the bottom of what should influence corporate strategy the most in the next decade. The big prize was an answer to the fundamental question dominating debates in the wealth management industry today: Where does your strapped corporate budget make the most impact in terms of helping to advance your business goals?
Under the eagle eye of our referee, wealth management marketer and social media influencer April Rudin of the Rudin Group, we spent four rounds exchanging viewpoints and blows on trends in growing AUM, reducing costs, ensuring compliance, and being more competitive.
Antony came armed with some heavyweight arguments, pointing out the critical role relationship managers play in engaging and retaining clients, and reminding us that it's crucial to not overlook them in the drive to achieve digital transformation. Given that on average more than 20% of a relationship manager's time is spent on repetitive, manual administration tasks, there are plenty of opportunities to invest in automation technology, achieve operational efficiency, and redirect their time towards revenue-creating, value-added tasks. My counter right-cross addressed the main challenge which is to fortify the position of the client to get better services and platforms once reserved for the upper echelon of society, but not demanded by consumers with healthy investment appetites. At the same time, it's important to recognize that 85% of HNWI's want more digital interaction from their wealth manager.
So now that the background is set, let's take a blow-by-blow look at how the contest unfolded.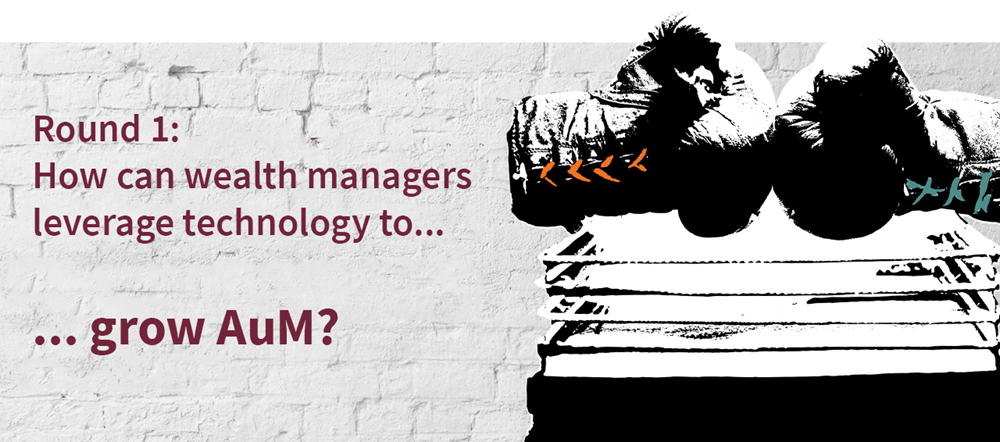 Fighting for the Client Experience, I weighed in with a killer punch: You never get a second chance to make a first impression. The "prospect pathway" is the process that every prospect goes through right from the moment you meet them in a social setting to when they sign up as a client. What processes do they experience? How does your firm reach out to them, and what work is carried out? Customer-centric wealth managers have enjoyed the fact that happier clients will invest more (55% of customers would pay extra to guarantee better service).
Watch the Highlights of Round 1 – Client Experience
Representing Operational Efficiency, Antony parried and responded with a heavy blow of his own: There is a nervousness in the market that forces wealth managers to focus on the emotional side of the business. How do you communicate with the client? How do you gut check their reactions to your level of response to their simplese requests? Emotionally happy clients lead to three-times lower churn to competitors, a six-fold increase in AUM, and double the likelihood of earning a recommendation to a qualified investor association. Leveraging technology to automate time-consuming administrative tasks frees up more time to allow you to better connect with the client.
Watch the Highlights of Round 1 – Operational Efficiency
And the winner of round 1 is: Good client experience can drive operational efficiency.
---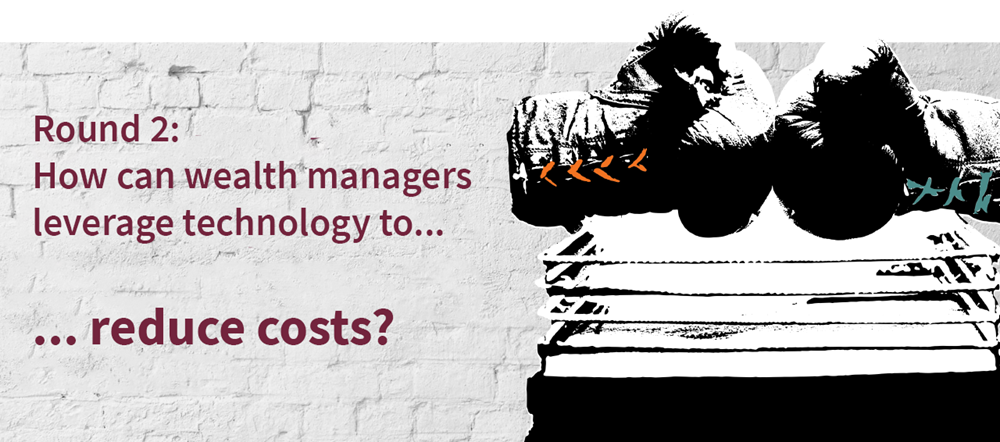 Client Experience: Firms must begin to view the world directly through their clients' eyes to get them through the door. Certain offerings, such as tax and estate planning, are paramount to cutting the costs to the client and eventually their tax debts. You don't have to only lower fees or offer cheap products to make the client happy. Addressing technologies long-standing "pain points" (e.g. new account opening, portfolio construction, rebalancing, and reporting) throughout the value chain are helpful to create client centricity and loyalty. Having full-service capabilities that can reduce tax exposure is a great sales tactic that brings a firm into favor with varying client types.
Watch the Highlights of Round 2 – Client Experience
Operational Efficiency: Time and money spent deploying back office systems that are costly to maintain, enhance, and even operate seems to be wasted. There's a disconnect between IT and business, with the new systems being implemented driving how the system is used – rather than the people in the business who are the actual users. Many wealth managers are missing out on a 360o view of the client. What you need is an orchestration layer that can service both the back and front-end needs and allow the advisor to be more pro-active with the client. This way, relationship managers can quickly see the information they need to see, as client data is presented to them in context. Thanks to the opera-tional efficiencies you gain when it comes to handling activities like KYC processes for onboarding and replying to clients more quickly, every operation will lead to a reduction in costs and more output.
Watch the Highlights of Round 2 – Operational Efficiency
And the winner of round 2 is: Operational efficiencies can be achieved through an orches-tration layer that brings systems and processes together and presents data in context.
---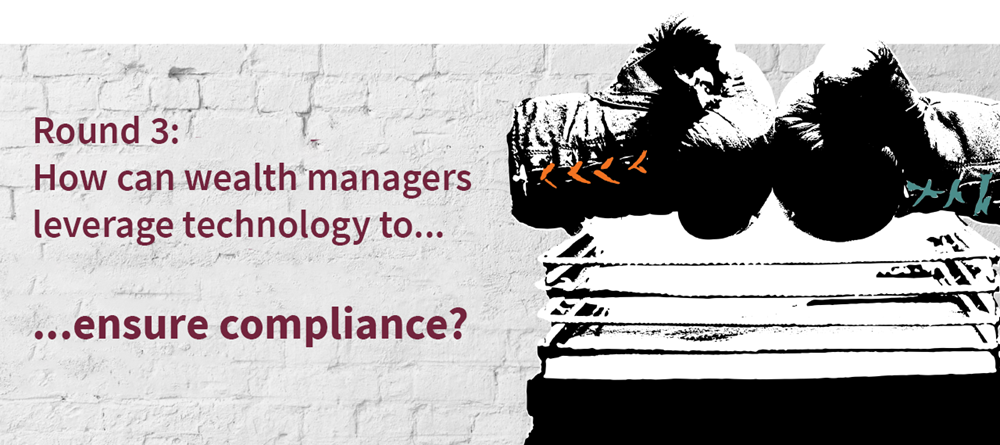 Client Experience: Bad actors are on the rampage, and wealth managers should make sure they have hard disk encryption, operating systems with the latest patches, and updated antivirus and malware software when communicating with clients to avoid breaches of data privacy. Clients will want to know how well you hold up and fully understand your security protocols. The new way of working could expose advisory firms to regulatory infractions they have not even considered. Because of Reg BI, advisors need to invest in "product menus" organized by the level of risk that a particular product or service would conflict with a client's best interest. This process needs to start at discovery and run through onboarding leveraging technology to make it efficient. Any email sent to more than one client could be considered advertising, and should be reviewed as such. Even client conversations can be archived and seen as discoverable or taken out of context, so it's crucial to remain compliant to ensure that client advisor communication is properly monitored and the client's interests are protected.
Operational Efficiency: Wealth managers already spend a lot on compliance and systems. If done right, these things should be a source of competitive advantage, leading to less intrusion on clients' time and enabling you to take greater care of client information. Learning how to provide a seamless, accelerated experience should be the goal. Wealth Dynamix has achieved reductions in onboarding from 25+ days down to 1-2 days. By designing the forms and screens integral to the process, the solution helps companies achieve great competitive advantage. We are seeing it happen right now. Automating processes with built-in compliance checks reduces the risk of non-compliance.
Watch the Highlights of Round 3 – Operational Efficiency
And the winner of round 3 is: Connecting to people and ensuring that compliance is enhanced by technology.
---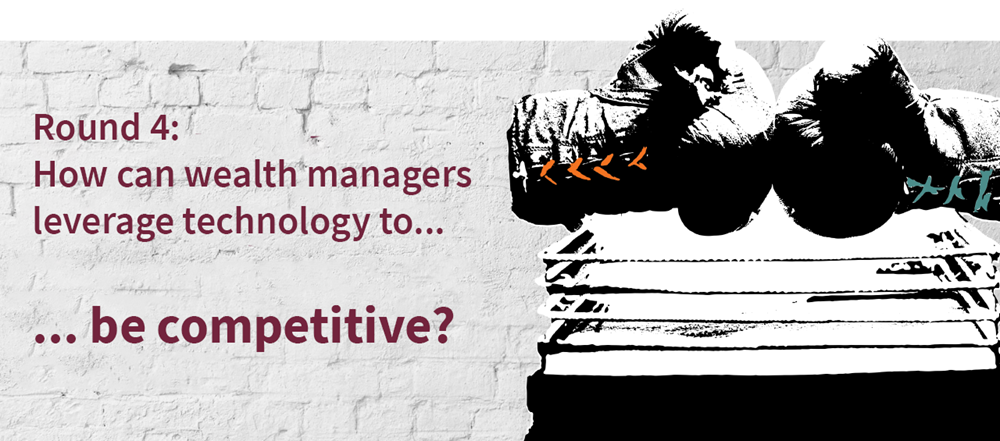 Client Experience: Advisors should strive to increase their offerings, paying close attention to what their clients are looking for or are already seeking elsewhere. Firms should start by designing the client experience for targeted client types and needs at specific price points. Similar to the price discussion, if clients see slick user interfaces, fractional shares, tax-loss harvesting, and compelling reporting from lower-cost models, they're likely to look to their current providers and demand something similar. This means that the technology to support these capabilities is table stakes for all advisory models. But unless implemented in conjunction with other actions to reduce business complexity, this technology increases costs. It's key to clearly define which products fit with a given business model based on client needs, and product economics. Fundamental to this approach is an understanding of the total cost to deliver – from the role and compensation structure of financial advisors, through the time and complexity involved in selling specific products, to the technology and operations infrastructure, and other necessary support functions.
Watch the Highlights of Round 4 – Client Experience
Operational Efficiency: There are many key factors in play that are forcing wealth managers to change fundamentally, but it boils down to getting the customer service engagement right. It must start from the very beginning to make sure the client has a seamless experience of speaking to the right person at the right time and never feeling intruded upon. Many companies need to differentiate themselves by giving clients access to advisors based on next best action (NBA) supported by client relationship management (CRM). Data can drive the decisionmaking process, but it has to be there and be clean first.
Watch the Highlights of Round 4 – Operational Efficiency
And the winner of round 4 is: Looking at a third-party vendor to enhance the client experience strategy and getting it right the first time will give you the best competitive boost.
And the Judges' Decision…
As you will have guessed, it ended up as a split decision, with the two contestants – Client Experience and Operation Efficiency – ending the bout equal on points. The judges ruled that it's best to prioritize key decisions in consideration of a holistic cost benefit analysis that includes an understanding of the needs and desired experience of clients as well as the total cost of ownership. Many different systems that are in isolation need to be joined together to alleviate process disfunctions. Having a 360 degree view of the client is key. You get it by taking what you have and making it more efficient to achieve a better emotional connection with the client.
In the end, the client always wins when there are efficient processes and operational efficiencies on both sides of the relationship.
To learn more about how to decide this contest for yourself, check out the recording of the entire operational efficiencies versus client experience Battle for Budget.
If you really want to be a winner, please contact damon.gatison@synpulse.com and check out the Synpulse eMagazine, or email connect@wealth-dynamix.com and refer to «Insights» at wealth-dynamix.com.