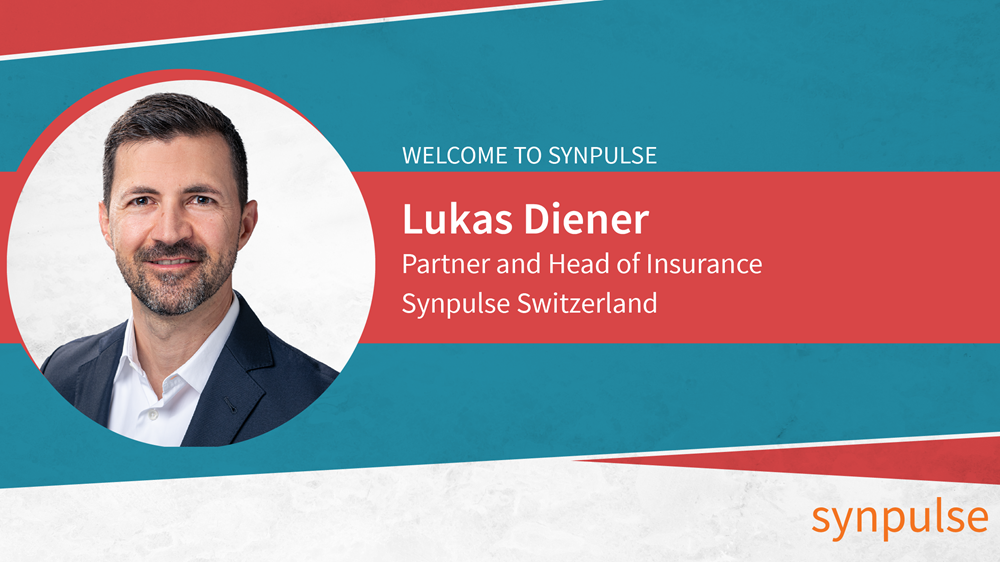 Synpulse Welcomes Back Lukas Diener as a Partner
Lukas Diener, a financial services professional with over 15 years of consulting and technology experience, will lead Synpulse's Swiss insurance practice further reinforcing the firm's growth momentum and commitment to providing insurance clients with industry-specific, end-to-end advice and digital solutions.
Synpulse, the global professional services provider to major banking and insurance institutions, announces the expansion of its leadership team with the appointment of Lukas Diener to its partnership. Lukas re-joins Synpulse from Deloitte and brings extensive transformation and technology knowledge and experience, particularly in the insurance industry.
Lukas will assume the role of Head of Insurance, Switzerland. This will allow Silvan Stüssi, Managing Partner since January 2022, to dedicate more time to leading the global insurance practice.
After completing his studies at the University of St. Gallen in 2005, Lukas started his career as a consultant at Synpulse Switzerland, specializing in insurance operating model transformations and core insurance platforms. In 2012 and 2013 Lukas also spent a year in Singapore, where he led Synpulse's first large insurance project in Asia.
In 2013, Lukas joined Deloitte's Technology Advisory practice. He focused primarily on the insurance industry and led countless engagements in Switzerland, Denmark, Belgium, UK and Germany. In his last role at Deloitte Switzerland, Lukas was the head of the Technology Strategy and Architecture team.
Konrad Niggli, Managing Partner and CEO of Synpulse, said: "It is an exciting moment, and I am proud to welcome Lukas back as part of the Synpulse partnership. His great expertise in insurance and technology, coupled with his familiarity with Synpulse culture and values, allows us to advance the implementation of our strategic initiatives."  
Commenting on his appointment, Lukas said: "Re-joining Synpulse is a highlight of my career. I am excited to become part of a team with such a unique company culture and passion for building and delivering innovative solutions that are tailor-made for our clients in the financial services industry. The firm's recent growth has been impressive, and I am looking forward to contributing to the next chapter."
About Synpulse
Synpulse is a global professional services company and a valued partner of leading players in the financial services and related industries. We optimise the proximity to our clients and deep domain expertise to create sustainable value using technology as a business driver. Leveraging our strong network of over 100 ecosystem partners, we accompany our clients throughout their transformation journey – from strategy and development to implementation and management. With our tech powerhouse, Synpulse8, we collaborate with our clients to co-create digital experiences with innovative technologies and proprietary methods. Synpulse is powered by the passion and commitment of its more than 1000 employees, who come from over 30 countries.
For more information, visit www.synpulse.com
Media Contacts
Lisa Benjamin Mueller, Lisa.Benjamin@synpulse.com