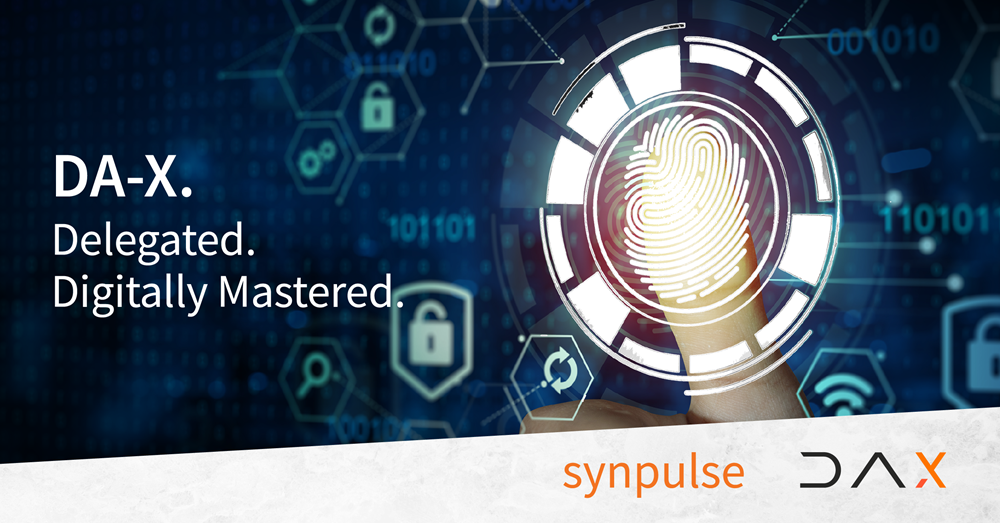 Synpulse supports launch of first-of-its-kind digital Delegated Authority Exchange (DA-X)
Synpulse has invested in and helped build the web-based platform, which will be a gamechanger for insurers facing a hardening delegated market
DA-X, a first-of-its-kind global end-to-end digital solution for delegated authority, has been launched in the UK with plans to grow rapidly into other geographies across US, Europe and globally. It successfully brings the entire delegated authority (DA) value chain under one roof – from pre-binder collaboration on new propositions to ongoing oversight and control with real-time portfolio insight.
The new DA-X platform is jointly founded by two insurance innovators – Synpulse, the global professional services consulting and tech company, and Clare Knight, a former lawyer with a diverse career cutting across the entire delegated value chain and tech development. Synpulse is a shareholder, consulting partner, and technology provider for the solution.
The hardening insurance market requires insurers to rethink their underwriting strategies and focus on profitable product lines. The traditional model for delegated authority is both expensive and disjointed, resulting in only marginal profitability for insurers. The DA-X solution, built on a hub and spoke model, integrates seamlessly with market tools, while also providing robust workflow and advanced analytics capabilities to help insurance companies maximise their profitability across lines. This will further enable them to form a solid foundation for scalable and sustainable growth in their delegated authority business.
Clare Knight, CEO & Co-founder, DA-X, said: "Delegated Authority is a $4 trillion global economy that is currently crippled by its expense ratio. At DA-X we have taken today's broken and archaic processes and re-shaped them into a purely digital world that focuses on the stakeholders (Carriers, MGAs, TPAs & Brokers), the partnerships they want to build, and, crucially, the benefit to the customer."
Konrad Niggli, Managing Partner & CEO, Synpulse and Co-Founder, DA-X, added: "The insurance industry is undergoing a paradigm shift, which requires it to become fully integrated into other digital ecosystems. DA-X will be a gamechanger for our customers who want to get ahead of the curve and make sure they remain competitive."
DA-X massively reduces the burden of binders, endorsements, reports, and barriers to doing business. It enables insurers to create better products together, faster, with full oversight and control over their relationships.
Synpulse's support in launching DA-X represents the latest step in its strategy to empower high-potential technologies and entrepreneurs; DA-X was named UK country finalist of Zurich's Innovation Championship in January 2022. Collaborating with start-ups like DA-X enables Synpulse to offer the best partnership opportunities to its client portfolio. In May 2022, Synpulse invested the equivalent of 1% of its revenue in fintech incubator F10, to drive the development of new fintech and insurtech solutions.
Following the launch of the solution, over the next 6-12 months Synpulse's technology and consulting teams will continue to support the building of additional features to enhance the product and ensure that the platform is driving the best possible value for its customers.
About DA-X – Delegated Authority Exchange
From pre-bind product design all the way through to run-off, DA-X is the first end-to-end digital solution designed specifically for delegated authorities.
By dismantling today's world and rebuilding it in the digital world, we have removed the archaic, broken processes, transforming the delegated business model into the ultimate digital journey.
By seamlessly integrating the entire delegated value chain and super-charging it through advanced data analytics and machine learning, DA-X will lead the delegated industry into a new digital era and unlock its limitless potential.
DA-X is delegated, digitally mastered.
For more information, visit https://da-x.io/.
About Synpulse
Synpulse is a global professional services company and a valued partner of leading players in the financial services and related industries. We optimise the proximity to our clients and deep domain expertise to create sustainable value using technology as a business driver. Leveraging our strong network of over 100 ecosystem partners, we accompany our clients throughout their transformation journey – from strategy and development to implementation and management. With our tech powerhouse, Synpulse8, we collaborate with our clients to co-create digital experiences with innovative technologies and proprietary methods. Synpulse is powered by the passion and commitment of its more than 900 employees from 17 offices who come from over 30 countries.
For more information, visit www.synpulse.com
Media Contacts
APAC: Rhea Concepcion, Rhea.Concepcion@synpulse.com
EUUS: Lisa Benjamin, Lisa.Benjamin@synpulse.com