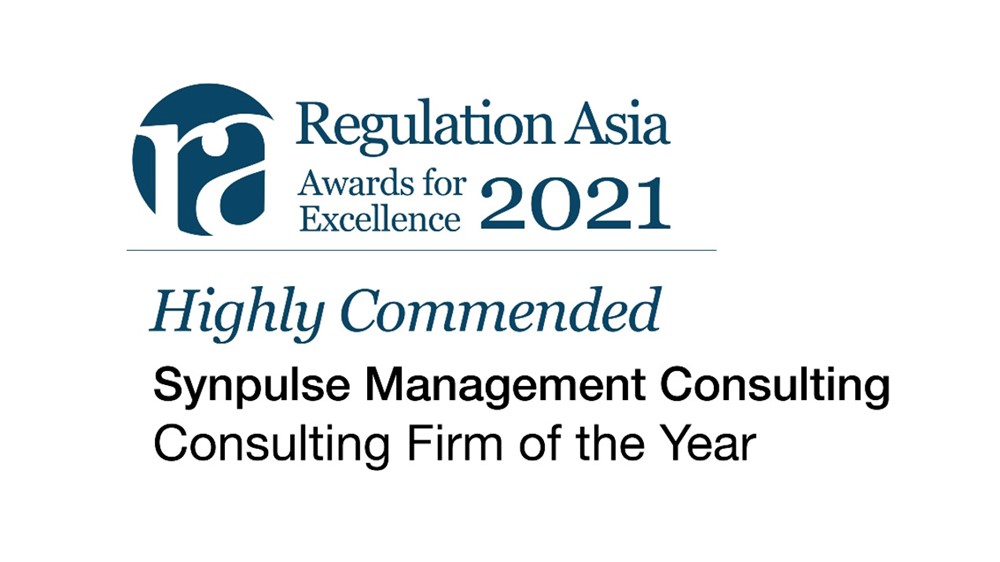 Synpulse Recognised for Work to Address Regulatory Challenges
Singapore/Hong Kong, 9 December 2021 – Synpulse Management Consulting was Highly Commended in the Consulting Firm of the Year category in the 4th Regulation Asia Awards for Excellence 2021 at an online ceremony on 9 December 2021.
Synpulse was recognised for its work to help financial services clients address regulatory compliance and risk management challenges, including those brought on by the pandemic. Besides being a focused management consulting company in financial services, Synpulse has a global partnership ecosystem of more than 100 established technology firms, which it leverages to tailor targeted solutions for its clients.
"It's a great honour to have been recognised yet again by the regulatory community for our work and contributions to the financial services industry. In the past year, we have worked closely with our clients as partners on many fronts to digitise and innovate their regulatory frameworks and compliance processes. Receiving this commendation renews our commitment to continue collaborating with our clients, and contribute to the transformation of the financial services' regulatory sector in Asia," said Prasanna Venkatesan, Partner and Global Head of Synpulse's Regulatory Compliance & Risk practice.
Synpulse has been with their clients every step of the way, helping them solve their regulatory challenges. In 2021, the consultancy delivered multiple projects at leading financial institutions in the region, supporting their clients and helping them solve the challenges brought on by the pandemic and evolve their business to thrive in the new normal and beyond.
Synpulse continues to differentiate themselves with their deep expertise developed in areas not limiting to investment suitability framework, financial crime, environmental, social and governance, risk analytics and insights, and trade and communication surveillance covering all major risks of the financial services industry from a first and second line of defence perspective.
The firm continuously innovates within the regulatory space through the solutions they develop with their clients, showcasing their capabilities to cover business to technology, hand-in-hand.
"Synpulse has had a very impressive programme of work for the year. The result has been dozens of completed projects and major uplifts at financial institutions," said one judge on the awards panel. "Over the last three years, Synpulse has seen impressive growth in APAC, a testament to its expertise in regulatory compliance, problem-solving capabilities, and client-centric approach."
Synpulse also worked on client projects involving reviewing and enhancing an Asian retail banking client's fraud and financial crime framework and solution, private bank's open banking strategy, a global bank's investment suitability framework, and a wealth manager's culture and conduct framework, among several others.
About the Regulation Asia Awards for Excellence 2021
The Regulation Asia Awards for Excellence recognises financial institutions, technology companies, legal and consulting firms, exchanges and other players that help to ensure the highest standards for regulatory compliance are upheld in the financial industry. Each year, senior industry practitioners serve on a judging panel to help assess and score each submission to determine the winning entrants.
For a full list of the award 2021 winners, visit www.regulationasia.com/awards.


About Regulation Asia
Regulation Asia is the leading source for actionable regulatory intelligence for Asia Pacific markets. With over 12,000 subscribers, including regulatory bodies, exchanges, banks, asset managers and service providers, Regulation Asia plays a key role in shaping the regulatory agenda.
Visit www.regulationasia.com or connect via LinkedIn or Twitter.


About Synpulse
Synpulse is an internationally established management consulting company and valued partner of many of the world's largest financial services providers. Since its founding in 1996, Synpulse has been supporting banks and insurers along the entire value chain; from the development of strategies and their operative realisation, to technical implementation and hand-over. Synpulse is characterised by in-depth industry knowledge and the passion and commitment of its more than 500 employees, who come from more than 20 countries. Synpulse is represented with locations in Zurich, Geneva, Dusseldorf, Singapore, New York, Hong Kong, London, Sydney, Bratislava, Manila, Jakarta, Hyderabad and Bangkok.
For more information, visit synpulse.com