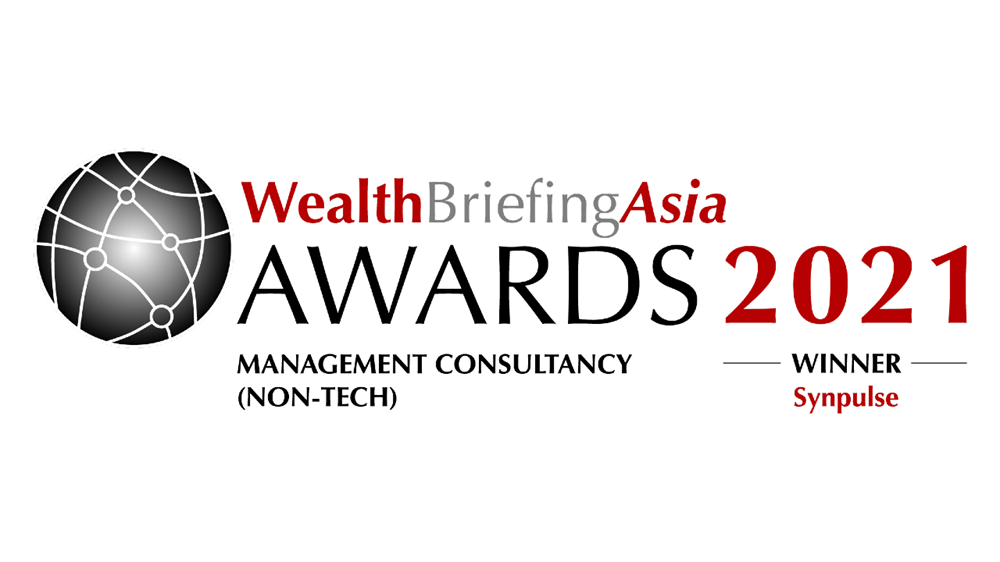 Synpulse Crowned Winner in "Management Consultancy (Non-Tech)" at The Ninth Annual WealthBriefingAsia Awards 2021
Synpulse, as one of the industry leaders, has been handed the honour of winning in "Management Consultancy (Non-Tech)" at The Ninth Annual WealthBriefingAsia Awards 2021.
Showcasing 'best of breed' in Asia, the awards have been designed to recognise outstanding organisations grouped by specialism and geography which the prestigious panel of independent judges deemed to have 'demonstrated innovation and excellence during the last year'.
Each of these categories is highly contested with a small group of finalists and commended submissions chosen from a large pool of entrants before an ultimate winner is selected by the judges. IT is this process that makes the WealthBriefing awards so prized amongst winners, finalists and commended alike.
Winning awards is particularly important in challenging times as it gives clients reassurance in the solidarity and sustainability of the winner's business and operating model.
Commenting on Synpulse's triumph, Prasanna Venkatesan, Partner, Synpulse said: "Last year has been pivotal for the entire financial services industry, with technology taking centre stage in re-shaping value propositions. Synpulse has moved from strength to strength in driving several of these transformations. We also aggressively diversified our offerings, developed our expertise to become thought leaders in innovative topics such as Open Wealth, neo banking, hyper-personalisation, and digital advisory to better serve our clients – all while strengthening our existing end-to-end offerings and our value proposition as a trusted partner of financial services providers – from strategy to implementation.
"We are incredibly honoured to have been recognised as the best management consultancy by WealthBriefing Asia for the second year running for our work in the private banking and wealth management space. We remain dedicated in supporting and innovating the industry with our expertise and insights. As Synpulse grows, we retain our strong focus on our Asian markets and remain committed to growing beyond a 500-headcount strong business in Asia-Pacific by 2025."
ClearView Financial Media's CEO, and Publisher of WealthBriefing, Stephen Harris, was first to extend his congratulations to all the winners. He said: "The organisations and individuals who triumphed in these awards are all worthy winners, and I would like to extend my heartiest congratulations to the winners and to those who have put so much work into each winning submission.
"These awards were independently and expertly judged solely on the basis of entrants' submissions and their response to a number of specific questions, which were answered by focusing on the client experience rather than purely quantitative performance metrics. That is a unique, and I believe, compelling feature. These awards recognise the very best operators in Asia wealth management, with 'independence', 'integrity' and 'genuine insight' the watchwords of the judging process – such that the awards truly reflect excellence in Asia wealth management."
About Synpulse
Synpulse is an internationally established management consulting company and valued partner of many of the world's largest financial services providers. Since its founding in 1996, Synpulse has been supporting banks and insurers along the entire value chain; from the development of strategies and their operative realisation, to technical implementation and hand-over. Synpulse is characterised by in-depth industry knowledge and the passion and commitment of its more than 500 employees, who come from more than 20 countries. Synpulse is represented with locations in Zurich, Geneva, Frankfurt, Dusseldorf, Singapore, New York, Hong Kong, London, Sydney, Bratislava, Manila and Jakarta.
Most recently, Synpulse received the titles of "Best Integration Advisor" and "Tech Consultant of the Year" at Asian Private Banker's 6th Annual Technology Awards in 2021 for the sixth year running.
For more information, visit www.synpulse.com
info@synpulse.com, themagazine.synpulse.com
About ClearView Financial Media Ltd ("ClearView")
ClearView Financial Media was founded by Chief Executive, Stephen Harris in 2004, to provide high quality 'need to know' information for the discerning private client community. London-based, but with a truly global focus, ClearView publishes the WealthBriefing group of newswires, along with research reports and newsletters, while also running a pan-global thought-leadership events and awards programme.