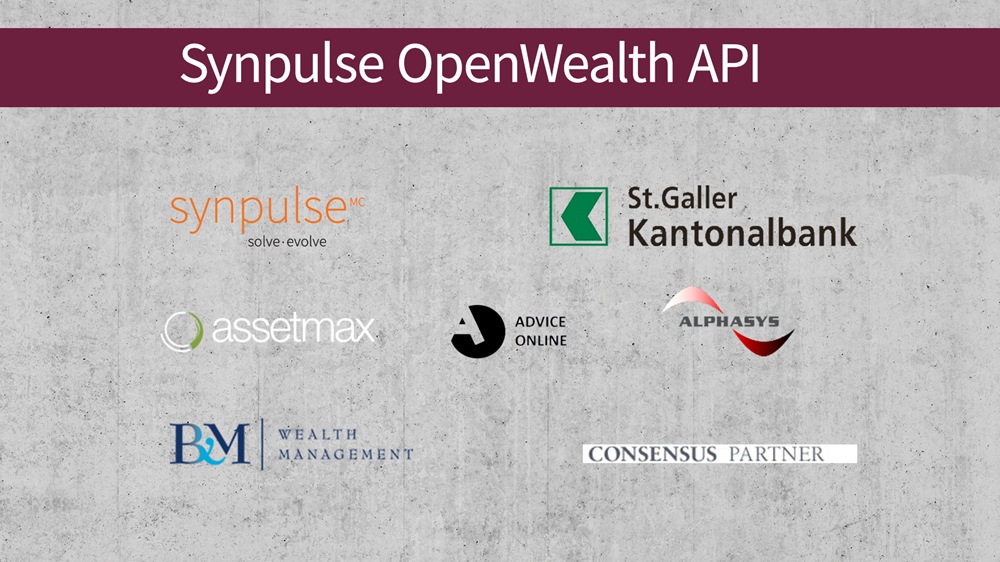 Synpulse and St.Galler Kantonalbank join forces with a community of WealthTech companies and wealth managers to define APIs for wealth management (OpenWealth APIs)
Global management consultant Synpulse is helping St.Galler Kantonalbank (SGKB) to design standardized application programming interfaces (APIs) connecting its custodian bank services with external asset managers (EAM). The new OpenWealth APIs are being specified and defined in collaboration with the Swiss WealthTech companies assetmax, Advice Online, and Alphasys AG, along with wealth managers Consensus Partner and B&M Wealth Management.
According to a survey of different WealthTechs, EAM, and custodian banks conducted by Synpulse and SGKB, a standardized connection between EAM and their custodian banks via REST APIs gives managers a better user experience and boosts efficiency for all the parties involved. All the WealthTech providers polled also believe that standardized APIs are the next step in the evolution of multi-custody set-ups, and advocate the initiative accordingly. Synpulse and SGKB are therefore happy to announce that three reputable Swiss providers of portfolio management systems – assetmax, Advice Online, and Alphasys AG – will be fully supporting the project within a pilot community, and intend to integrate the planned APIs in their systems going forward.
OpenWealth APIs can only become established as a standard if they're accepted and implemented by a large community of custodian banks and wealthtechs. Drawing on many years of experience and its wealth management network, Synpulse is endeavoring to build the OpenWealth API Community and coordinate it with other API standardization initiatives and service providers. Raphael Bianchi, Synpulse Head of Switzerland and Partner: «We're investing in building the OpenWealth Community because we're convinced that banks will make Open Banking in a broader sense a crucial component of their strategies. In this environment we can draw on our strengths to provide banks with support all the way from defining strategy to evaluating and ultimately implementing the appropriate API platform.»
In digitalizing its client interface, in addition to its own first-class applications and attractive user interfaces, SGKB's strategy is to also make APIs available for connecting third parties wherever it makes sense to do so. Falk Kohlmann, Head of Digital Banking at SGKB: «The prospect of being able to provide our custodian bank services as an API would enable us to integrate better with different portfolio management systems, enhancing the experience for our intermediary clients, and generating efficiency gains. We're convinced that broad acceptance of APIs will result in even greater benefits for all concerned. That's why we're relying on Synpulse to develop the planned OpenWealth APIs into a standard.»
Besides portfolio data and securities transactions, the OpenWealth API would also allow client data to be fetched and possibly modified, further reducing the operational and regulatory risks for custodian banks and external asset managers. The use case for connecting intermediaries is only one of many applications of the OpenWealth API. Simon Alioth, Head Open Banking and Associate Partner at Synpulse: «An open API standard in wealth management would make new business models possible. Innovative, low-cost, user-friendly wealth management offerings for a broad audience will create advantages for everyone involved in such an ecosystem.»


Media
https://www.geldinstitute.de/business/2020/synpulse-und-st-galler-kantonalbank-verbinden-wealthtech-unterne.html
https://www.finews.ch/news/banken/41710-st-galler-kantonalbank-synpulse-open-wealth-vermoegensverwalter-asset-max
https://fintechnews.ch/roboadvisor_onlinewealth/st-galler-kantonalbank-baut-open-wealthtech-api/36839/
https://citywire.de/news/st-galler-kantonalbank-entwickelt-digitale-schnittstelle-fur-vermogensverwalter/a1369165

https://www.rankiapro.com/en/synpulse-and-st-galler-kantonal-bank-to-open-wealth-tech-apis/
https://www.88finanz.de/synpulse-und-st-galler-kantonalbank-treiben-standardisierte-anbindung-von-vermoegensverwaltern-voran-openwealth-banking-soll-zum-standard-etabliert-werden-1824122.html
https://mondus.ch/st-galler-kantonalbank-arbeitet-an-open-wealth/