RegWatch Issue: November 2022
Hello!
I hope this finds you well, and that you and your loved ones are safe and healthy.
As we approach the end of the year, there have been several key regulatory developments that are impacting financial institutions (FIs) in Singapore and Hong Kong. In this issue, we cover the recent regulatory updates, such as the increased regulations around AML/KYC; investment suitability and consumer protection around online trading, distribution and marketing, and BNPL; changes to the ESG and regulatory reporting guidelines; the disclosure requirements for the implementation of Basel IV; the roadmap and regulations regarding virtual assets; and the implementation of HKIDR.
We're also pleased to announce that Synpulse has recently been conferred the title of Consulting Firm of the Year at Regulation Asia Awards for Excellence 2022. It is our utmost honour to be awarded this title, and we would like to thank you, our clients and partners, for your constant support and trust that have helped us achieve this success. We remain committed to transforming the financial services industry through our deep domain expertise and insights, and bespoke or modular products and solutions.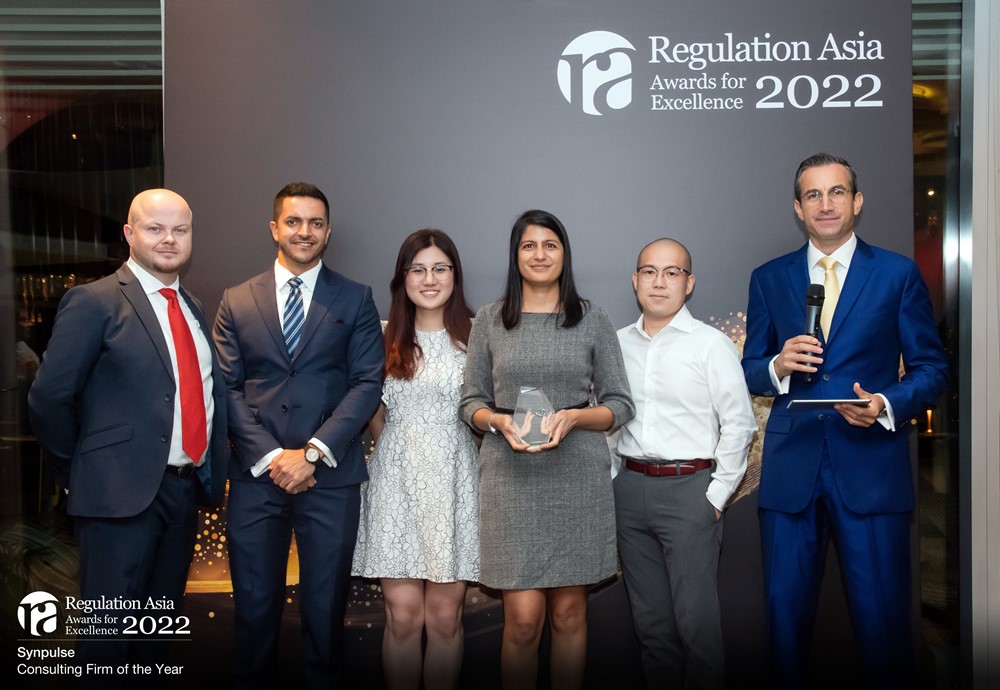 Once again, a huge thank you to everyone for their support, and I hope that you find the information covered in this issue useful. Please feel free to reach out to me or my team if you have any questions or clarifications about these topics.
Thank you and happy holidays!
Best regards,
Prasanna Venkatesan                                                                                                                  Partner and Global Head  of Regulatory Compliance & Risk
---
AML/KYC
HKMA/SFC: Report Issued by SFC to Licensed Corporations on the Review of Online Brokerages, Distribution and Advisory Services (Regarding non-face-to-face (NFTF) client onboarding)
In August 2022, a review conducted by HKMA highlighted areas of concern around NFTF client onboarding, including:
The failure to authenticate client's identity documents when engaged in overseas onboarding

The failure to follow up with clients who failed facial recognition tests in a timely manner

Insufficient vendor and solution assessment for client identity verification and facial recognition technology
A few banks also approved their clients' accounts before the client's identity is verified.
Synpulse's recommendations
Review and align target operating model for the use of NFTF client onboarding in line with regulatory requirements

Comprehensive independent review of both technology, processes and controls used for NFTF client onboarding

Conduct an independent vendor assessment to compare the capabilities of vendors' tools
MAS: Strengthening AML/CFT Practices for External Asset Managers
Published on 24 August 2022, the information paper sets out supervisory expectations of AML/CFT frameworks and controls for external asset managers (EAMs). Key observations requiring improvement include:
Poor risk awareness and failure to set the right tone from the top

Enterprise-wide risk assessment (EWRA) did not consider relevant risk factors

Robustness and poor execution of existing customer risk assessment (e.g., inadequate due diligence applied for PEPs, etc.)

Inadequacies during client onboarding and in their Client Due Diligence (CDD) and Enhanced Due Diligence (EDD) process

Transaction monitoring framework is not robust and failed to incorporate key scenarios
Synpulse's recommendations
Strengthen governance by implementing a risk dashboard for senior management oversight

Comprehensive review of EAM's EWRA framework, client risk assessment approach including CDD/EDD processes especially for high-risk PEP clients, and its transaction monitoring framework
Read our thought leadership on AML/KYC:
---
Investment Suitability and Consumer Protection
HKMA/SFC: Report Issued by SFC to Licensed Corporations on the Review of Online Brokerages, Distribution and Advisory Services (Regarding Online Trading, Distribution, and Marketing)
The earlier mentioned review by HKMA further highlights areas of concern around online trading, distribution, and marketing, including:
Inappropriate clauses and statements under client agreement and acknowledgement of risk disclosures

Insufficient product due diligence and risk rating

Failure to observe selling restrictions applicable to specific products

Inadequate client risk profiling
Synpulse's recommendations
Assess current state of marketing materials, including clear definitions of solicitation versus factual commentaries

Conduct design and operating effectiveness review on controls around execution-only trades and accredited investor/professional investor status

Review existing product risk rating approach and methodology

Introduce adequate controls around client risk profiling including detection of RM influencing activities
HKMA: Enhancing Consumer Protection in respect of "Buy Now, Pay Later" (BNPL) Products
On 2 September 2022, HKMA issued a circular around consumer protection with BNPL products. While BNPL products are mainly operated by non-bank service providers in some parts of the world, it is noted that the banking industry in Hong Kong has also started to launch BNPL or similar products.
Considering international practices, HKMA considers it important to set out its expectations in respect of consumer protection when banks pursue innovation in consumer credit products. In particular, enhancement measures are introduced as additional safeguards for customers of BNPL products launched by banks.
Synpulse's recommendations
Review existing marketing materials to ensure all advertising and promotional materials are fair and reasonable, do not contain misleading information, and appropriate risk- and pricing-related disclosures are made to customers
Read our thought leadership on Investment Suitability:
---
ESG and Regulatory Reporting
MAS: CFC 02/2022 Disclosure and Reporting Guidelines for Retail ESG Funds
On 28 July 2022, to mitigate the risk of greenwashing, MAS set out in a circular their expectations on how existing requirements under the Code on Collective Investment Schemes (CIS Code), and the Securities and Futures (Offers of Investment) (Collective Investment Schemes) Regulations (SF(CIS)R), apply to retail ESG funds, and the disclosure and reporting guidelines applicable to these funds.
Synpulse's recommendations
The guidelines will apply to prospectuses of ESG funds that are lodged with MAS on or after the effective date of 1 January 2023. The responsible person of an ESG fund should indicate within respective forms that the scheme is an ESF fund and ensure that the additional disclosures as required are made on the manager's website or by other appropriate means by the date of lodgement of the prospectus.
SFC: Fund Manager Code of Conduct (updated in August 2022)
In August 2022, the Fund Manager Code of Conduct has been revised to mandate fund managers to identify relevant and material climate-related risks and ensure that material risks are considered in their investment management. Fund managers should make adequate disclosure of information in relation to climate-related risks to allow fund investors to make an informed judgement about their investment. 
Synpulse's recommendations
Following reporting obligations, fund managers should provide appropriate information to SFC on an ongoing basis upon request, e.g., on leverage, assets, and where applicable liability information and information on the fund's securities lending, repo, reverse repo, etc.
HKMA: Embedding climate risk in banking supervision
On 30 June 2022, building on the above work, HKMA completed a comprehensive review of its existing supervisory processes and has developed a two-year plan to weave climate risk considerations into these processes. HKMA's two-year plan comprises of:
Including climate risk management as a standing item of prudential meetings

Updating the CAMEL rating framework and the SPM module SA-1 on "Risk-based Supervisory Approach"

Conducting thematic examinations on selected areas of climate risk management

Integrating climate risk stress test into the supervisor-driven stress-testing framework

 Enhancing the "greenness" assessment framework

Keeping the regulatory framework under review
Synpulse's recommendations
Hong Kong FIs should prepare for the upcoming additional ask from HKMA in terms of update on climate risk management for prudential meetings in Q2 2023. They should also prepare for thematic reviews to be conducted by HKMA on selected areas of climate risk management, performing stress testing, disclosing its activities regarding climate change, etc.
Read our thought leadership on ESG:
---
Basel Capital Requirements
HKMA: Implementation of Basel III Final Reform Package
» Read the proposed amendments
On 28 September 2022, HKMA issued its proposals on Pillar 3 disclosure requirements for the implementation of the Basel III final reform package for consultation with the banking industry. Amendments of the implementation timeline were proposed where standards associated with credit risk, operational risk, the output floor, and the leverage ratio will be adjusted from 1 July 2023 to a date no earlier than 1 January 2024, aligning to the same implementation timeline for market risk and CVA risk.
Other changes proposed were:
Output floor phase-in arrangement will follow more closely with the Basel requirements

Minimum LTV-based risk weight of residential real estate exposures under the revised standardised approach
Synpulse's recommendations
Conduct a gap analysis between Basel III and IV as-is state, and determine target state to fulfil the regulatory requirements set forth by HKMA
---
Virtual Assets
MAS: Industry Transformation Map 2025 – Shape the Future of Financial Networks
New technologies such as cryptography, distributed ledger technology (DLT), and asset tokenisation are spurring digital asset innovation. These can potentially transform financial markets and services, and make financial transactions more seamless, low-cost, and efficient. MAS aims to enhance payments connectivity and build an innovative and responsible digital asset ecosystem by:
 Expanding cross-border payment linkages with regional economies

Exploring the potential of DLT in promising use cases

Supporting tokenisation of financial and real economy assets

Enabling digital currency connectivity
Synpulse's recommendations
FIs should embark on their journey to integrate virtual assets as a new product offering and its underlying DLT within its business model.

Key activities to consider include:
Sandboxing smart contracts used cases

Virtual assets lifecycle management leveraging Synpulse's unique CRYPTOINABOX® approach to connect banks' core systems to virtual asset order and custody platforms

Readiness analysis on regulatory requirements such as licensing considerations, adapting operating model to include investment suitability and AML/CFT risks
Read our thought leadership on Virtual Assets:
---
Hong Kong Investor Identification Regime (HKIDR) and Over-the-Counter Securities Transactions Reporting Regime (OTCR)
SFC: Investor Education Items for the use of Relevant Regulated Intermediaries (RRIs)
HKMA: Market Rehearsals (MRs) for the Hong Kong Investor Identification Regime (HKIRD)
To facilitate RRIs preparing for the implementation and promotion of public investors' awareness of the HKIDR and OTCR, the SFC has prepared various investor education items for the use of RRIs. The SFC and Hong Kong Exchanges and Clearing Limited (HKEX) also arranged three MRs on 15 October 2022 (MR 1), 22 October 2022 (MR 2), and 29 October 2022 (MR 3) to facilitate this transition.
Synpulse's recommendations
RRIs should be ready to participate in MRs and submit the feedback form to HKEX via HKEX's production Electronic Communication Platform as SFC prepares to announce the HKIDR implementation date for RRIs to submit the real BCAN-CID mapping file to HKEX