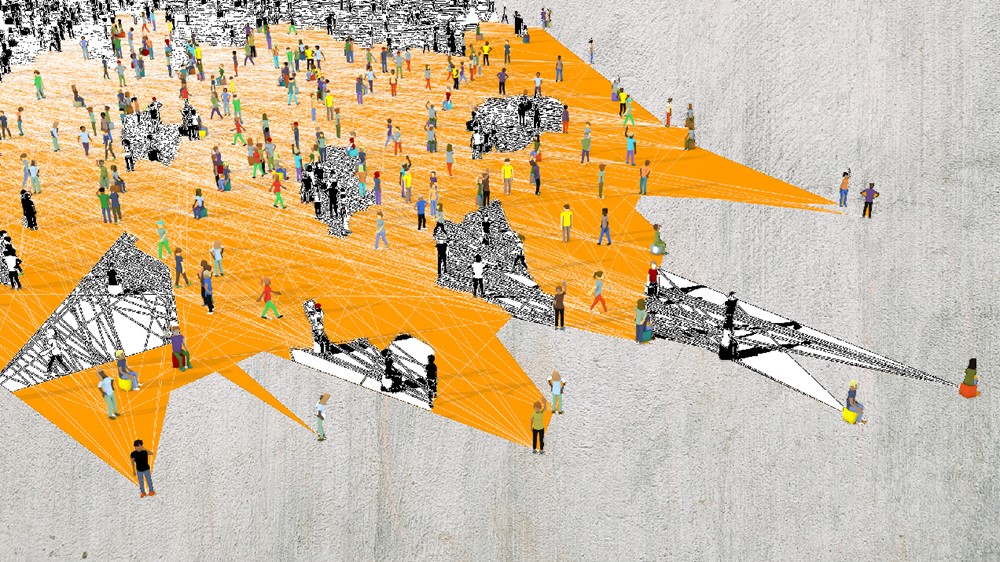 How Ready are Swiss Banks to Become Organisations of the Future?

Chapter 4: Focus on Dynamic Capability Management
The way banks execute projects, and the capabilities required to do so, have changed significantly over the last decade. To stay organisationally flexible and agile as well as close to market developments, banks need to have what we call "dynamic tech capabilities." We have investigated how advanced Swiss banks are in building-up new tech capabilities and what strategies they pursue in doing so.
---
Which New Tech Capabilities do Banks Need?
Based on the findings of our study, some examples of new technological capabilities include
UX/UI

(user experience / user interface) development

API

(application programming interface) development

CRM

(customer relationship management)

Marketing automation

Robotics

AI

(artificial intelligence)

Expertise in agile delivery

(agile coaches, product owners, scrum masters, release train manager, etc.)
In the partner model, IT works closely with the business side. They actively engage in developing new ideas, driving projects and eventually becoming an innovation partner to the business. In the traditional model, IT is a delivery function that acts as recipient of decisions and requirements coming from the business. All initiatives related to digitalisation, innovation, and strategic technology are driven mainly from the business side.
How Advanced Are Banks in Building New Tech Capabilities?
Our study revealed that most banks see the need to build up new tech capabilities. And most have either already started hiring or upskilling, or plan to start within the coming years.

What Strategies Do Banks Pursue to Build New Tech Capabilities?
The following five strategies for building up new tech capabilities were mentioned by the banks
Hiring tech talents from the market

Reskilling employees (educate and train current employees for completely new topic areas)

Upskilling employees (additional certifications and trainings for a particular topic)

Outsourcing capabilities to 3rd parties

Offshoring capabilities to countries with a higher tech resource pool or lower cost per resource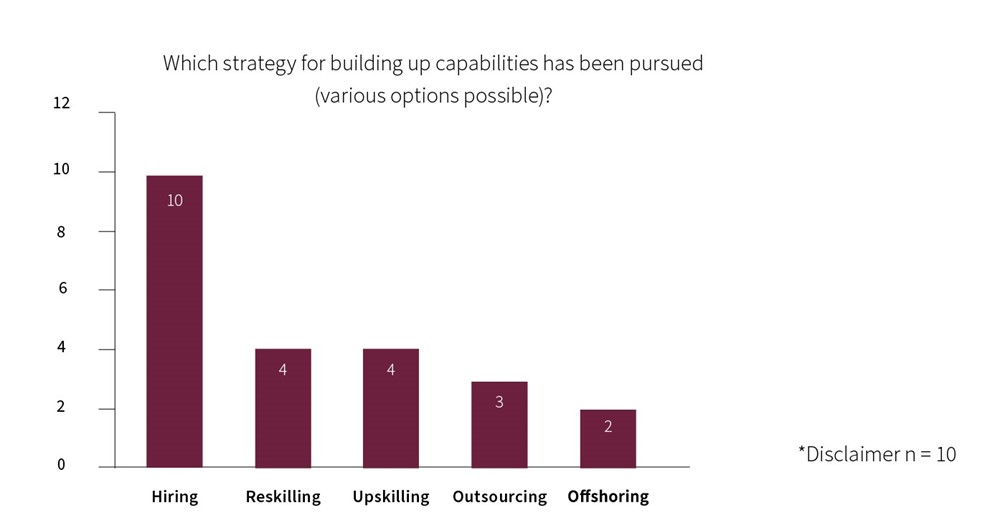 We have observed that reskilling, upskilling and hiring employees are the dominant build-up approaches for new capabilities. Capabilities are mostly built up internally within the IT department of the bank. Off-and nearshoring strategies are only observed in larger international banks.
The following challenges and success factors were mentioned by the investigated banks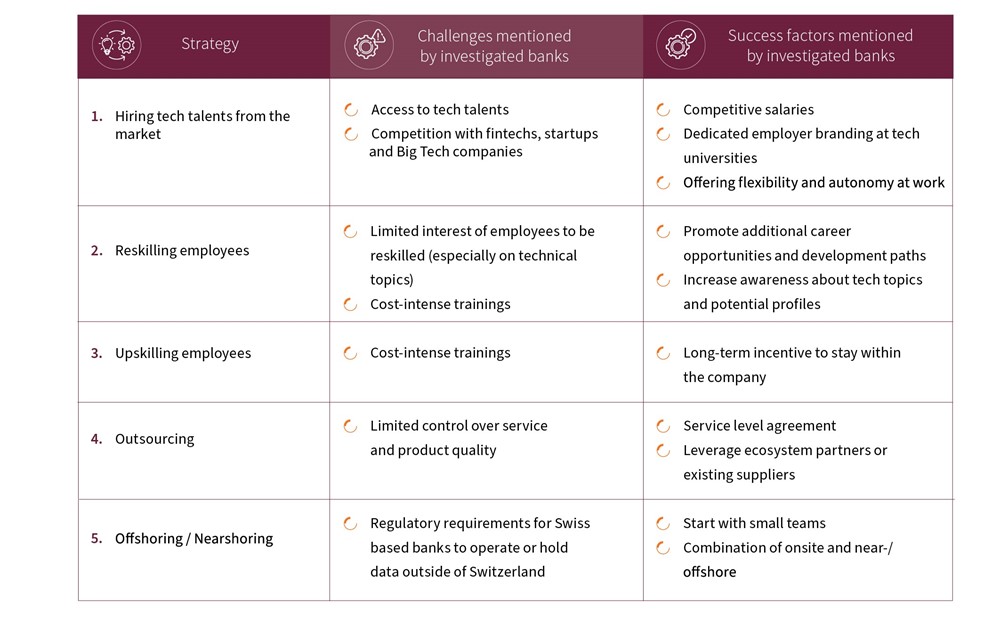 Synpulse believes that for a vast majority of Swiss banks, offshoring and nearshoring entire support functions will become more relevant in the future. Whilst mainly "traditionalist" banks still heavily rely on internal onsite resources, the availability of talents in the mid-term and cost pressures will require them to rethink their sourcing model. A broadening competitive landscape (tech companies tapping into the financing sector, increasing number of neobanks), a stronger focus on core competencies is the key to competitive advantage. This will make outsourcing of commodity services more attractive as well.
Conclusions
To be able to respond to rapidly changing environments, banks need a more dynamic and flexible capability management, and a more systematic approach to manage it.
If there is a unifying theme in all this, we would postulate that the building and maintaining of tech and tech-adjacent capabilities must serve the higher purpose of thriving in today's dynamic marketplace. One way of looking at it is that these kinds of capabilities offer both the ability to shape one's own destiny and the resilience to meet unanticipated challenges. A robust set of capabilities in the tech space is crucial to attaining this goal.
Whilst most banks see an immediate need in new tech capabilities, they still heavily rely on their so long proven approach: betting on internal onsite talents. Rethinking their capability strategy and entire delivery model, considering possibilities which have proven to work in COVID-19 times might bring new opportunities and perspectives for them.
If you would like to know what opportunities the future holds for your bank, please contact us. Don't miss the boat.