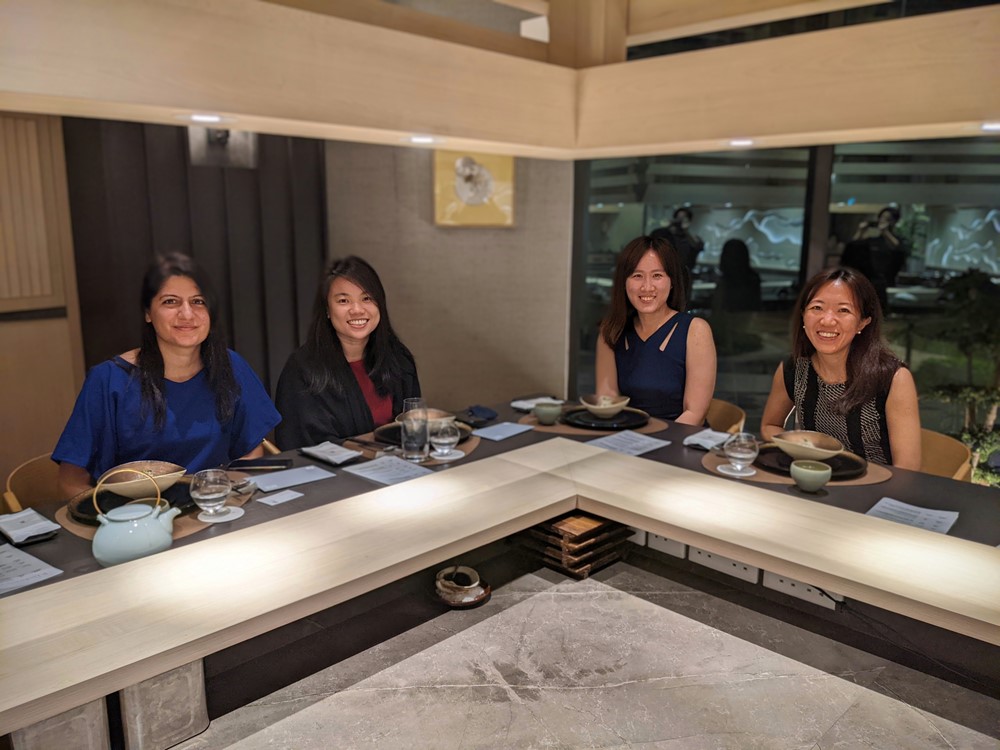 Clarie Kwa: Braving the Financial Jungle
"Some of my most memorable times were from Synpulse, and I still believe that Synpulse organises some of the best parties." Read on to find out what Clarie Kwa has been up to and what she misses most from her Synpulse days.
Clarie Kwa worked at Synpulse for more than three years before co-founding a fintech company. She continues to use her expertise in the financial industry, while learning new things and finding new hobbies.
What have you been up to since leaving Synpulse?
Since leaving, I joined 360F as a co-founder. I was the second full-time member, and it's been five years now. Growing up with the company and contributing to its setup has been interesting. There have been a lot of learnings.
From your experiences at 360F, how do you envision the future trajectory of the financial industry? What are some key topics that financial institutions will be focusing on?
The whole financial industry is moving towards planning a comprehensive journey. The service industry, on the other hand, is moving towards digital, client education and empowerment, as well as engaging client actively.
Competition has been intense. Thanks to the entrance and advancement of fintech, a lot of new players are embedding financial services. I expect to see more consolidation and realignment of focus, where the idea of breaking off the value chain allows insurers to focus more on the product and risk underwriting rather than doing everything. COVID-19 accelerates these changes.
In my opinion, the top three things to prioritise as an insurer are:
Business mix. The generational shift in societies tilts the focus towards wealth planning.

Customer focus. Customers are now more demanding and digital, so the insurance sector needs to catch up.

How to be more competitive. Finding the competitive advantage as the barriers to entry have been lowered, so insurers should rethink their organisational setup and offerings.
And the top issues and challenges stopping insurers from innovating are:
Legacy infrastructure. Insurers are still playing catch-up, even if they aspire towards an ecosystem.

The courage to lead. Innovation does not happen until you take risks, and insurers by default are risk-averse.
What attracted you to Synpulse?
I was working as a sales and product trainer at a life insurance company and doing part-time MBA studies concurrently when I won a scholarship to study at the University of St. Gallen, a Swiss school that many graduates went on to join management consulting.
When I had to return to Singapore, I ultimately chose to work at Synpulse as it's multi-specialised in both banking and insurance. During the interview process, I also had good chemistry with the Partners. Considering my background, it was a good fit, and at the time, there weren't many boutique consultancy firms that specialised in financial services.
What are some of your favourite memories of Synpulse?
I still remember my first pre-sales trip to Malaysia, which was also joined by Michael, former CEO of Synpulse and actually current CEO of 360F, and Konrad "Koni" Niggli, current Managing Partner and Co-CEO of Synpulse. I came off with the impression that management consultants were treated respectfully.
Also, irrespective of designation, everyone at Synpulse was friendly with each other. Overseas trips were great. Some of my most memorable times were from Synpulse, and I still believe that Synpulse organises some of the best parties.
How has your Synpulse career impacted you?
My time at Synpulse has taught me how to build a brand and win RFPs. The insurance practice in Asia was nascent when I joined. Continuously establishing the insurance practice as a go-to strategy advisory in the market and networking with local players—all of that helped me learn how to get interest and attention from the insurers.
What is the one thing you miss from your Synpulse days?
Hanging out with the team is something I genuinely miss till today. I find Synpulse consultants to be really clever people, and we do not give ourselves enough credit for it. Everyone was humble and grounded with no arrogance, a quality that I liked the most.
What made you decide to co-found 360F?
I was doing a lot of sales at Synpulse, but I always had an ambition since the beginning of my career to start my own business. I used my Synpulse experience to learn and understand pre-sales as well as how to build a relationship and start a business. I felt I was ready for the move.
It requires a lot of courage to set up your own business, and being both a local Singaporean and a female in financial services, I still needed some sort of support system. Having worked with Michael, and knowing him and the domain already, it was natural for me to join him in building 360F.
How has your journey been since you left Synpulse?
It's been an interesting journey. I find myself doing branding 101 and teaching people to pronounce 360F correctly. The "360" in "360F" represents the 360-degree view of the customer, and "F" stands for financial services. It's also noteworthy how the insurance industry has evolved, as it now grooms quite a number of female CEOs and senior leadership—a great step in the right direction.
If there is one lesson or learning you have to share with current Synpulse employees, what would that be?
Go and meet your clients and be aware of the industry trends. It helps you to grow. Don't just spend time working on Excel and PowerPoints, but also engage with the clients on a personal level to form deep connections.
Outside of work, what have you been up to? What are some of your hobbies that you spend time on after work?
Apart from working and hanging out with my colleagues, I wasn't that adventurous while I was at Synpulse. At 360F, I started cycling regularly, even doing mountain biking on overseas trips. I also reactivated my reading habits with physical books.
The COVID-19 restrictions are finally loosening. What's your wish list like?
I want to have great conversations over nice meals and drinks with many people! Interacting digitally wasn't much fun and I couldn't build deep relationships. In fact, I was the first one to go back to the office when the COVID-19 measures were relaxed.
---

Connect with Claire on LinkedIn.


---

Have a query? Reach out to the Synpulse APAC Alumni team here