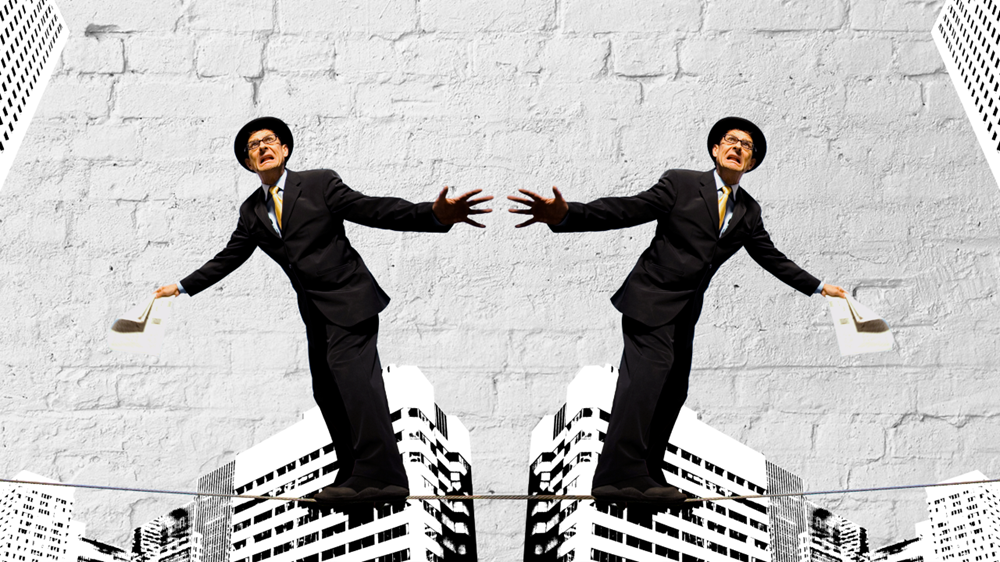 Why Most Banks Struggle to Become Agile
The harder they try, the more they fail
Agile ways of working are often seen as an alternative way to execute projects. Basically, another tool in the toolkit. But one could not be more wrong. Although the change in processes is part of the transformation, the most critical aspect of agile is the change in culture and mentality. Only when cultural change takes place throughout the involved departments, agile ways of working can really unfold.

---
Agility needs an agile mindset and courage. The known, safe, and well-established methods have to be left behind or thoroughly adapted. Caught in their old traditional project management practices, many banks are struggling with this approach. However, they see the need for agile ways of working. Therefore, every project is suddenly disposed to use agile terminology while they not truly adapt their way of working away from old waterfall approaches. So many of these projects are prone to failure. A vicious circle, as banks need (business) agility if they want to survive in the digital age.
Download your «Agile Life Hacks» poster now and get to read more articles on «Agile Transformation».
Download

In today's Banking, clients expect immediate satisfaction of their needs, lower fees and a 24×7 «online» service[1] . More and more, clients also expect banks to be transparent in terms of fees and «value for money» while at the same time, traditional banks struggle with legacy IT and organizational setup. In the late 1990s, software development was implemented mainly with «waterfall» project management methods. This often resulted in misalignment with actual customer expectations, e.g. when a software was designed 3 years before its release.
The inability of conventional banks to create innovative digital services, adopting digital customer channels and merging them seamlessly with broader banking services led to a decrease in total market valuation from over 96% in 2010 to 72% in 2020[2] of the global banking and payments industry.

Traditional banks can no longer ignore the tectonic shift that is happening in the age of digital banking in which agile Fintechs and digital banks as well as Bigtechs grab their market share.
Creating customer value instead of a «final product»
As a reaction to the traditional, slow and administrative way on how to develop software and services, a group of software developers challenged the status quo and revolutionized how software is developed by introducing The agile manifesto in 2001[3]. This manifesto is the birth hour of «Agile», which today is considered standard. Software is developed at a substantially lower time to market and customer satisfaction is increased compared to traditional «waterfall» methods. The key benefit of working «agile» and living its culture is creating and delivering customer value and not simply a «final product».

If the benefits of an agile organization are so evident, why do so many companies struggle to reach this state?
Studies[4] show that the main driver for agility is the expectation of an organization and its decision makers to deliver products faster and to quickly react to changing customer needs. This does not only apply to software development but also to service delivery units. In order to meet increasing customer demands, however, organizations are urged to apply business agility throughout the whole organization[5].
A broad survey among 120 companies underlines what we experience in our daily work[6]: Agile requires a cultural shift to successfully unfold its benefits. But managing this cultural change and adopting its key values and principles is stated as the main challenge (59% of respondents).
Unboss – Courageous Leaders
Implementing Agile ways of working is a cultural change that requires courage. The organization needs to be transparent and clear about vision and strategy, while teams need to be empowered to become efficient in self-organized delivery. Transformation must not simply be a single decision or support effort but sustainable in the long run. Executives need to take the courage to introduce and live the «new culture» by giving their teams product ownership and be radical about it. They need to resist the urge to return to the old methods as soon as they encounter setbacks. What is more, top management need to understand how agile ways of working positively contribute to their organization's success and be willing to learn and adopt agile methods from portfolio vision to project execution. Finally, in the world of agile a key difference is that projects don't have end dates anymore. Thinking needs to shift to value creation by managing value streams resulting in new products and services with an unknown life cycle.
Executives need to say goodbye to micro-management –  and still stay in control
If executives believe that agile practices lead to a lack of control, they tend to «micro-manage» projects. Leaders need to learn to trust their teams and refrain from their impulse to control them. Likewise, Sprint teams need to make transparent what they are working on, forecast expected deliverables given their capacity within the timeframe indicated. This will not only create trust, but also inspires teams and knowledge workers to give their best. Transparency is not at risk, on the contrary, by making their progress transparent throughout the whole organization it becomes visible to the whole organizations how their deliverables create value for their customers. In the old world, where micro-management dominated, in the new era we would rather think of proactive reporting.
Furthermore, companies can only benefit from agile Ways of Working when they are ready to adopt them in a radical and true way. Daily stand-up meetings are too important to not be done right: it's not about stating everybody's tasks. It's a key ceremony that belongs to self-organizing teams. It's about sharing progress on deliverables (stories) that add value and communicating about the plan of the next 24 hours to reach the sprint goal(s). Moreover, addressing potential blockers and finding ways how to unblock them. If not done and adopted right, companies find themselves using agile terminology but remain managing projects the old way.

From «tasks» to «deliverables» – change your way of communication
The main goal of a self-organized agile team is to make progress on their committed goals. There is no value in stating «I'm so busy, I am attending 50 meetings, today». The only thing that counts is progress towards reaching the deliverables (e.g. sprint goal or daily deliverables as committed on the whiteboard). Therefore, every deliverable – including the daily stand-up is of every individual's responsibility. If you slip on a deadline, state the issues so the team can profit from your knowledge or help in finding alternative solutions. Thus, a continuous improvement cycle is implemented.
Enabling Architecture and Technology
Static release cycles and complex IT systems with countless interdependencies are not uncommon in today's banking landscape. To unfold the full potential of new ways of working with its accompanying cultural shift, a modern IT architecture is required[7]. A good start is a modular IT architecture and microservices to reduce interdependencies along with a dynamic release management. This includes, for instance, continuous and automated deployment pipelines as well as automated testing so you can launch new functionality much faster and the teams can focus on building software and other complex value-adding activities.

As you can see Agile is more than just another toolset on how to run projects.

It is a change of mind. It means being bold and strong enough to leave the known paths of project management behind as well as stepping out of your comfort zone.
Get in touch for more insights on Agile Methods at large and medium corporations. Subscribe to our Agile Article Series here and schedule a virtual coffee talk with us: mischa.delpy@synpulse.com and pascal.wagenhofer@synpulse.com.
Download your «Agile Life Hacks» poster now and get more articles on «Agile Transformation». 
Download