How Banks Can Deliver Great Client Journeys despite Legacy IT Infrastructure
Daniel Alvarez, head of the Direct to Customer (D2C) department at the Natwest Group, is an expert in digitalizing investments. In this Expert Talk he talks with Synpulse's Mischa Delpy about how to align the business, IT, and UX to deliver a seamless and thrilling client journey for customers, how banks can work together with fintechs, and why a legacy IT infrastructure needn't be an obstacle.
Daniel, from your experience, what are the key success factors for banks seeking to successfully develop and implement client journeys with their IT legacy systems?

You can't create a client journey via a user interface alone. It needs to be integrated with existing business logic. In my view, a key success factor is finding the right balance in terms of how much straight-through processing to build and how many edge cases have to be covered manually.
It's also crucial to have good alignment between the business, users, and IT. The business has the knowledge about the products. Information technology experts are aware of the constraints that may be involved − such as the bank's legacy systems – but also have profound knowledge about new technologies. Last but not least, UX experts know what experience users seek. I guess these three in combination are key to success when it comes to delivering really great client journeys.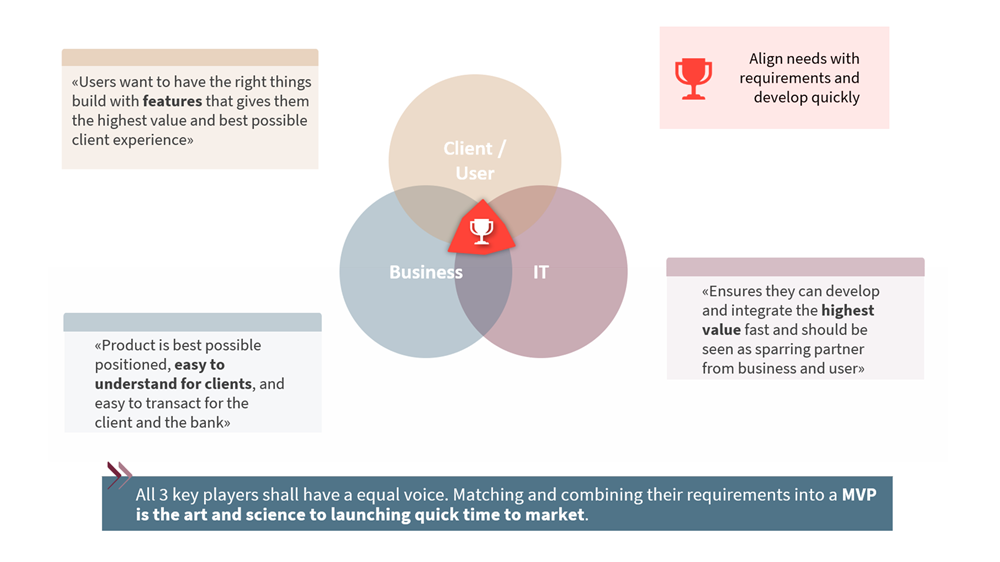 Everyone's talking about UX-led design − and some stakeholders still think that's the only approach − while its implementation is left to IT.
How should the business, user experience designers, and IT best work together to create and deliver exciting client journeys, fast?
We should be client-centric, and the design process should be client-led. Despite boundaries in the form of constraints on the technology and the costs, I think that at end of the day you have to offer new journeys, engaging customer designs, and state-of-the-art features.
This means we need to work together. The technology department may need to go an extra mile by integrating new technology stacks to make stuff happen. At the same time you shouldn't forget that everything has a price tag, and every release takes time to launch on the market. So you have to make sure the people involved in the business, IT, and UX work together well to get the best results out of what's available. It's like a good chef, who decides what ingredients to take and how to make the most out of them. To deliver successful products, you need a trustful relationship between all these three parties.
The product owner plays an important role in steering all this. This is the person who owns the product, knows the requirements from a regulatory point of view, and has design-led people who understand how to best engage with customers and technology. As always in life, there has to be a little bit of compromise from everyone. If you have only customer-led design without looking left and right at the regulations or IT, you may delay product delivery. So it's really about a joint effort and making smart decisions.
So from your perspective, successfully creating and delivering client journeys fast has to involve people with the user perspective as well as stakeholders in IT and the business.
Fintechs, on the other hand, have much less IT legacy to deal with. How do you think established financial institutions can compete in a market where more and more fintechs are emerging?
It's true that fintechs have this advantage. Banks are generally established institutions that clients trust to handle their money. I guess that during the coronavirus phase banks have proven to be helpful to people and small business by providing support during difficult times. On the other hand, you can't ignore the fact that fintechs have fewer legacy systems and can take a greenfield approach to development.
But it's not that simple. Banks are subject to regulations to make sure they treat their customers fairly. Fintechs usually don't start out by developing complex products that require a lot of regulation. For example, it's easy for a fintech to start offering current accounts below a certain regulatory threshold (e.g. £10,000 in the UK), because they're not subject to anti-money-laundering controls or KYC requirements. But when it comes to offering a full range of products and services, and not only focusing on those that are easy to deliver, we as an established old brand probably have a huge advantage over fintechs.
Handling these kinds of products requires a serious amount of knowledge. It's probably going to end up as a joint venture. We now have to decide how we're going to use fintechs. Fintechs build innovative software as a service (SaaS). We as a bank can leverage this, and we don't have to reinvent the wheel for these products and services. Engaging with these fintechs leads to a win-win situation, as banks can also benefit by offering their products. So they don't need to directly compete with banks, but they may see themselves as part of a broader ecosystem. Offering new products and being compliant with regulations is a heavy lift for a fintech. Of course we still need to watch them carefully, but I guess in the end it will be a joint venture, with us banks making use of fintechs and fintechs likewise benefiting from the volume of our client base.
Technology has changed massively over the last two decades or so. Monolithic architectures have given way to API-driven and microservices architectures as the new standard. Do you think that banks are prepared to go with the new state-of-the-art technology?
Most banks can't replace their monolithic architecture cost-effectively. However, now there is  technology available to deal with newer architecture as well as exposing data from sources from monolithic architecture. Monolithic software provides quite some business logic, for example legal reporting. In the best case, these services are decoupled to offer 24-hour availability and help evolve the use cases the bank wants to offer by exposing it via modern service-oriented architecture that results in a great user experience. The beauty of the service-oriented approach is that it can be leveraged or reused for both digital-only propositions and hybrid models.
For example, some of the investment journeys offered at our bank for three brands − Coutts, NatWest, and Royal Bank − still use monolithic booking systems, and they work fine along with the newer technology stack. You need to make sure you have an orchestration layer. That's where microservices can help as well. You can have the microservices and API orchestration that decouples logic from the core systems. Thus you can make use of both worlds by offering an enhanced client experience while still making the best use of monolithic backend systems.
Many of these systems provide 24-hour availability, so when you design a journey, you need to think about which part of the path you want to decouple.
Thank you very much, Daniel Alvarez, for joining us for the Synpulse Expert Talk.