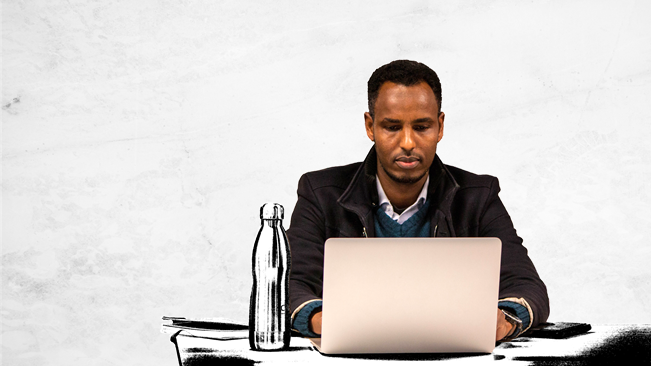 Successful Rollout of an Effective Data Management Solution
How Synpulse helped a leading global financial institution improve the quality of its market and reference data with the rollout of Temenos DataSource (TDS) and thereby reduced the costs and risks connected with the management of a constantly growing volume of data.
---
Background
With the aim to create and deliver a market-leading investment experience, the financial institution embarked on a Wealth Transformation Program to implement Temenos WealthSuite, a consolidated wealth platform, for its Private and Retail clients.
As the name suggests, Temenos WealthSuite encompasses front-to-back systems integrating seamlessly to bolster a company's front-to-back capabilities. From efficient back office settlement capabilities to user-friendly client facing interface, Temenos WealthSuite provides a systematic ecosystem for financial services companies to leverage on.
To deliver a consistent and efficient experience for its clients spanning across the wealth spectrum, it was essential for the company to establish an Instrument Master1, a centralized source that maintains and provides accurate financial instrument data. Temenos DataSource (TDS), the enterprise data management (EDM) platform in the WealthSuite ecosystem, serves exactly this purpose.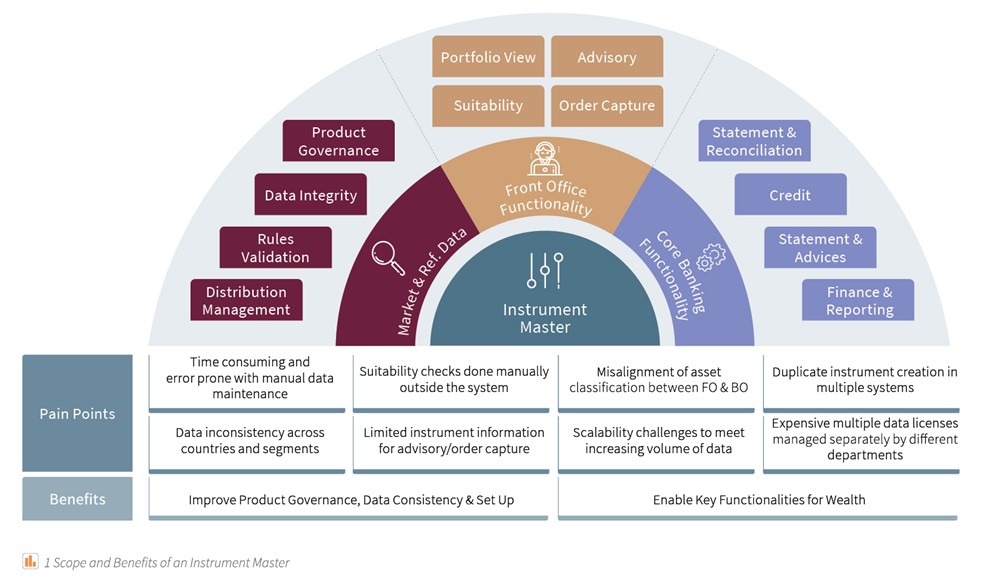 Introducing Temenos DataSource
TDS is a best-in-class data management solution integrated in Temenos WealthSuite that governs, organizes, and distributes accurate data from external data providers such as Bloomberg, Refinitiv (formerly known as Thomson Reuters), and Morningstar, to internal downstream systems such as the Core Banking System, Credit Management System, or Front Office applications across all divisions of the company.
TDS provides financial institutions the ability to manage an instrument lifecycle by maintaining reference and market data of an instrument.
Why Temenos DataSource?
As a core component of the Temenos WealthSuite ecosystem, TDS is a fundamental pillar that enables the front-to-back functions within financial services companies. TDS is also highly configurable and offers a powerful in-built business rule engine and flexible data model. Its embedded, user-friendly rule engine allows easy configuration of applicable business rules.
Key Benefits and Features of TDS
Powerful Business Rule Engine
TDS' powerful business rule engine enables complex data mapping, rules-driven data enrichment, centralized data validation, and error & exception handling. This increases operational efficiency and reduces manual errors.
Comprehensive Workflow & Process Engine
An Administration «Cockpit» within the system provides a centralized view of ongoing processes and exceptions. Customer-specific workflows and processes can also be configured, including straight-through-processing (STP) processes, exception handling flows and alerts.
Wide Range of Built-in Data Adapters
Over the years, TDS has developed a wide range of standard data adapters to key data providers and various target systems such as core banking, compliance, and reporting systems, reducing implementation effort and duration. A generic configurable export/import module is also available to cater to other providers or systems.
Complete Data Segment Coverage
TDS caters to all segments of data — issuer/institutions data, static data, price data, corporate actions data, and regulatory data. This provides a consolidated repository of data that can then be synthesized and distributed centrally.
Highly Configurable and Flexible
The meta-data model (entities, attributes, and relationships) of TDS is highly flexible and can be customized to specific needs. Various parts of the application can also be easily configured via the graphic user interface (GUI).
Introducing Synpulse
Synpulse is an established, globally active management consulting company and a valued partner to renowned international financial services companies. Since its formation in 1996, Synpulse has offered its clients excellent solutions, enabling them to generate high added value. We support our clients in the whole process from working out strategies and realizing them operationally through to technical implementation.
Download the pdf of this article
Successful Rollout of an Effective Data Management Solution
Read the PDF
Why Synpulse?
Synpulse's clients receive a comprehensive service which covers each phase of the project cycle, complemented by systematic analysis of client-relevant conceptual issues. During the specialized organizational and technological implementation, Synpulse supports and complements our clients' project teams with industry experts and IT specialists.
In order to successfully drive implementation forward in a targeted manner, Synpulse has developed the SPEEDmethod®. This specific product methodology delivers systematic and structured processes regardless of project size and type. Synpulse also adopts an integrative team approach — forming joint teams with various stakeholders and attaching great importance to mutual learning via knowledge sharing and methodological exchange. This ensures that the capabilities for a sustainable operation are built up and retained.
On top of on-site delivery capabilities and expertise, Synpulse also offers an offshore delivery model. Establishing Synpulse onshore and offshore delivery teams ensures not only adequate expertise and scalability throughout the project but also synergies by leveraging on the cost efficiency, delivery expertise and deep understanding of requirements of both teams.
Implementation Approach
The implementation approach2 can be broken down into 3 broad phases — Gap Analysis, Feasibility Assessment & Design, and Implementation.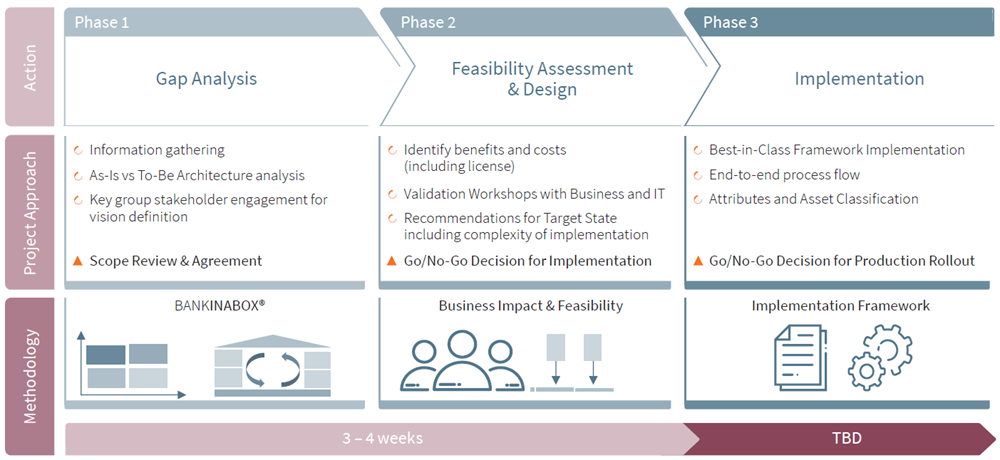 Gap Analysis
The gap analysis phase consists of information gathering from the various Business stakeholders, a detailed analysis of the As-Is vs To-Be architecture. Key stakeholders will be engaged to define the vision of the implementation. The key deliverable will be the Scope Review and Agreement.
Feasibility Assessment & Design
The primary activities in this phase involves identifying benefits and costs (including licenses) of the implementation. Validation workshops will be conducted with both Business and IT stakeholders. The key deliverable will be a Recommendation Report detailing the target state and the complexity of the implementation. A Go/ No-Go decision will be made at this point whether to proceed with implementation.
Implementation
The implementation phase follows the typical software development lifecycle (SDLC) that involves development and various cycles of testing, and the subsequent Go-Live and post Go-Live support.
Benefits After Successful Implementation of TDS
With the successful launch of TDS at the financial institution, standardized instrument data from the major market data providers are now maintained centrally in TDS. Additionally, systems covering regulatory requirements such as country and entity sanctions have been connected as well.
The following represents the scale and utilization of TDS3 :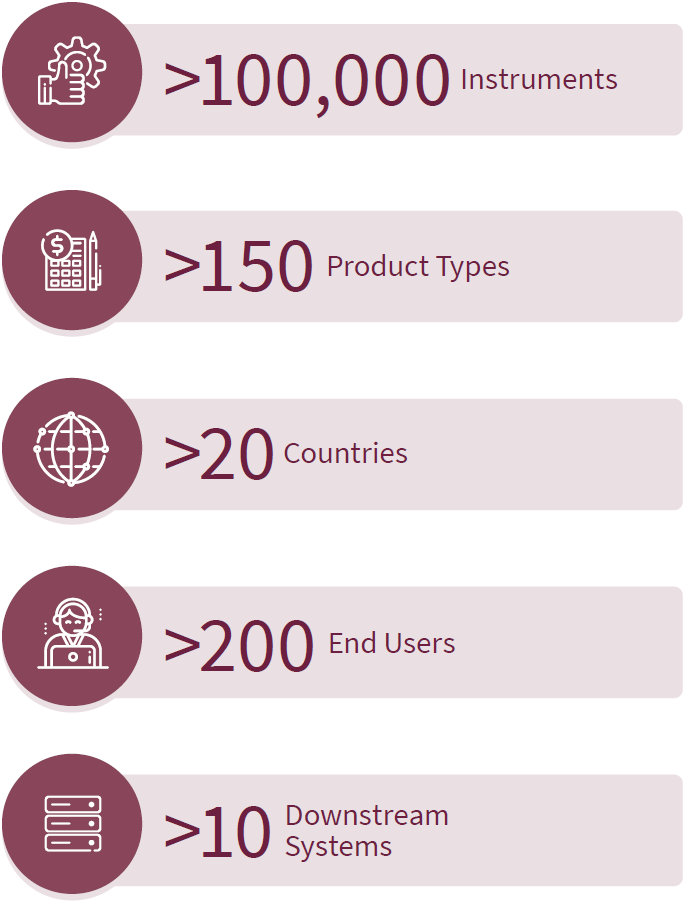 Key Enhancements
Instrument Creation Process
Instruments that previously had to be created manually can now be created more efficiently by sourcing majority of the data from data providers and users only have to enter some manual values. For equities, the creation process is completely automatic.
Instrument Attributes
A larger number of attributes can now be sourced, calculated, maintained, and distributed to downstream applications to support various functionalities e.g. advisory, portfolio view, suitability, and order capture.
Country-Specific Distribution Rules
The product catalogue can now be centrally maintained for all countries, with automated rules to determine if a product can be distributed to specific countries and business segments. The flexible rule-engine also caters to the different countryspecific business requirements through the implementation of country-specific rules.
Source & Target System Interfaces
TDS now serves as the «Golden Copy» of instrument data across different business segments providing greater data consistency and efficiency of data management.
Data Quality
With the various data validation and rules in place, problems such as duplicate records or inconsistent data types are eliminated, drastically improving data quality and minimizing the risks of wrong processing and increasing the Straight-Through-Processing (STP) rate in downstream systems.
Conclusion
In an increasingly data-driven world where systems and processes are heavily dependent on data, it is critical to possess an effective data management solution to manage and maintain the evergrowing volume of data. This serves as a foundation for any systems or process transformation in any financial institution.
With Synpulse's experience and Instrument Master expertise, an implementation of TDS' best-in-class data management solution can be achieved in an effective and timely manner.