How Banks Can Survive
Part 1: The Dilemma Facing Banks. Banking is being changed irrevocably as technology develops. To be able to survive, banks have to be more client-focused and technologically fit. And they have to get agile. In this series of three articles appearing at two-weekly intervals, we'll be looking at the challenges and possible solutions.
---
New Market Environment Emerging
Digitization of markets is increasingly confronting banks with a traditional business model with a dilemma: invest in expensive change or run the risk of losing customers.
To keep pace, they must draw on their existing resources to get new processes up and running and make significant investment in their technical infrastructure. But there's no guarantee of success.
Waiting to see what happens isn't an option. The risk of failing to keep up with the competition and losing customers is high.
Customers Gaining Power
Digitalization is increasing clients' bargaining power by constantly putting new tools at their disposal. At the same time, legislators are placing growing constraints on providers' ability to influence customer decision making (think GDPR).
This means customer satisfaction now plays a direct role in purchasing decisions. Reviews aren't just a key source of information for potential buyers, but a useful outlet for disappointment and frustration. A provider's survival or failure can be decided by a verdict in the form of stars or social media posts.
New, Unfamiliar Competitors in the Wings
Against this backdrop, bigtechs such as Amazon and Google may well constitute new competition for the banks, gradually expanding the scope of their business to include lucrative banking services.
Their trump card is the huge volumes of data they hold on interactions with their customers, and their ability to capitalize on this information.
Even if the tech giants never become actual banks, they will be able to steal precious slices of the pie. It's a similar story for agile fintechs that are particularly adept at providing specific services. And then there are established banks who are already making it a priority to align themselves with changing reality.
Trust Requires Change
Losses can have serious real-life consequences, so banking clients need the confidence that their assets are in good hands. The trust they place in a bank is therefore one of the most crucial ingredients in client loyalty.
While continuity and stability help underpin this trust, they shouldn't be confused with inertia and inflexibility. As paradoxical as it may sound, customers increasingly trust banks that change to stay up to speed.
Change a Permanent Fixture
Technology life cycles are getting short and shorter and are impacting more and more areas of a business. Even if this trend doesn't accelerate any further, we've already arrived at a state of permanent change.
Transformation projects absorb resources that are normally fully stretched by day-to-day operations. As transformation, rather than the project itself, becomes a permanent preoccupation, banks with a traditional business model will find it harder and harder to take the financial and organizational strain.
The Requirements Banks Have to Meet
While established banks perhaps won't need to completely reinvent themselves, they're well advised to make permanent change and unrelenting improvement a fixed component of their organization. These efforts should be directed along two dimensions: customer experience and service provision (see Figure 1).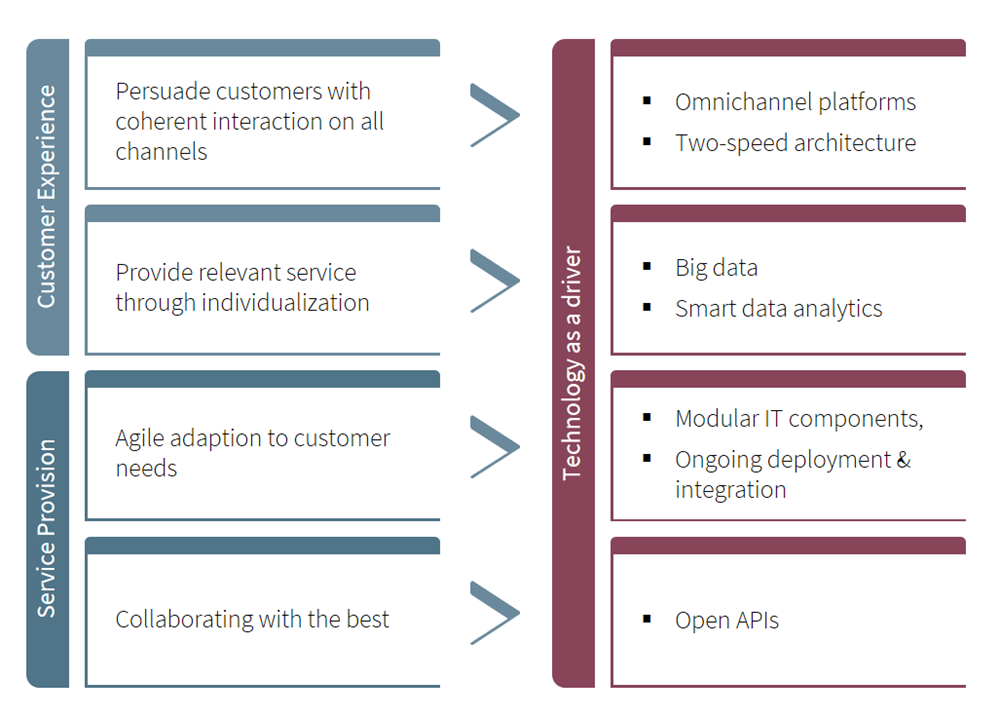 In the next article in this three-part series we'll be taking a closer look at how digital technology can be used to drive improvements in customer experience.
Analyzing the Need for Action
If you can't wait to find out where your organization needs to act, we'll be glad to run the Synpulse Digital Health Check as the basis for developing specific measures.