How Banks Can Survive
Part 3: Become Agile and Open Up. In the previous article in our series we discussed why banks are well advised to improve customer experience consistently across all touchpoints. In this article we investigate how banks can set up their IT to become more responsive to market changes.
---
Clients Driving IT Cost
Clients already have a great deal of bargaining power and are gaining even more. Digitalization is constantly providing them with new tools optimizing their access to products and services. So, offering individually tailored services could be a good way of maintaining client loyalty at high levels.
But how can banks run profitable operations if that means adapting services and the required infrastructure as quickly as client's expectations continue to evolve? The need to modify processes and IT infrastructure so frequently could turn out to be ruinous.
Can banks simply ignore the growing demand for customer-centric banking services? No. In the first article in this series we mentioned the new kind of competitors just waiting in the wings for the opportunity to step in and take over from traditional banks.
Agile Fulfillment of Changing Customer Needs
So how can a bank keep pace? Regulatory requirements and the need to nurture the trust of customers require sophisticated processes and complex systems. You have to make sure these processes and systems operate stably, at the same time keeping a rein on costs. This limits the frequency and speed with which you can make changes.
A modular IT architecture can help to some extent. With components that can often be combined, you gain greater flexibility to be able to offer customers the de-sired service mix when they need it. If their needs and requirements change, you can adapt or swap out individual blocks. The expense involved in doing so is relatively minor compared with large monolithic systems, and hardly noticeable at the operational level.
But to harness the benefits of a modular IT architecture you need an agile organization. Only then are you in a position to respond to your customers' needs as quickly as they expect.
Openness to Partnerships
Open banking is currently the subject of controversy. But there's no right or wrong. Ultimately the question of how far openness should go and what form it takes is a strategic decision.
Naturally you shouldn't be too quick to give up your strengths. On the other hand, it's possible to compensate for your weaknesses by integrating external services. Others are already using this model. Uber and Amazon are good examples: they only provide individual sections of the value chain themselves.
To a certain extent the claim that "banking is necessary, not banks" could refer to the things open banking stands for. Customers make use of a mix of banking services via a platform and under a brand which is pro-vided by different partners (see Figure 1).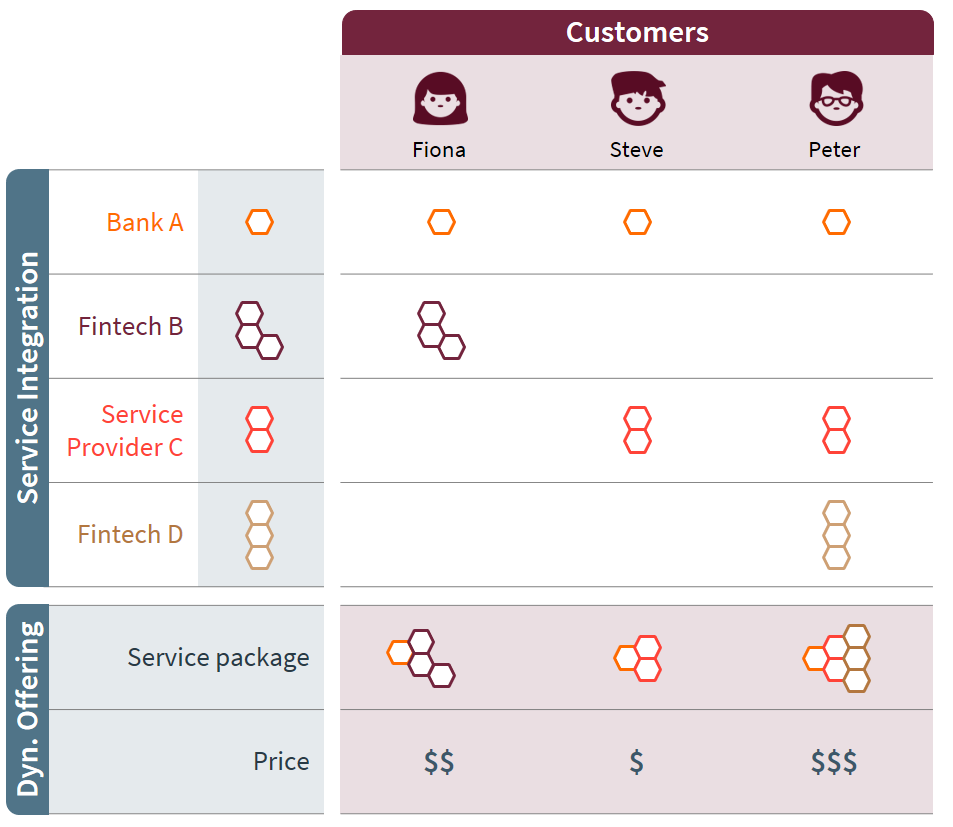 When a link in the value chain no longer provides the desired quality or even fails, another partner can be brought in to fill the gap. This makes the companies involved in service delivery flexible and able to adapt their business model more quickly to new circumstances than a bank that must undergo a reorganization to do so.
If customers are satisfied and keep coming back, you've done everything right. Ultimately this benefits all the partners involved in providing the offering.
Digital Technology: The Cause and the Cure
Digitalization has lifted customer expectations and bargaining power to new levels. But it also provides the means to be much more client centric.
This is where Synpulse comes in. With our intimate knowledge of the latest digitalization trends and a track record in banking system implementation as well as operational excellence projects, we can help you har-ness digital developments to your advantage.
Developing Strategy and Implementation Plan
Based on the results of the Synpulse Digital Health Check, which we use to identify your individual need for action, we work with you to create a strategy that will enable you to gain agility and improve the customer experience on a permanent basis. We'll also help you formulate your IT strategy and design the necessary IT architecture.
Making it a Value-Creating Reality
Beyond strategy, we'll work with you to create an innovation concept, including time plan and business case. Once you've opted for a specific way forward, we'll be glad to run the implementation project for you in line with our proven SPEEDmethod.
Your Contact
Please call us for a non-binding discussion of your options for staying attractive for your current and future clients.