How Banks Can Survive – Part 2
Part 2: Enthuse Your Customers. Banking is being changed irrevocably as the development of technology drives digitalization. Customers' growing expectations and bargaining power are posing a challenge. Rapid digital evolution would appear to be both the cause and the cure.
---
New Market Environment Emerging
In the previous article in this series on how banks can survive the transformation of their industry, we put the spotlight on four key drivers. There's one thing these drivers have in common: the speed they inject into the transformation process. Even if it won't continue to accelerate as it has in recent years, we don't expect the pace of change to return to pre-digital levels.
To compete successfully, banks have to find ways of ensuring permanent improvement. We suggest striving for excellence along two dimensions: Customer Experience and Service Provision (see Figure 1).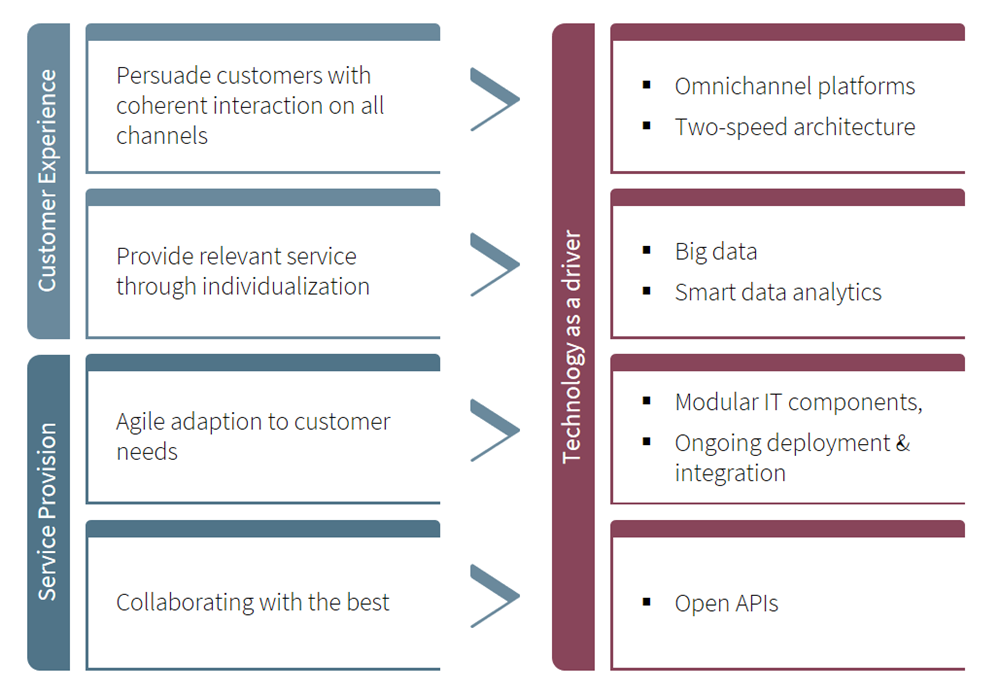 In this article we concentrate on how to deliver an appealing client experience supported with digital technology. The next article will then focus on service delivery.
Persuasive Experience on all Channels
Customers expect a high degree of availability, immediacy, and simplicity. This also means they expect services to be integrated seamlessly across diverse channels. Mobile apps, websites, and personal contact are merging to create a consistent customer experience (see Figure 2).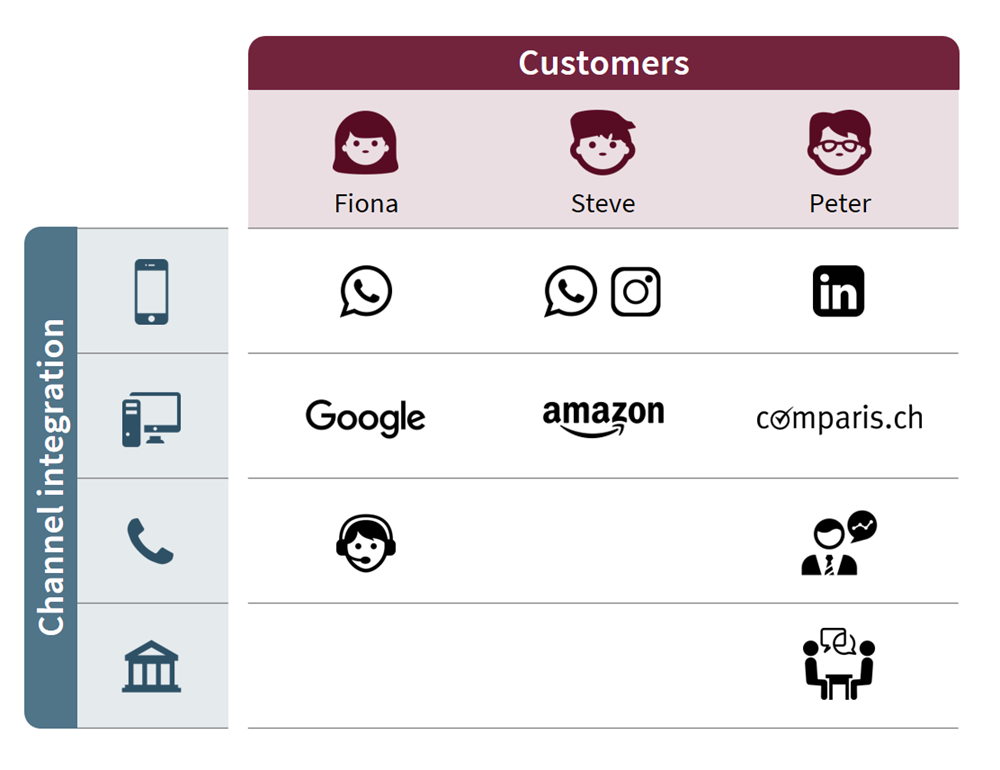 In the midst of the digital hype of recent years, banks have implemented various digitalization projects, some of them unconnected, in different parts of their business.
Instead of creating the simplicity customers desire, banks have made things more complex. Not only that, but this fragmented channel architecture has increased the costs of operation and maintenance. It will be difficult to reverse this development without a great deal of expense.
Omnichannel platforms can be an attractive solution to this. They bring together different data sources in a front layer that enables customers to find all the services they need conveniently in one place. With minimal intervention, silos that were originally separate are brought together on a web platform to create a harmonious customer experience.
This approach also allows a bank to build a two-speed architecture. While the applications in the background are updated in tried-and-tested cycles, adjustments to the front layer can be made quickly and cheaply.
Smart Use of Data for Individual Offerings
When working on delivering an outstanding customer experience, there's one thing that shouldn't be forgot-ten: in the long term, only things that deliver a benefit will sell. But given that no two people are the same, each individual will assess the value-added differently. The more specifically an offering is able to address their needs, the more easily it will sell, be recommended, and resold.
However, bespoke production generally requires a lot of effort and expense and can only be offered in niches where people are prepared to pay for it.
It doesn't have to be this way. Digitalization blurs the line between standardized mass production and per-son-specific service delivery. This applies particularly to industries such as financial services where products exist in the form of data or can be produced efficiently from data.
So, it's basically conceivable to offer a customer a be-spoke package of services automatically on the basis of diverse service components.
This is what we call mass customization: highly individualized offerings produced as efficiently as mass-produced products and services. It's possible thanks to the smart use of data (see Figure 3).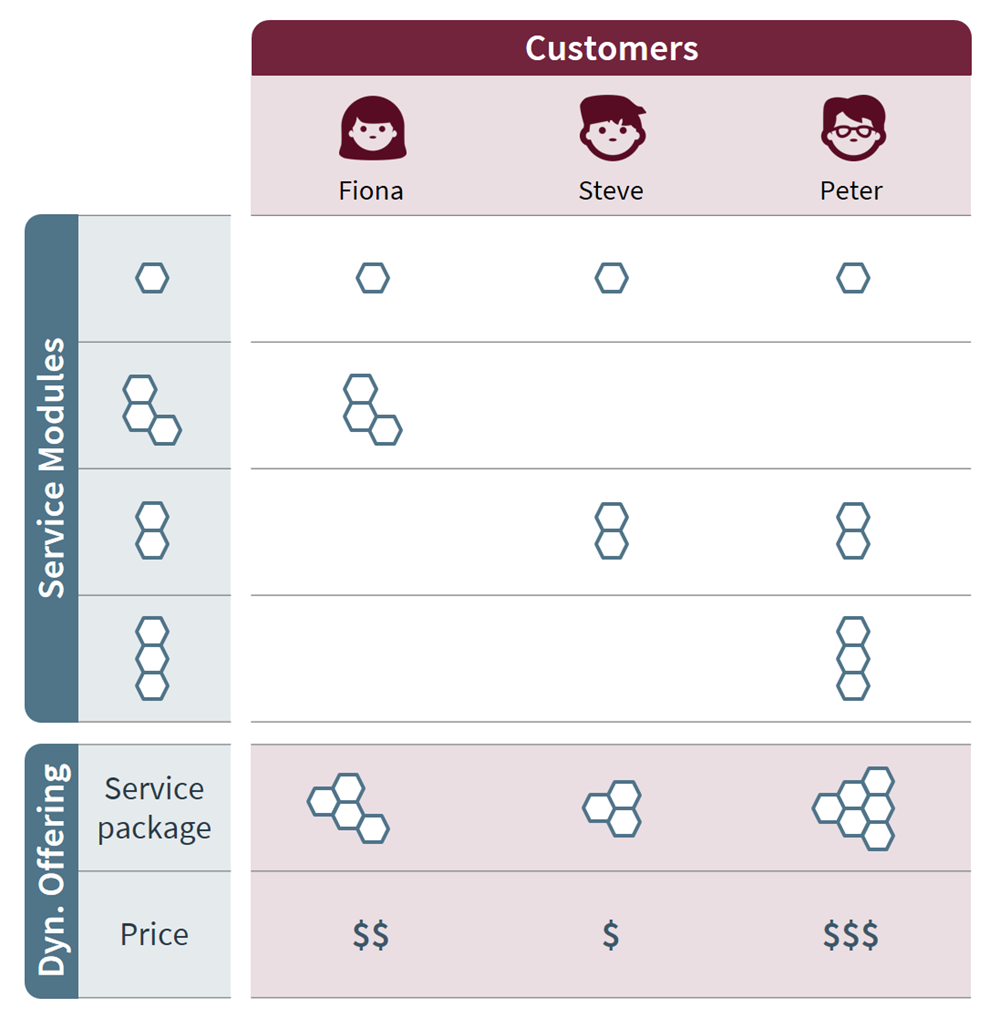 Taking a Bold Step into the Future
No matter how fast you're driving and how far you've already gotten on the road to digitalization, it's never too early to become better. Your clients will appreciate your relentless striving for excellence and reward it with their loyalty. Sometimes even a small step is a bold one and can make a big difference.
Analyzing Your Specific Need for Action
Whether you make selective adjustments or launch a software implementation project depends on your company's individual situation.
Applying the Synpulse Digital Health Check (DHC) you'll be able to identify where your bank actually needs to take action. It will also help you prioritize your options.
Selecting the Appropriate Solution
Over more than twenty years of IT implementation at banks and insurance companies, we have perfected our methods and skills to be able to evaluate and design the most appropriate solutions.
We make sure that your solution is aligned with your business strategy, IT strategy, and IT architecture. We'll also keep an eye on costs and profitability.
Implementation and Launch
Once you've opted for a specific solution, we'll be glad to implement it for you in line with our proven SPEED-method.
Your Contact
Please call us for a non-binding discussion of your options for staying attractive for your current and future clients.