IFRS 17 Implementation
Execute Nimble Reporting and Impact Assessments Now. A radical new reporting requirement is changing the face of data management for insurers. IFRS 17 establishes internationally consistent accounting for insurance contracts effective by 2022. The impact on data management and reporting will be huge.
---
Insurers will need to publish detailed financial reports, disclosing current, accurate data in a timely fashion. This is a major departure from the reporting practices of yesteryear, in which companies could still afford the high costs of gathering data, running analysis and issuing reports manually across disintegrated systems. No more. To meet the new requirements, contract data must be collected, analyzed, and reported in a consistent and efficient way. Data must be as current as possible, and insurers must be ready to iterate and modify models and reports on the fly. Many consumers of the reports – auditors, shareholders, clients, regulators, institutional investors, and so on – may ask for reports requiring rapid slicing and dicing of data in many different ways.
Nimble Data Management for Nimble Reporting

Synpulse has teamed with Systemorph to bring insurers a revolutionary approach to data management and reporting for IFRS 17. The new approach uses Systemorph's groundbreaking IFRS 17 Solution to accelerate data collection, simplify reporting processes, and streamline calculation and analysis. The result is nimble data management producing nimble reporting for IFRS 17 compliance. Together, Systemorph and Synpulse provide workable software for data management and reporting within weeks rather than months or years as in traditional software development. This innovative approach accelerates implementation of an insurer's reporting process for IFRS 17.
Your IFRS 17 Implementation Set-up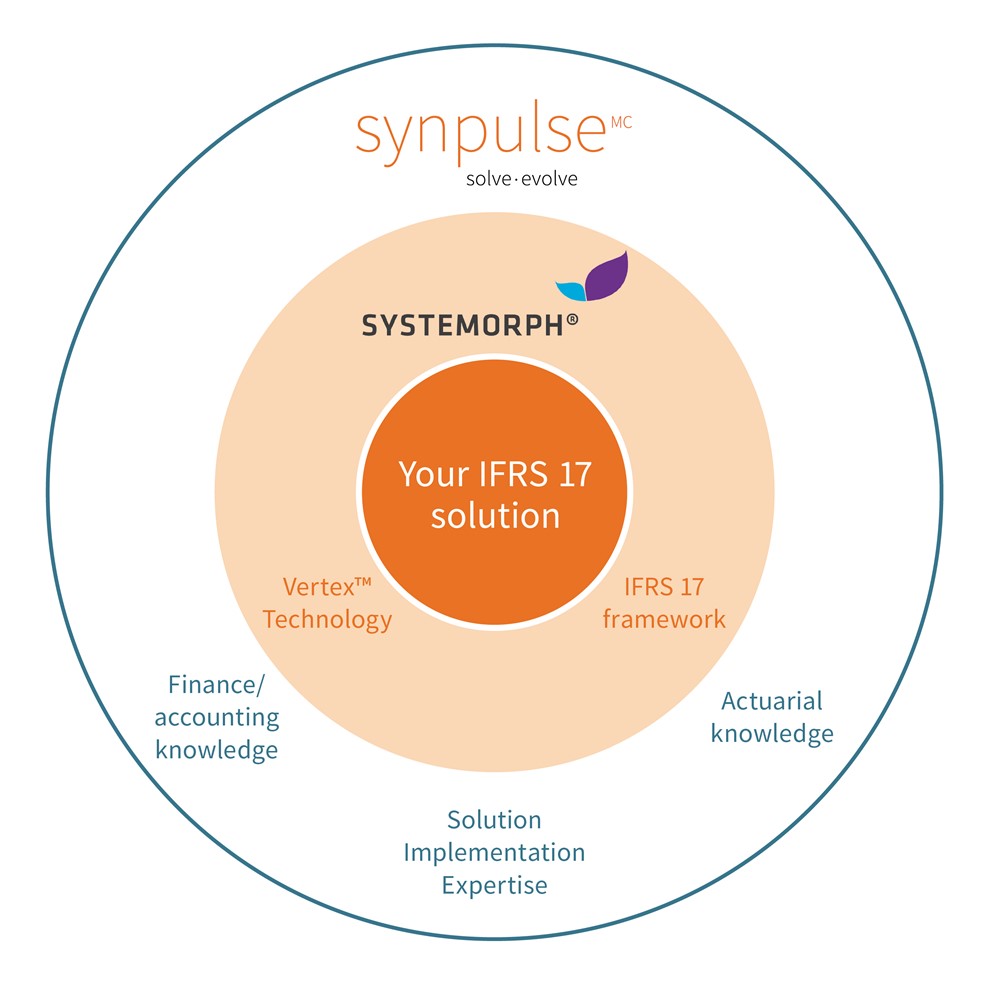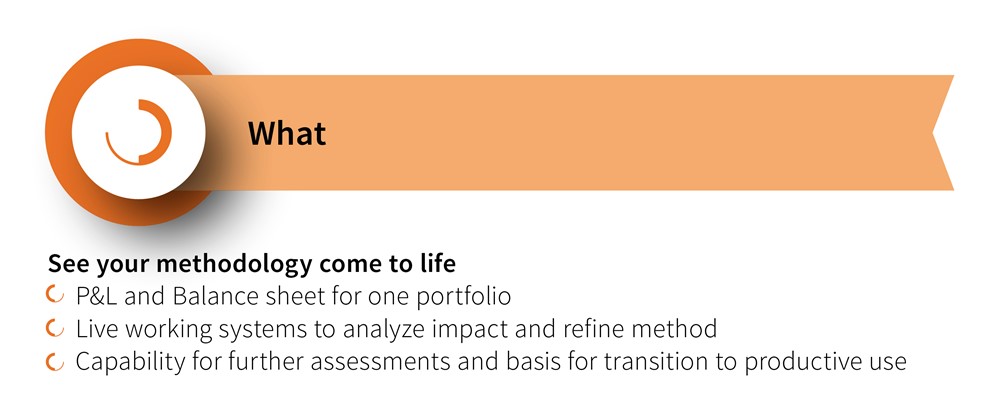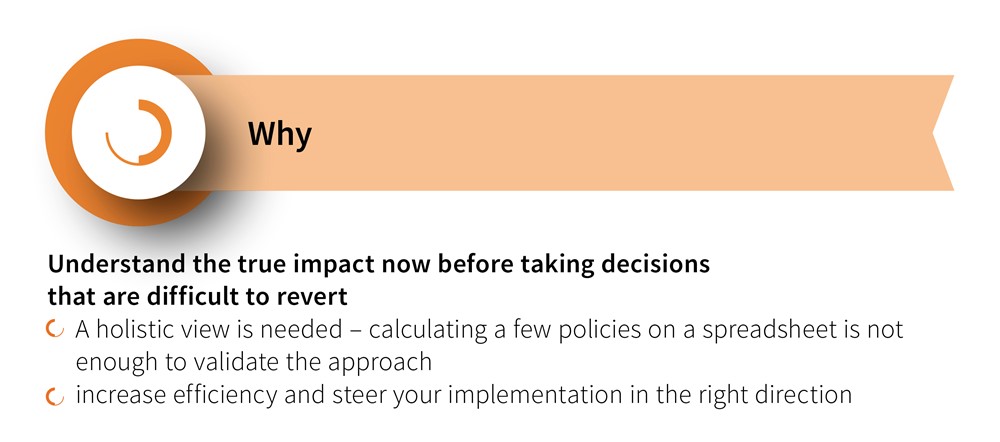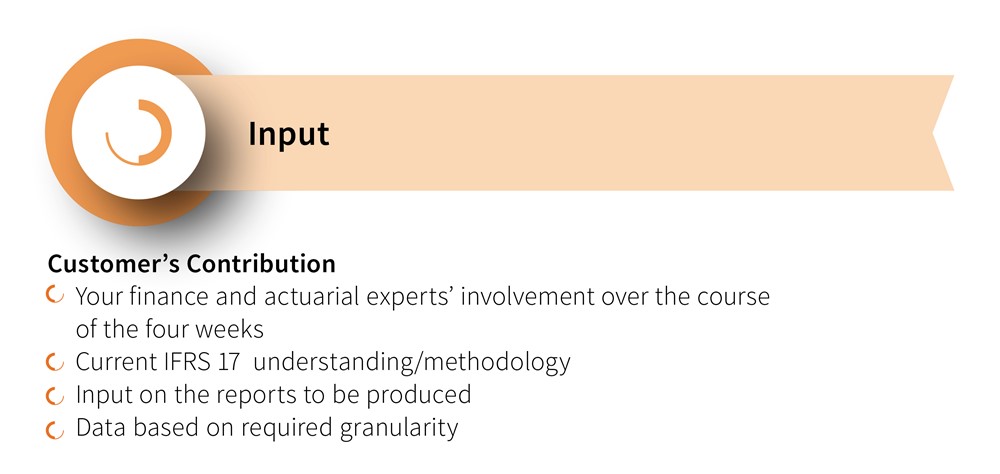 The Systemorph IFRS 17 product utilizes the cloud-enabled Software-as-a-Service functionality of the Systemorph Vertex Platform. This provides powerful yet simple features and functions for creating models, integrating data feeds, calculating outputs, and generating reports. The product combines data-gathering workflows, a master data hub, a calculation engine, and analytics and visualization tools into a single solution. It supports an end-to-end business process that centralizes data control while distributing data management tasks. The product provides users across the entire reporting process with intuitive data management tools that are as simple as using a smartphone app.
The interface standardizes data reporting and validation processes, ensuring data is collected very quickly and validation is smooth and simple. As a result, data is current and accurate at all reporting and analysis levels. The system enables the insurer to easily adopt models and valuation methodologies in the IFRS 17 standard, including the General Measurement Model, Building Block Approach, Premium Allocation Approach and others.
IFRS 17 Solution Foundation in Four Weeks
Synpulse's finance, accounting and actuarial knowledge as well as deployment experience enable the Systemorph product to be operational to manage real company data very quickly. In fact, we built a live system using real data in only four weeks for several clients. That means an insurer's business managers can explore their modeling and reporting ideas in working software rather than trying to plan abstractly with diagrams or long documents. Our solution lets business managers see their methodologies come to life, allowing them to analyze and refine them in real time. Rapid iteration enables managers to make the right choices for modeling and calculation without setting their decisions in stone.
This revolutionary approach is possible because of the Vertex platform's unique technology, which was developed hand-in-hand with this agile development process and serves as its underlying foundation. Many insurers looking to comply with IFRS 17 no longer have the appetite for long, expensive, staff-intensive software build-out and customization projects. Instead, the Systemorph and Synpulse approach brings modern software, cloud technology and advanced deployment techniques to form a tailored, highly efficient IFRS 17 reporting process. In the end, our solution permits insurance business managers to focus on business content, not on the software or the projects needed to build it.