Underwriting Compass
Harness augmented intelligence for faster and better underwriting decisions. The best underwriting decisions are those made with as much relevant information as possible. At the same time, cost pressures are mounting and companies need to realize efficiency gains. Our solutions deliver on both sides of the equation.
---
The Underwriting Compass is a software solution – powered by Squirro – that supports underwriters by automating non-value adding processes, enabling effective prioritization, and facilitating thorough risk analysis. The solution can be implemented as a stand-alone solution or embedded in an existing underwriting software, and is highly customizable.
Challenges
When underwriters receive requests for (re)insurance cover, they deal with a great amount of data. This data can be unstructured or structured and come from external and internal sources such as news, information from similar risks, underwriting notes from past deals, or loss information. The result is that underwriters are often trapped in a cumbersome and lengthy research exercise where it's difficult to maintain the overview without losing information.
Approach
Augmented intelligence helps underwriters make accelerated and informed decisions. Synpulse has developed Underwriting Compass as a solution to automate certain non-value-adding processes, facilitate the initial underwriting triage, and bring underwriting risk analysis to the next level. The Underwriting Compass aggregates and analyzes vast and untapped volumes of data to give underwriters a 360° view of deals, clients and markets and provide them with ultimate support in their decision-making. Pertinent information is extracted through natural language and text parsing techniques. Data is automatically processed and enriched, eventually yielding structured data which is displayed to the underwriter on a user-friendly dashboard.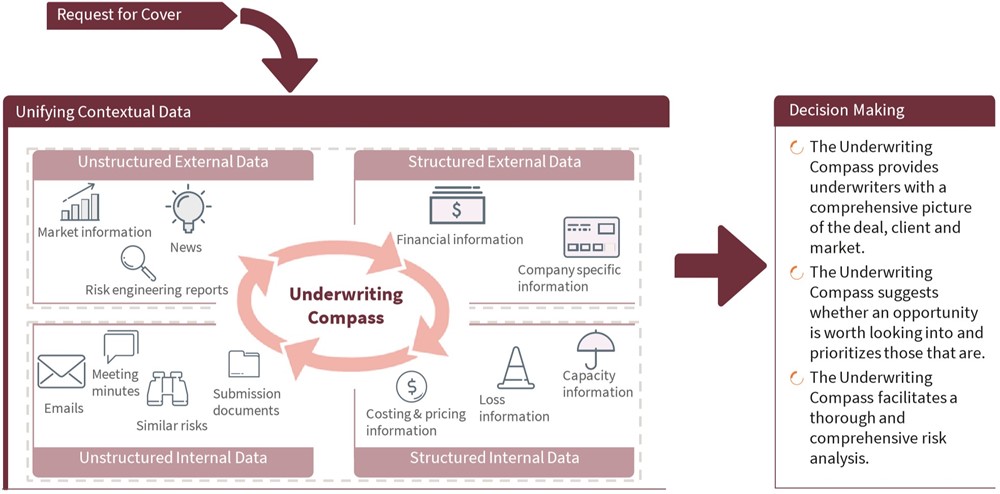 (Re)insurance companies can use Synpulse's Underwriting Compass to augment the risk analysis process, unlock efficiency gains, and ultimately elevate their client relationship management. The Underwriting Compass provides a bird's-eye view of all pending business and facilitates an initial risk assessment allowing early triage. It identifies deals with similar risk characteristics, enables a drill-down into specific deals, clients and markets, provides talking points, and identifies potential business opportunities.
Improved Risk Assessment
Brings relevant information to the surface while eliminating noise

Makes early stage risk recommendations

Identifies similar deals

Compares prior-year terms and conditions
Efficiency Gains
Automates non-value adding steps in the underwriting process

Expedites underwriting process through reduced research and discovery time

Supports triage process for intelligent prioritization

Makes enriched data available for further processing
Deeper Client Insights
Enables broad, deep insights into deal, client, and market

Provides recommended talking points and facilitates lead generation

Enables client relationship quality assessment

Helps elevate customer service

Creates the transparent customer
Expertise
Synpulse is an expert and highly valued partner for innovative solutions fostering digitalization in (re)insurance. Our many years of experience in project management and current knowledge of new market and technology trends, together with our understanding of how underwriting in (re)insurance works, enable us to help our clients digitalize their processes. Our team takes a holistic and integrative approach and supports projects all the way from early assessment until the final implementation of the Underwriting Compass.