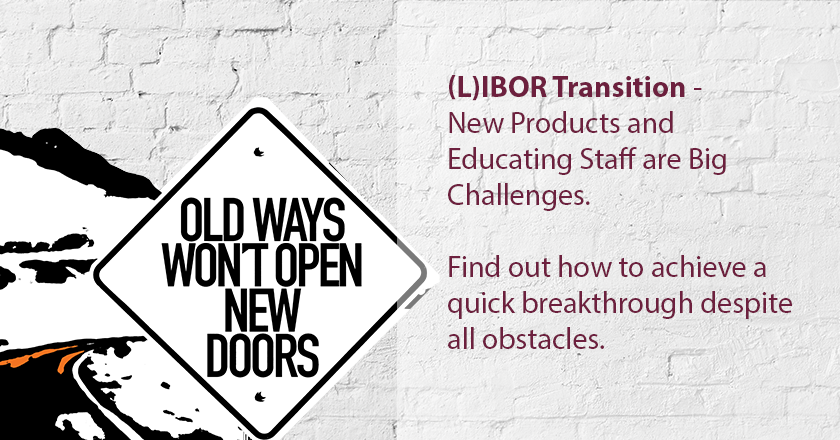 How to Manage the (L)IBOR Transition
The focus of a manipulation scandal in 2011, the (L)IBOR reference rate has been the subject of criticism for several years now. The financial system is now on edge trying to implement new systems by the end of 2021 – the date by which the British Financial Supervisory Authority (FCA) has deemed (L)IBOR to be discontinued.
In this white paper we want to give a follow-up on what has happened since our last publications and shed some light on how to manage the (L)IBOR transition. We'll be going into the current challenges in detail and the solutions Synpulse proposes. In addition, our partners at Avaloq have contributed an overview of the latest features in their core banking system for handling risk-free rates.
Challenges
Right now the transition primarily involves the following challenges:
Communication:

Defining a communication plan setting down how and when to interact with customers and internal stakeholders.

Product management:

Defining new risk-free-rate-based products to replace existing (L)IBOR-based legacy products.

Contract inventory:

Keeping and reporting on the inventory of (L)IBOR-based contracts.

Cash flow uncertainty:

Keeping your customers informed about the in-arrears calculated interest rate, and providing means to mitigate cash flow uncertainty.

Training:

Making sure every project member and client advisor profoundly understands how the new products work.

Migration and repapering road map:

The existing legacy products must be transitioned into the new world. The regulator doesn't propose a timeline, which means that each organization is responsible for coming up with a plan on their own.
Solutions
At Synpulse our approach to tackling the (L)IBOR transition consists of five different, tightly linked areas of change, each of equal importance: Products, Operations, ART (Accounting, Risk, Treasury), Legal, and IT Systems & Cutover. Based on this canvas we can make sure an organization is operationally ready for the (L)IBOR transition, identify the current pain points in the transition project, and fill out the canvas with action points.
Our «fast-track implementation method» ensures fast operational readiness, and is based on the end-to-end implementation of a product with known modeling (such as a SARON-based internal interest rate hedge between treasury and another business unit, or a SARON-based floating rate note).
Please contact us to learn more about our approach to tackling the (L)IBOR transition!