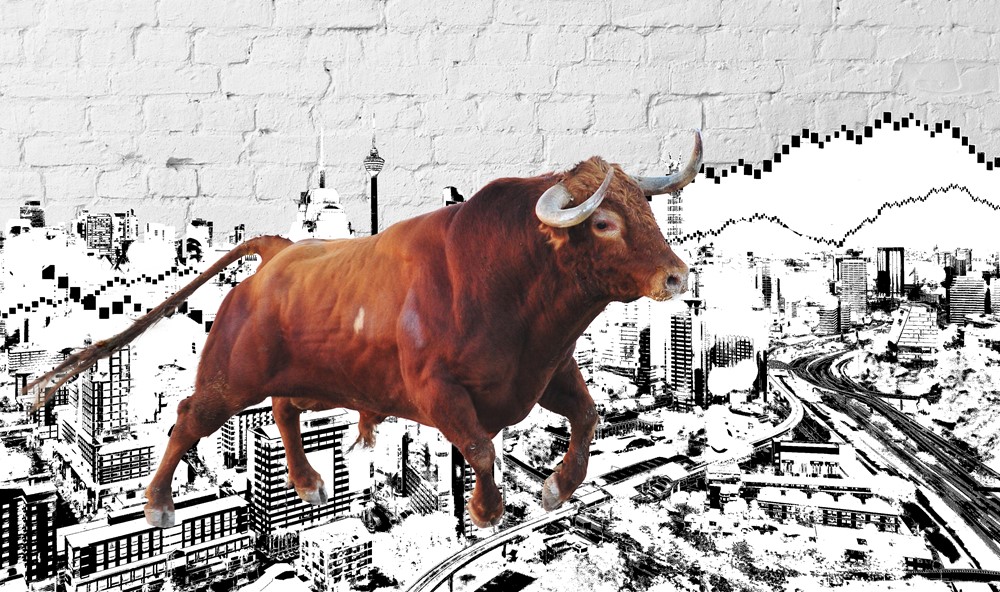 Innovation in Insurance: How to Tame the Bull
These days innovation is essential for any organization. But it's also bringing disruption and great challenges to the insurance industry. This article describes why you need to manage innovation to overcome these challenges, the benefits of doing so, and the three pillars of an effective innovation management approach.
In this «New Age» of innovation, the key to creating value and assuring the future growth of any business is drawing on a global network of resources to co-create a unique experience with customers, one at a time. To achieve this, CEOs, executives, and managers at every level must transform their business processes and technical systems, and implement the social and technological architecture required to create an ongoing innovation advantage. A process of business transformation forged by digitization, ubiquitous connectivity, and globalization is radically altering the very nature of insurers and how they create value. While this change is critical for survival and growth, few insurers are embracing it both comprehensively and systematically to maximize the benefits of innovation.
Now that the A.M. Best Company – a provider of news, credit ratings, and financial data products and services to the insurance industry – has introduced its Innovation Rating, insurers are understanding the importance of the innovation disrupting their industry. In addition to the technological advances which insurers are trying to pursue, the A.M. Best rating takes into consideration fundamental factors such as leadership, culture, resources, process, and structure that can shape their innovation practice. A.M. Best holistically evaluates the results on the level of transformation. This new update to the important rating process is forcing insurers to focus on innovation as a strategic initiative.
It's remarkable how many people are under the false impression that insurers are innovative. This is a very polarizing and simplistic view that fails to take account of the different types of innovations that companies can and should pursue. There are four types of innovation any insurer can pursue: incremental, disruptive, architectural, and radical.
In general, innovation − and especially the disruptive kind − is quite different from what companies are used to doing most of the time. Because they're not used to managing different types of innovations, they're approaching innovation as any other project.
With great innovation come great challenges. There is quite a wide range of challenges spread over all four major aspects of innovation: structures, culture, strategy, and capabilities
Structures: There is no proper structure and a lack of support from the leadership team, which disengages employees
Culture: There is no encouragement in terms of cultural support to promote innovation
Strategy: Acceptance of change and risk is minimal because of a poor and misaligned strategy
Capabilities: There is an inability to execute ideas because of a lack of skill, talent, or sufficient freedom to execute ideas
To overcome these challenges you urgently need to manage them. Innovation management is a great way of systematically promoting innovation within your organization, encompassing a set of planning, organizational, management, and control tactics that can be used to overcome the challenges.
To realize the full potential of innovation management and reap the benefits, innovation management has to be looked at from a holistic perspective. It consists of three important pillars: innovation strategy, innovation methods, and idea management.
YOU WANT TO LEARN MORE ABOUT «INNOVATION IN INSURANCE»?
Sign up for our new article series!
Sign me up
1) Innovation Strategy
To foster innovation and a successful innovation strategy you need an effective innovation framework. This consists of an overall strategy at the management, organizational, and project portfolio management levels.
Management Strategy
Competition: Who are our competitors, what are they doing, and how are they doing it?

Customers: What are the current and future needs of the market?

Company: Do we have the capabilities to be competitive and differentiable?

Incentive and Culture: What incentives and people development schemes are in place to encourage innovation?
Organization
Roles and Responsibility: What should the involvement be at local and global level? Do we need to hire different people with a different mindset?

Prioritization Framework: How are people and budget allocated and governed?

Connectivity: Are the different stakeholders connected and aligned (for example our innovation lab and the business units)? Should the innovation lab be close to the business or decoupled?
Project Portfolio Management
Build or Buy Framework: How are potential project gaps being addressed? Do we build something from scratch, or do we strategically buy companies/software that achieves the purpose?

Innovation Return on Investment: How are investments and KPIs measured?
Remember: To succeed as an innovative company, you need to address innovation with a holistic and systematic framework.
2) Innovation Methods
After every strategy session, the question that bothers most people is how they're going to make this innovation strategy a reality. Innovation methods help you successfully execute and deliver innovation projects by providing structured support, from ideation to prototyping to build and launch. Two of the most popular techniques out there are Design Thinking and Google Venture Sprints.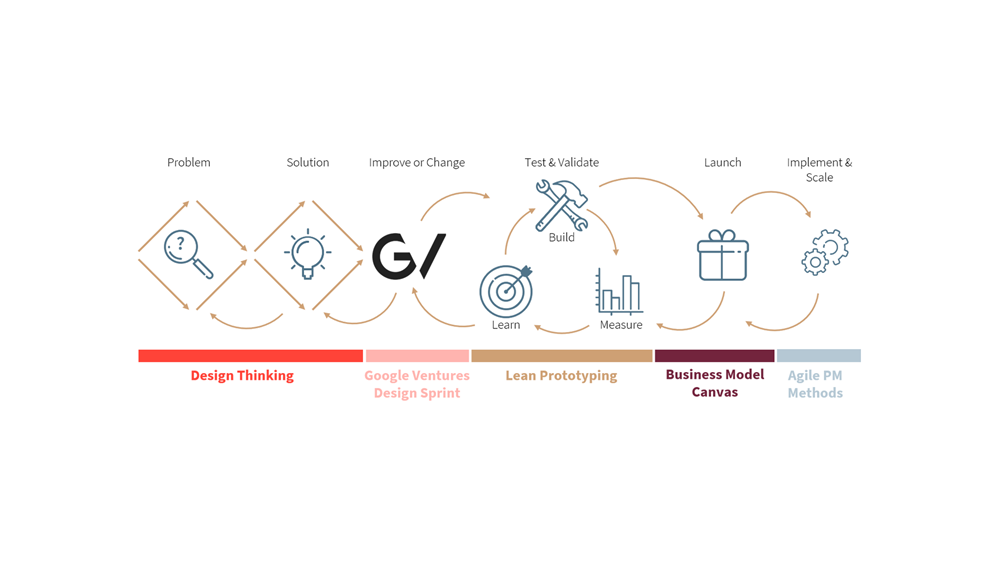 Design Thinking
As Figure 1 shows, every project starts with a discovery phase where you ask yourself What value I can create for my user with innovation? You can use Design Thinking to better answer the question and find the use case itself. It's a powerful way of developing game-changing ideas and solutions based on user insights and an iterative process.
Google Venture Sprints
Using the three basic premises of Design Thinking – Immersion, Ideation, and Prototyping – and leveraging the creation of a multidisciplinary environment, Google Venture Sprint is emerging as a new approach to accelerated innovation where speed and innovation go hand in hand. Google Venture Sprint is a smart track for fast experimentation building on what Jeff Bezos claims: "If you double the number of experiments you do per year, you will double your ability to invent."
Apart from the widely used Design Thinking and Google Venture Sprint approaches, there are number of innovation methods such as lean prototyping, business model canvas, open innovation, and lean startup which can be successfully used to deliver innovation.
3) Idea Management
A successful strategy and effective execution methods are an essential part of overall innovation. But it's also crucial to have an idea pipeline to ensure that ideas reach the right stakeholders. Better ideas lead to innovation, and innovation leads to market leadership. Ideas always come in from the CEO, customers, or business units. It's important to manage the flow of all ideas and prioritize them into a roadmap that makes the most sense for the company. To manage ideas successfully there are four important factors: culture, process & organization, system and incentive, which we believe is a crucial part of the idea management manifesto.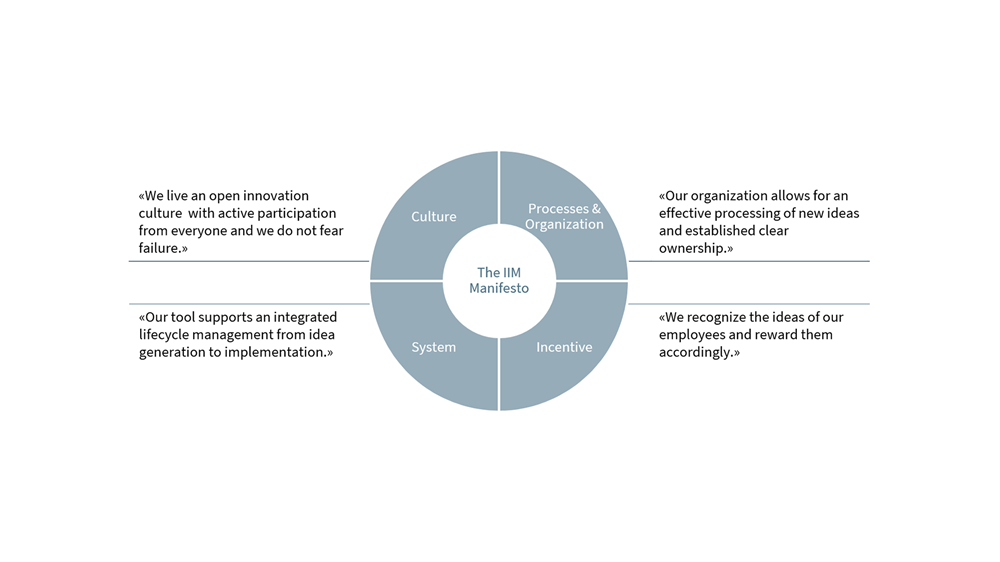 Managing ideas goes beyond just capturing the feedback as shown in Figure 2. It also requires storing, sorting, and eventually choosing the most relevant suggestions to include in future enhancements.
There may be as many routes to innovation as there are innovations. Having the three pillars of innovation strategy, innovation methods, and idea management in place helps increase the probability of success by establishing innovation as a strategic imperative and allowing you to innovate for the needed speed and flexibility. It's also an opportunity to identify and share best practices throughout the company for recognizing and building strong fundamentals for innovation.
YOU WANT TO LEARN MORE ABOUT «innovation in insurance»?
Sign up for our new article series!
Sign me up