Banking I Innovation I  2019/11/08
The Rise of Fully Digitized Customer Onboarding
Banks are still playing catch-up when it comes to offering a quick and convenient account opening experience. With increasing competition and the looming threat of new virtual banks in Asia, traditional retail banks are being forced to step up their game when it comes to onboarding. Synpulse reveals the key principles of designing a fully digitized client onboarding process, compliant with local regulations.
---
Unsatisfying customer experiences with current onboarding capabilities
The onboarding process has often been a lengthy, heavily paper-driven and fragmented experience for customers, with too much paperwork, too much back and forth, and too many visits to a branch. Some digital front-runners have started to offer self-service onboarding capabilities. But the overall success rate remains low. Global figures reveal that only 34% of successful applicants have completed their entire application online, and only 8% of those who started on their mobile completed the onboarding process on the same platform.
The abandonment rate is particularly high during the collection and verification of personal information for know-your-customer (KYC) purposes, as well as when applicants are directed from one bank channel to another — O2O («online to offline») or O2B («online to branch») — to complete the process. More than 50% of customers abandon because identity-checking procedures are time-consuming and unintuitive.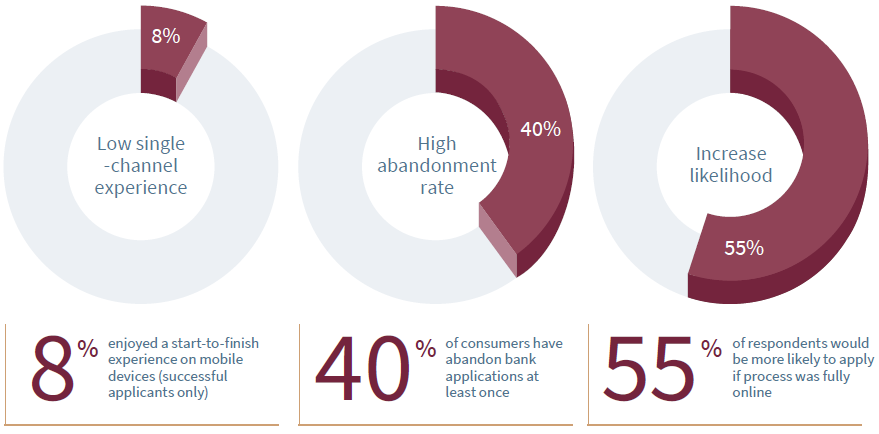 High cost of missed opportunities
The ten largest licensed banks in Hong Kong spend over a quarter of a billion USD yearly on customer acquisition. Considering the high number of drop-outs during customer onboarding, it's a major challenge for banks to overcome this last hurdle of acquisition.
In the absence of a government-led electronic identification (e- ID) scheme for Hong Kong, only a few established banks have started to offer digital account opening or digital KYC services, whilst the majority of the industry still relies on the branch as the most important channel for onboarding.
Hong Kong's virtual banking initiative will raise the bar for the industry and will provide the stimulus for banks to offer fully digital onboarding capabilities.