Non-Life Core Transformation: Are Insurance Carriers in Emerging Asia Ready?
Emerging Asia for the purposes of this article include the countries of Malaysia, Thailand and Vietnam. In these countries many insurance carriers are starting to face the strategic consideration around modernizing their core systems. Other strategies can also include extending the lifetime of their existing core system with a modern front-end and digital platform. Planning for these types of investments, especially in emerging Asia, are becoming increasingly more important.
Core Transformation in Emerging Asia
As these countries continue to see growth, deregulation, competition and increased mergers and acquisition (M&A) activities, there are a few other important considerations to note.
Current economic growth is stagnant due to uncertainty in the overall stability of the government but is expected to increase slightly over the next couple of years. Malaysia is starting to become a hub for Islamic Insurance (takaful) as Bank Negara Malaysia looks to continue allowing new entrants.
Over the past 15 years, the insurance market in Thailand can best be described as volatile but most leading forecasts see positive trends in key performance metrics such as penetration and growth. Technology is considered a major future trend as the market moves towards increased distribution on digital platforms.
Vietnam has a strong potential and continues to see one of the highest growths in premiums across the region. It is also expected to see large investments in modernizing core technology over the course of the next five to ten years.
Across emerging Asia capital investments in modernizing or upgrading core technology is a current macro trend. Insuran­ce carriers in these countries are starting to consider their investment strategy for core modernization over the course of the next three to five years.
What is Core Transformation
Core transformation is typically defined as the complete over-haul of a company's systems including its network architecture, hardware, software and how data is stored and accessed. The target outcome is not only to introduce a new system, but also to achieve operational readiness and the expected efficiency gains without having a negative impact on end-users or customers.
Globally, core transformation projects are difficult, challenging and they often fail. Insurance carriers in emerging Asia will also face these obstacles as they look to undertake this level of change. Small to mid-size carriers often do not have the awareness, readiness and level of maturity needed to undertake such a critical initiative without support.
Some of the common trends that arise across emerging Asia can help derive a common set of expectations, challenges and critical success factors insurance carriers must consider as they plan and budget to replace their core systems.
Why Core Transformation
Increased competition, higher customer expectations, M&A and legacy architecture are just a few reasons why core transforma­tion is required for many insurance carriers in emerging Asia. Some of the other key considerations are listed in Fig 1.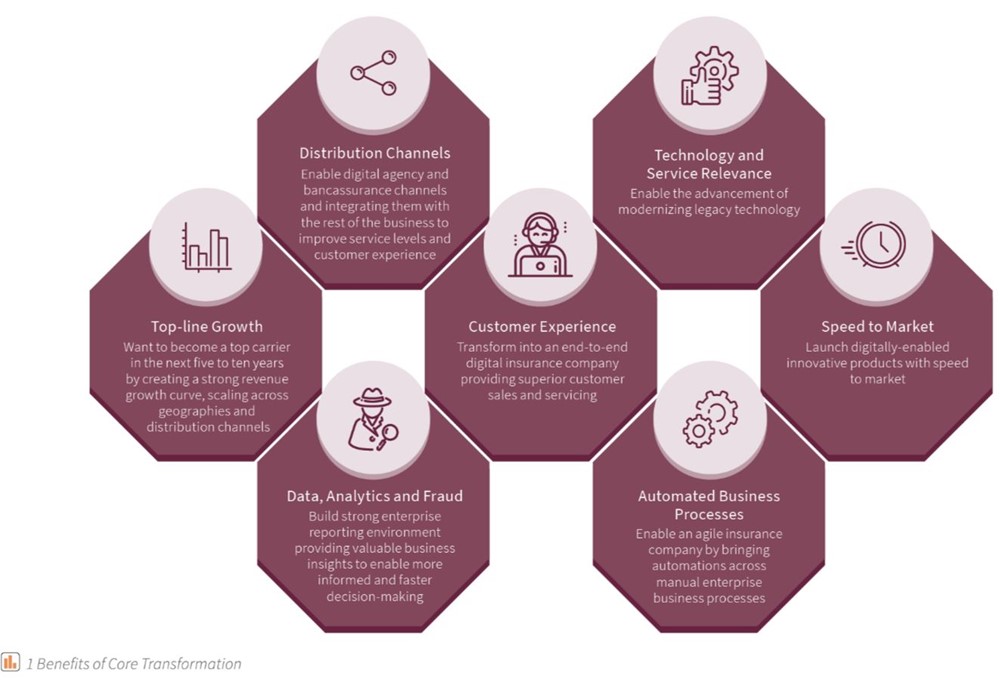 Major Challenges
Core transformation implementations are difficult for any organization as they come with associated risks, especially if they are poorly planned or managed. Senior leadership and boards of directors must be in full support for success. The project leaders, project team members, internal and external stakeholders must remember these initiatives are marathons which are not quick or easy. They are extremely difficult and require stamina and resiliency. When embarking on a core transformation initiative, listed below are some of the common major challenge's insurance carriers can expect to face:
Lack of a formal strategy and key stakeholder alignment can often create challenges for core transformation projects. Leadership across the value chain need to collaborate to align on key strategies for product, distribution, change, operations and more. Clearly communicated and documented objectives are needed to align internal and external stakeholders on the project scope and also to define boundaries. The lack of a cohesive and agreed-upon strategy leads to project delays, gaps in requirements, run-on costs and the ability to achieve the expected outcomes stated in the business case.
Maturity of Staff — Skills and Experience
The success or failure of a core transformation project depends more on the people involved than the systems involved. The people who are chosen to be part of the project teams are crucial. This will be a carrier's largest capital investment, as a result, the best people are required. Across emerging Asia internal staff and technical teams may not have the experience and expertise needed. To offset these challenges, carriers must carefully assess their system integration partner along with a long-term hiring strategy and plan.
Disparate systems, lack of customer and policy data, outdated networks and the need to develop modern long-term technical strategies are important considerations for core transformation projects. Insurance carriers will more than likely need to make significant investments of USD 400, 000 to USD 2 million or more to upgrade their entire pre-existing infrastructure including servers, databases, security, etc.
What to Expect
Basic expectations of core transformation initiatives are that they are expensive and take years to fully execute. In emerging Asia, small to mid-size carriers can expect total project costs of USD 20 million to USD 30 million, and two to five years to fully implement all products and services. Then, there is the reality that many of these projects fail and run over budget in both costs and time. A few other important expectations are outlined in the following:
The Journey                                                                                                                               The typical core transformation journey can take up to five years and typically contain five high-level phases:
Management and Board Support
Agreement by leadership that core transformation is required and approved (6 months)
Vendor and System Integrator Selection
Conducting a RFI, RFP, Vendor Demos, POC's, etc., to select the best vendor and implementation partner for the organization (6-12 months)
Inception Phase
The phase between selection and implementation for program management, project planning, scoping, contracting, level one requirements gathering and finalizing implementation strategy (3-6 months)
Implementation Phase
Typically contains 1-2 releases per year over the course of the implementation project plan (2-3 years)
Post-Implementation Phase
The time needed to finalize training, change management and transitioning ownership of the system to the client (1-2 years)
The Vendors
Depending on the size, technical and functional capabilities of the organization, they will typically find through a vendor selection process the best overall fit. For insurance carriers in Malaysia, Thailand and Vietnam there are global and local players to consider. They key is selecting the right vendor that has the most comprehensive out-of-the-box solution to support the lines of business.
The System Integrators
Unlike North America or Europe, there has not been dozens of full suite policy administration system implementations in emerging Asia. As a result, the brand of the system integrator is not as important as the dedicated project team. Having a project team with experience implementing the selected platform is essential. Culture fit, ability to work well with carrier teams, adaptability, flexibility and overall experience and expertise of the dedicated project teams are critical core competencies and considerations that carriers must assess when selecting a system integration partner.
Expected Outcomes
Depending on the business case gains in operational efficiency, increased revenue and overall cost takeout across the value-chain are expected outcomes of a core transformation initiative. Insurance carriers can also expect impacts that are more difficult to quantify such as brand perception, enhanced customer experience and end-user experience. Increasing the number of distribution channels such as digital will also create business benefit that will have positive impacts on key operational KPIs over the long-term.
Critical Success Factors
From the start of a core transformation project, establishing a clear set of guiding principles are needed to align internal and external stakeholders across the project lifecycle to achieve the expected strategic outcomes. Communications must always be clear and precise, deliverables should be detailed and clear, and the end-user and customer experience must always be considered. In emerging Asia some of the most important critical success factors are listed below:
Leadership and Project Management
The business must be the lead for core transformation projects. IT-led projects often lead to significant gaps especially in terms of functionality or meeting end-user expectations. A strong project management office and management team must be in place to ensure that the right governance processes and framework are carried out properly. Project resource plans, RAID (risks, assumptions, issues and dependencies), change requests and project onboarding are only a few of the critical aspects of a core transformation project that must be carefully planned for. Carriers should also consider investing in running multiple proof of concepts to learn and validate their assumptions and expectations before making a full leap.
Business Case, Strategy and Implementation Plan
The consistent absence of a strong and well-developed core transformation business case, strategy and implementation plan are immediate areas of concern for insurance carriers in emerging Asia. Leadership teams need to focus early in the project life cycle to develop their own internal business case, strategy and point of view. This will carry over into the five main project phases and provide project teams, business teams, technical teams, vendors and strategic partners the most important information needed to ensure a successful project implementation. Areas such as product roll-out strategy, distribution, resource planning and technical strategy are the critical areas that are the most often overlooked early in a core transformation initiative.
Change Management
Many core transformation experts might argue that change management is the number one and most important consideration for insurance carriers in emerging Asia. This is often not the opinion of the leadership team at the insurance carrier and change is seen as an unnecessary or secondary expense. Change is critical, essential and will have one the greatest impacts on overall project success. It is one of the most important considerations and should be planned and budgeted for in the total project costs. Carriers should also invest time in finding the best change management partner who has proven project implementation experience and has successfully led multiple core transformation projects for non-life insurance carriers.
Finding the Right Partners
From the time a core transformation project is initiated, finding the right strategic partners from vendor selection, inception phase planning, implementation and change management are important for overall success. Core transformations are ultimately led, managed and executed by people. Finding the right group of people who work well together as a team across the project work streams can often have more of an impact on success than the selected system vendor. Having a strong project leadership team in place that can effectively construct the right project team is a recommendation.
Conclusion
Are insurance carriers across emerging Asia, especially in Malaysia, Thailand and Vietnam ready for core transformation? In today's competitive market of digital and online platforms and increasing customer expectations, they must be to stay relevant and compete. They can no longer ignore the investment needed to modernize their core systems. Insurance carriers in markets like Singapore and Hong Kong are already making these investments. The carriers who have strong leadership and a commitment to a long-term business plan should consider making investments in the next couple of years to develop a competitive advantage while the rest of the market continues to fall farther behind.
Synpulse has a dedicated global insurance core transformation practice that has proven end-to-end expertise and experience in core transformation strategy. Synpulse also has expertise in business case development, vendor selection, inception phase planning and implementation, program and project manage­ment and change management. Synpulse believes while every challenge is unique, most can be categorized into a few core challenges. We reduce risk by identifying the category, analy­zing the previous global occurrences and applying customized solutions.