Customer Expectations in Event of Claim
Severity in the event of a claim
One claim is not the same as any other claim, from the viewpoint of the customer or the insurer. While for the customer each claim has a strong emotional component, insurers often classify claims very technically on account of the claim and processing costs.
To determine customers' differing expectations of the insurer's benefits, three customer-oriented scenarios have been described which are at the same time organised by insurers into different claim categories and thus processed differently. Using these examples, the expectation towards achievability and speed as well as the importance of service, replacement and monetary benefits is shown.
Scenario 1: Theft of skis on the morning before a skiing holiday – simple claim

Scenario 2: Baggage loss in Peru – simple claim which is remote in terms of space and time

Scenario 3: Expensive parking damage to the car with police involvement – complicated claim
Means of communication for notifying a claim
The customer's online affinity does not play any part when choosing the contact medium. It seems that the phone remains the clear favourite in all three scenarios. Email follows in second place and is only half as popular, but still well ahead of the customer portal, app and chat. This suggests that any loss is a very personal, emotional situation from the customer's standpoint in which support or at least a 'sympathetic ear' is expected. With younger customers, the rate of use of 'more modern' means of communication like the customer portal, app and chat is, as expected, greater than with older generations. Because of the customer preference for just one contact medium (preferably over the entire course of the claim), insurers may have to cover all media and handle the exchange of information with the insured person over a long period via this preferred media.
Theft of skis (simple claim)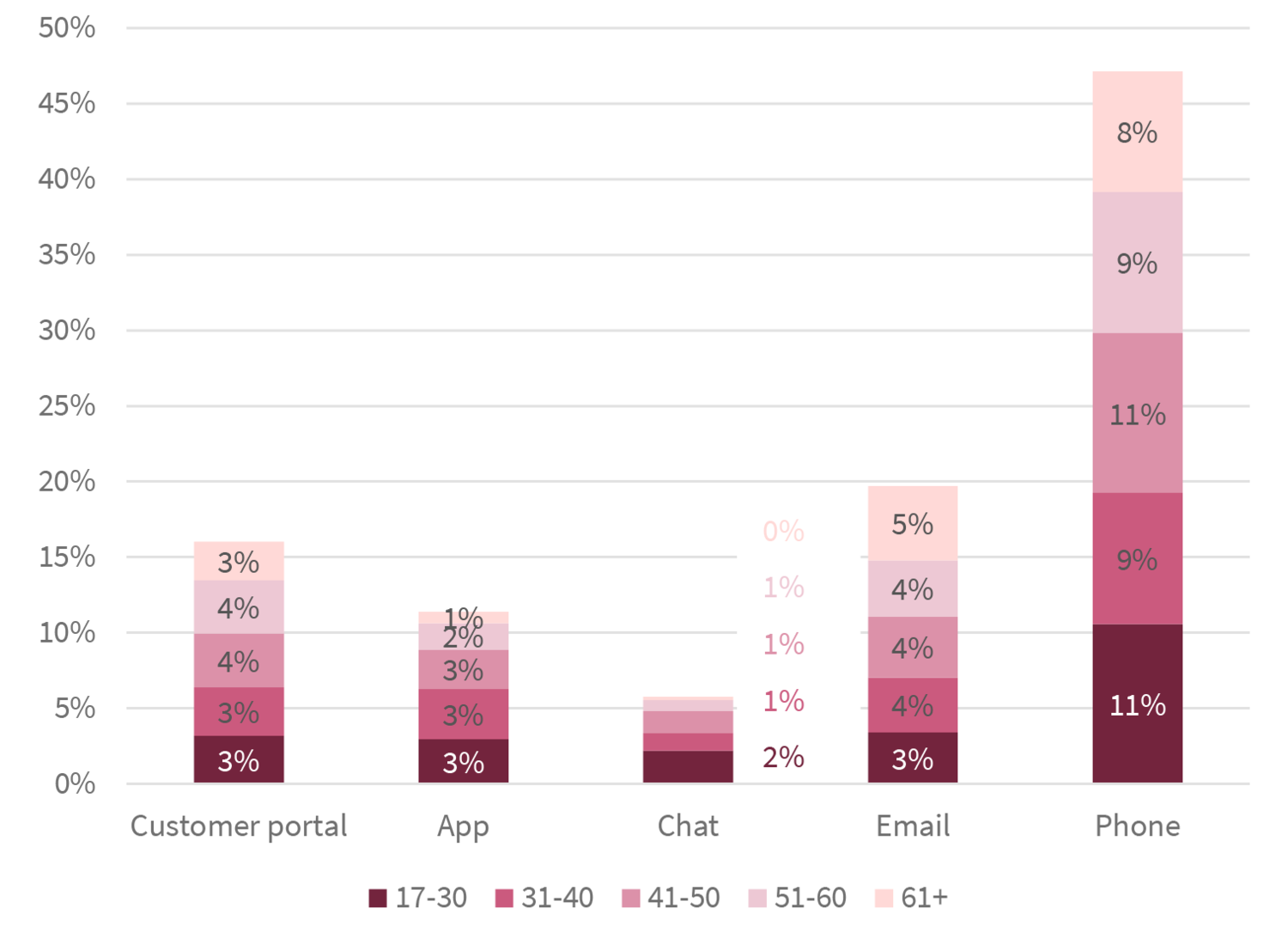 Baggage loss abroad
(simple case of damage with spatial distance)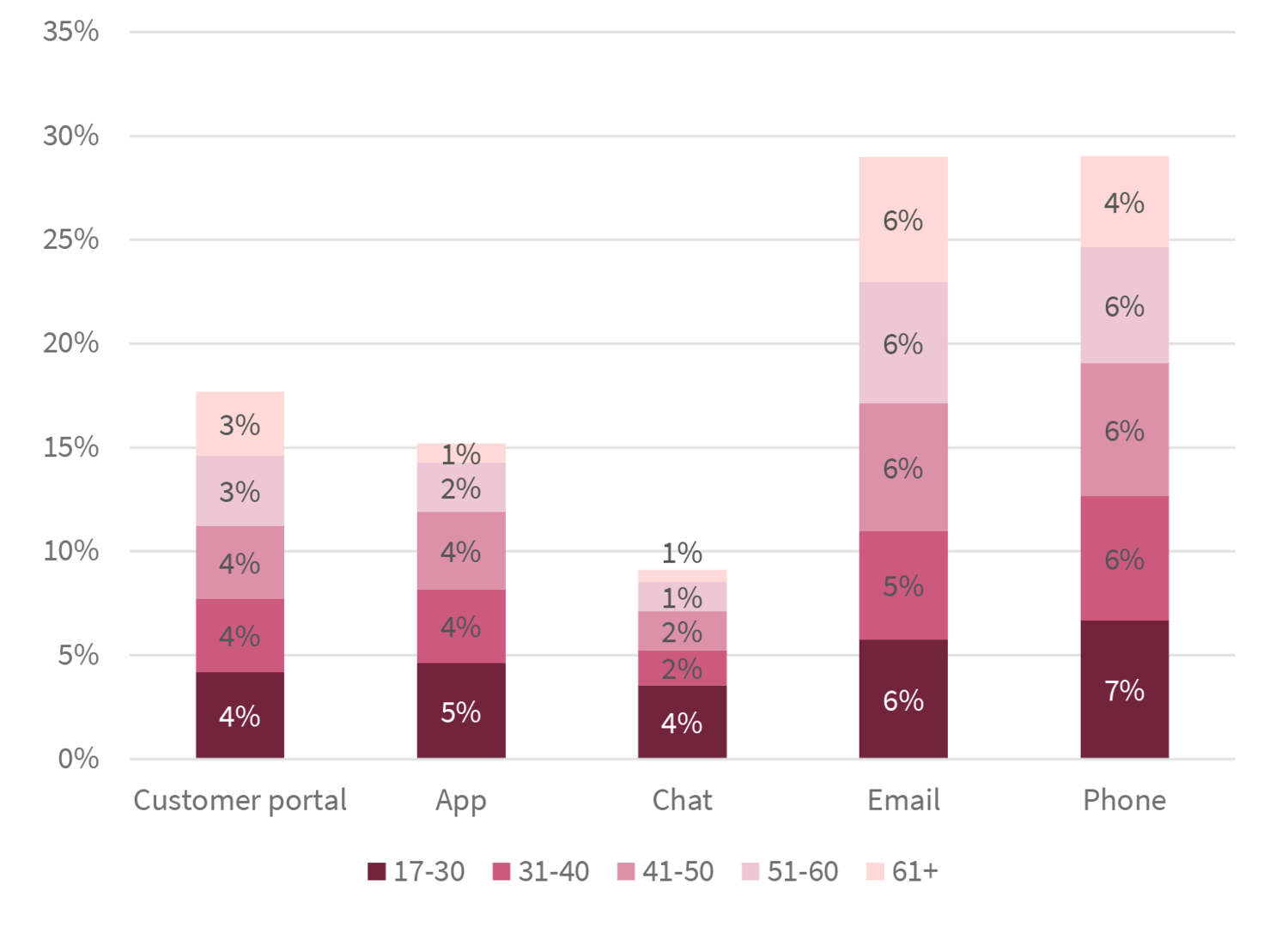 Parking damage (complicated claim)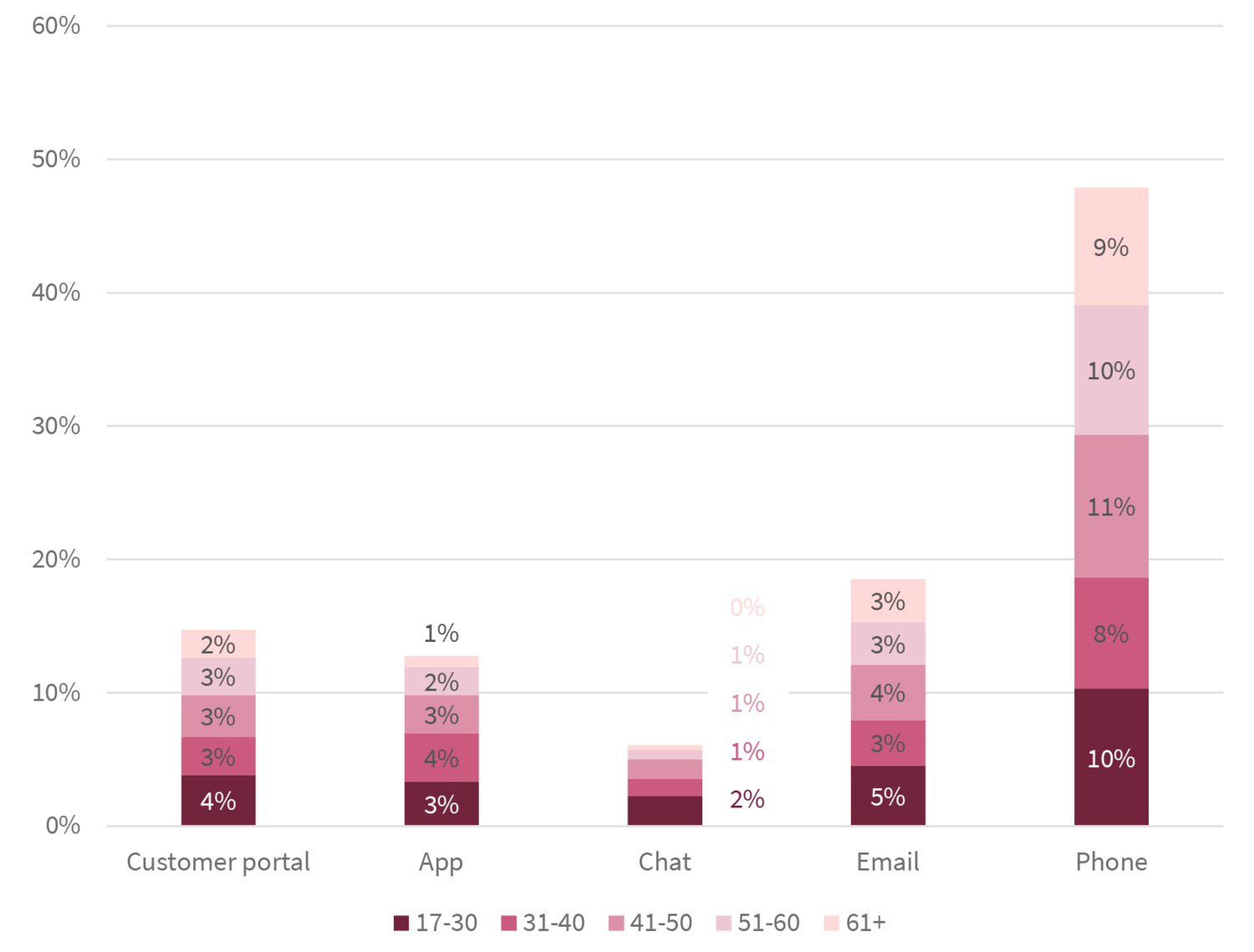 Replacement vs. monetary compensation – what customers expect
After the claim has been notified via the preferred medium, expectations shift to the insurer's reaction: Is the insurer replacing the loss? How quickly is this being done? With what other services?
Rapid transfer of money represents a particularly important aspect whenever baggage is lost abroad. In the scenarios of the stolen skis and the parking damage, rapid monetary compensation is not a central factor. In all three scenarios, the customer expectation towards transfer of money is independent of online affinity.
In addition to monetary compensation, replacement benefits have increasingly taken centre stage in the past few years. In the parking damage scenario, online affinity is of importance for expectations: in this scenario, online-averse customers place high demands on a rapid replacement service. In all three scenarios, the customer's expectation of rapid replacement (replacement skis, help with replacing baggage or replacement vehicle) is highly pronounced and is ranked more importantly than monetary compensation. On the insurer's part, this requires a system of partners ('ecosystem') or a close network of its own (claims) field workers.
Relevance of a rapid transfer of money
in the event of a claim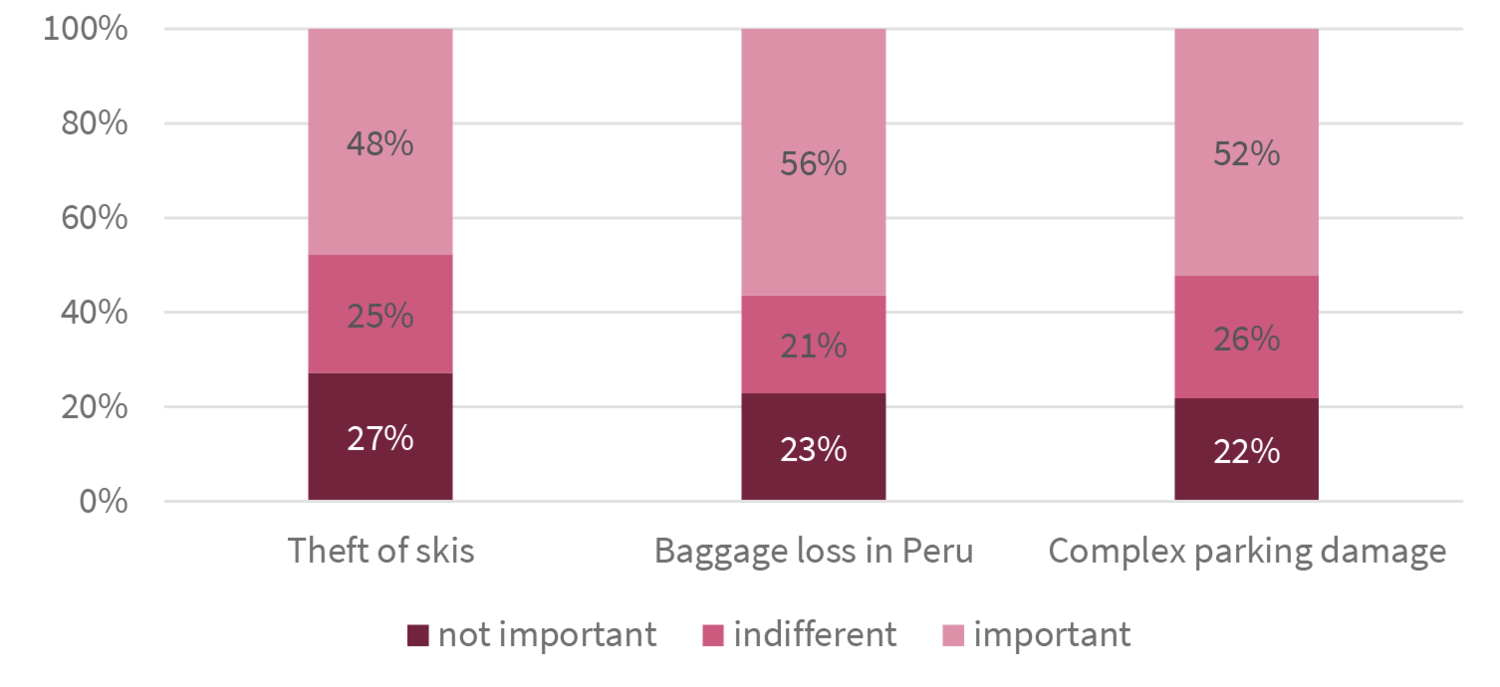 Relevance of rapid replacement service
in the event of a claim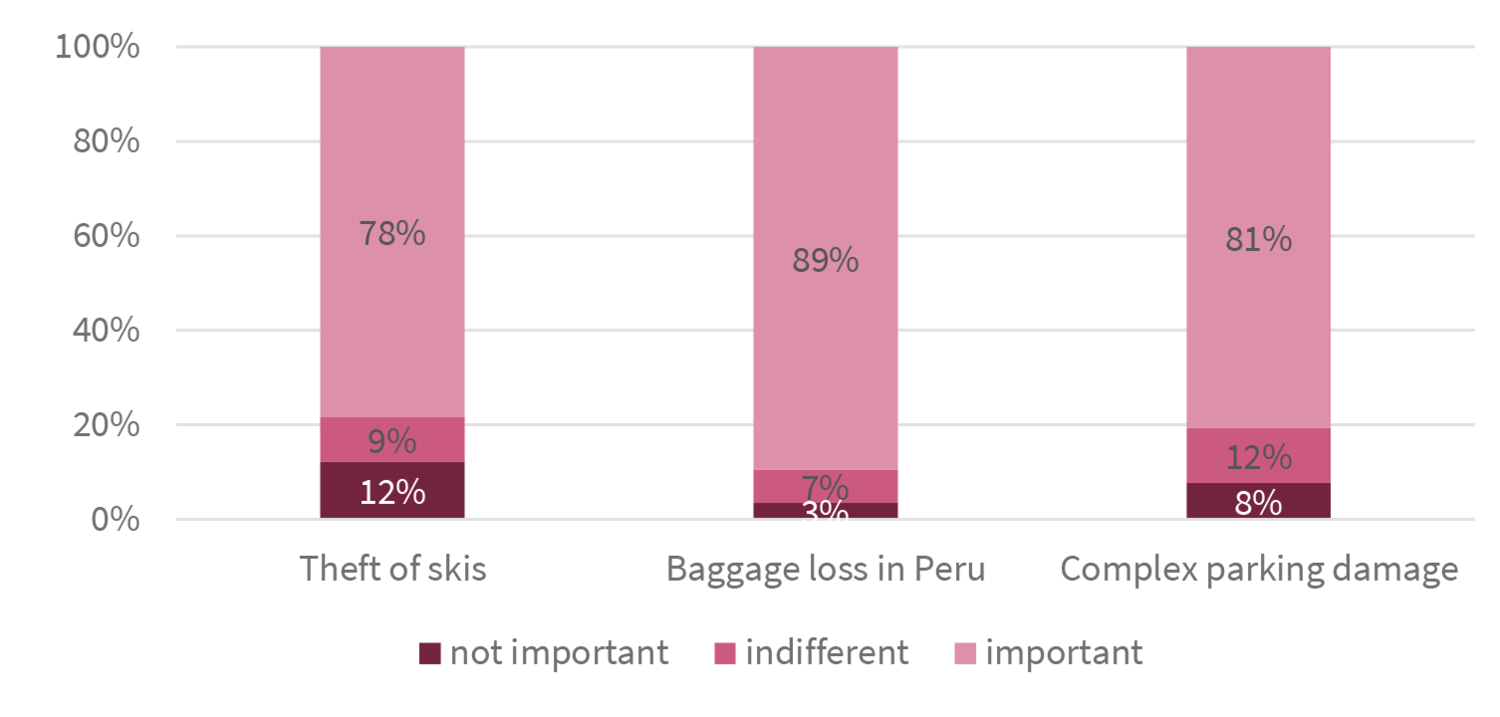 Have we aroused your interest? Are you interested in better understanding the expectations of your customers towards claims settlement? We look forward to hearing from you.
 


Read more articles from the series «Claims Excellence»: