Customer Expectations for Communicating with Insurer in Event of Claim
What are the specific customer expectations in the event of a claim? How much is communication via different media worth to the insured person? And what reasons lead to an increased switching rate after claims? Synpulse investigated these aspects as part of a representative survey of 1'004 participants. The results on this occasion are published in a four-part series of articles. In this article, customer expectation is examined with regard to the communication mix.
Media preference at the beginning of the customer journey
The search for information and taking out a policy are usually the first points of contact with an insurer in any customer journey. Despite technological innovations, most customers still – at least to some extent – consult traditional media and customer advisers. Thus, both when seeking information and when taking out a policy, around 40% of customers rely on offline media (Fig. 1). A further 37% obtain information online but then take out the policy via an adviser. Just under a quarter of insured persons conduct both phases online. When age distribution is taken into account, this share is likely to increase in the next several years as the main share of this customer group is aged 17-30. This customer preference for different media is also reflected in the event of a claim. Accordingly, throughout the customer relationship, insurers must simultaneously safeguard expectations via several media in comparable form.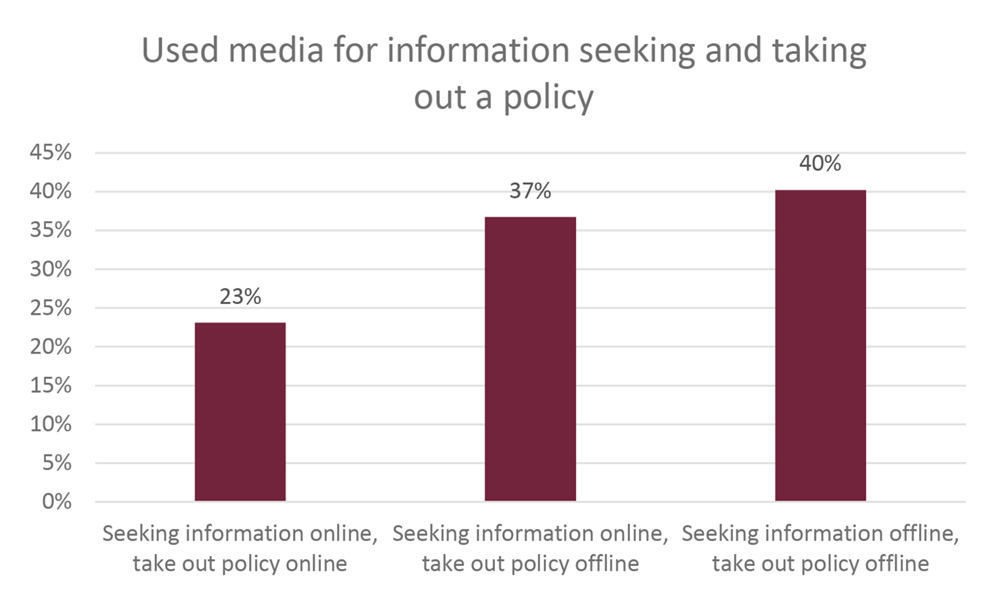 When calling about a claim
As the customer journey continues, other means of communication gain in significance for insured persons. Despite all the technological innovations in communication, the phone remains the clear leader (Fig. 2) when contacting the insurer in the event of a claim, with the severity of the claim being irrelevant. But the significance of this medium diminishes as distance increases from the residence (e.g. when spending time abroad) and receives the same weight as email. Up to now, more recent means of communication like app and chat haven't become widely accepted as means of communication in the event of a claim. The relative rate of use of these media is nonetheless greater among younger people than among older generations. A slow shift to these media must be expected in the future. A timely extension of these communication options seems worth exploring on the part of the insurer.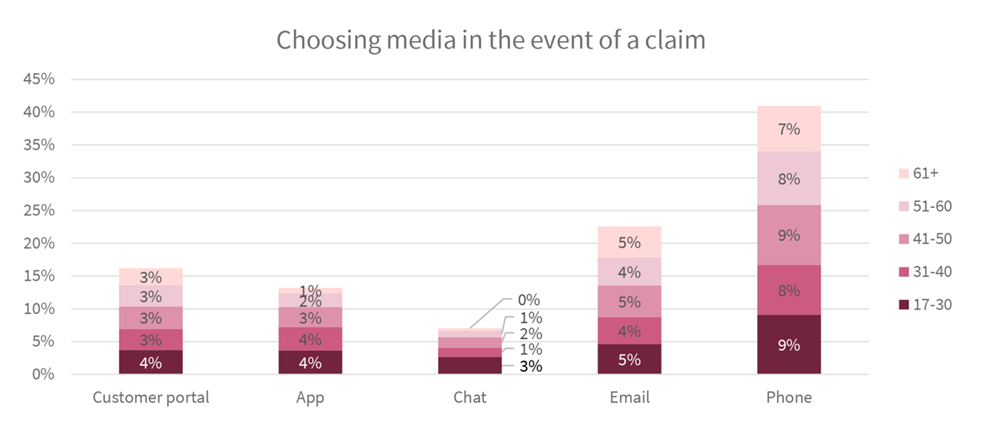 Willingness to pay
Of particular interest to insurers is the (monetary) value that customers attach to a wide range of means of communication.  Compared with younger age groups, insured persons aged over 40 attach particular importance to being able to reach their insurer via different means of communication. Even their monetary willingness to pay increases when several contact options are on offer. In comparison, younger customers are more willing to be restricted to fewer media in return for a lower premium. A communication mix with additional chargeable access options could be a possible approach for insurers.
Have we aroused your interest? Are you interested in optimizing communication for your insurance customers? We look forward to hearing from you.