What Clients Expect from the Insurer When Filing a Claim
Good accessibility via several media and human interaction is expected and appreciated by clients
«Dear Mobiliar…» – The notifications of claims of the insurance company are famous in Switzerland and beyond. Knowledge of the increased cancellation rate after the settlement of claims is far less widespread (source: Accenture Claims Management Study 2014). In this highly competitive market, great attention is paid to claims management. Insurers are trying to make the claims process more «modern» and «customer-oriented». As a result, they are investing more in apps, customer portals and chatbots for better customer service. While there are studies on claims management and the reasons for termination of policies, the client perspective on the claims settlement process has hardly been analyzed. The recent Synpulse study examines the expectations of customers with a focus on interaction and benefits in the event of a claim, and on a potential switch of insurer. Customer preferences were examined in the light of factors such as age and online proficiency. Current trends were observed, focusing on customer acceptance and willingness to pay.
Method
Synpulse conducted the study at the end of 2018. Using a structured online survey, the expectations of 1'004 participants regarding a claim were collected. Their ages ranged from 17 to 92. The Swiss resident population and thus the insurance customers were modelled with a 51% share of women, as well as 75% of respondents from German-speaking Switzerland and 25% from French-speaking Switzerland.
At the beginning of the customer lifecycle, «Mr. and Mrs. Switzerland» focus on tradition
The customer lifecycle starts with the phases of attention and interest, followed by the signing of the contract. Contact, information acquisition, and contract conclusion are possible in many insurance sectors via offline and online media. According to our survey, around 37% of policyholders use offline media both to search for information and to conclude contracts. Although a further third obtain information online, they then conclude the contract via a broker (research online, purchase offline). In contrast to these groups, 21% of policyholders use online media in both phases (source: BFS-Haushaltsbudgeterhebung 2016, Federal Statistical Office, budget survey 2016).
When calling: damage report
Customer expectations for interaction and services were determined on the basis of three different damage scenarios:
Scenario 1: simple case of damage – theft of skis in the morning before a skiing holiday

Scenario 2: simple case of damage in a foreign country – loss of luggage in Peru

Scenario 3: complicated case of damage – expensive damage to a parked car, hit and run, police involvedenario 
Of interest was the way in which customers wanted to contact the insurance company in these situations. This study finds that in spite of all the technological advances in the communications sector, the telephone remains the number one choice in the event of a claim (fig. 1), irrelevant of the extent of the damage. The importance of the telephone is less pronounced when the distance to the place of residence is greater (as in scenario 2). In this situation, written contact with the insurance company via email is chosen with equal frequency. A further finding is that newer means of communication such as apps or chat are only rarely used to report damage. Nevertheless, it is striking that the usage rate of those media among the younger generation is higher than among older generations. This leads to the assumption that the acceptance of such forms of communication will increase in the future. In our view, therefore, insurers should consider interacting with their customers through apps, chat, or email. An immediate upgrading of customer interaction via chat or app on the part of insurers is worth considering.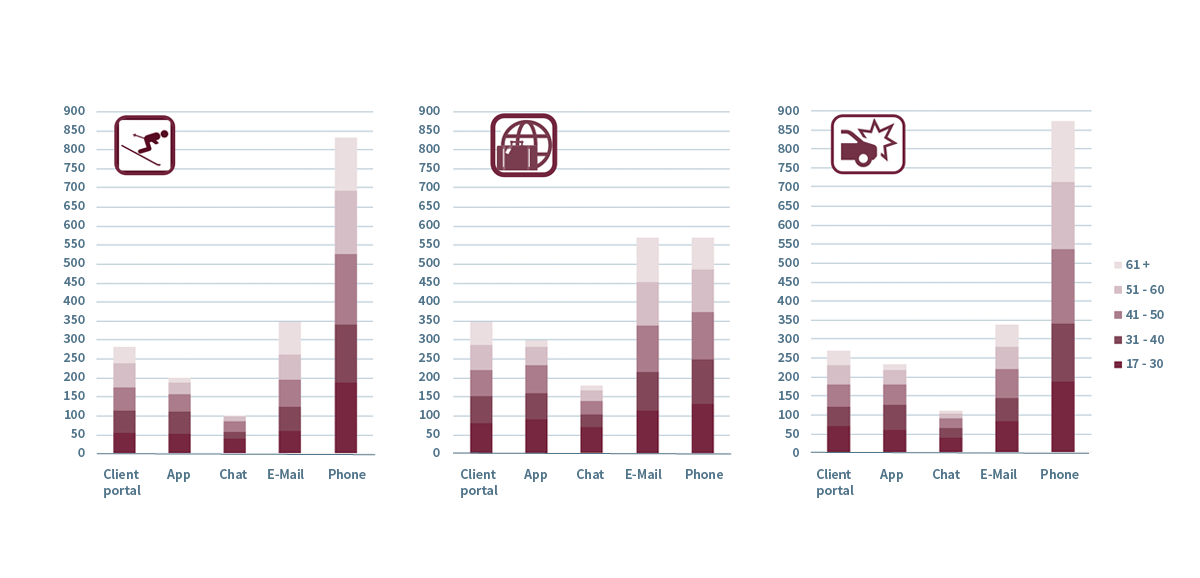 In view of this, the question arises as to what is the «right» communication mix: how many and which media must an insurer offer to cover customer needs? What monetary value does a versatile range of communication media have for the customer? Our data show that insured people over 50 years of age, in particular, value being able to reach their insurance in various ways. They are even willing to pay more for the offer of several contact alternatives. In comparison, the younger clientele is more willing to limit themselves to fewer access routes for a lower premium. Conversely, for insurers this means that the communication mix should be based on a selection of media (possibly fee-based) to serve all customers and their needs.
Communication during claims processing
How many contacts and what form of communication do customers prefer during claims processing? And what information is vital to them? In a complicated case of damage (e.g. escape from crime, scenario 3), policyholders accept only a limited amount of contacts from the insurance company. The vast majority of customers consider a maximum of three inquiries to be appropriate. Only 28% of policyholders agree with more than three contacts. As such, it is crucial for insurers to pay attention to this aspect and design their claims process for a minimum number of follow-up questions, e.g. by carefully documenting all received claims information or by means of «dynamic call control».
Approximately 90% of customers want to be kept informed about the status of their claim. Their expectations of the used media, however, depend on their online proficiency. Digitally adept customers prefer a customer portal or an app to email. The opposite is true of online-averse customers: in this case, email is almost twice as frequently mentioned as the main form of communication than the app or a customer portal. Only 3% of these customers wish to be notified via a different media; the telephone was mentioned most frequently.
In addition to these preferences, it can also be stated that age also plays a crucial role in customer expectations with regard to interim notification. For those customers who wish to receive such information, the following applies: younger customers prefer a customer portal or an app, while older customers prefer an email. In general, the desire to be informed about the intermediate status decreases with increasing age.
Speed pays off
The diverse customer expectations include aspects such as speed of processing, actual benefit level, perceived service, and the goodwill of the insurance company. More than half of customers expect support in the form of rapid, transitional replacement services such as replacement skis or a replacement car in the event of a claim. In cases abroad, on the other hand, customers focus more on rapid financial compensation. The observations show that customer expectations regarding claims processing depend strongly on the loss event. They vary, for example, with the distance to the place of residence or the complexity of the situation.
If a claim is rejected or the compensation is less than expected, the majority of clients would like to receive a written statement from the insurance company, ideally with a reference to the contractual clauses. One third of clients would like the insurer to call them. Moreover, only 14% accept a short-written explanation of why the claim was rejected or why the compensation was reduced.
«Hello, my name is Siri. How can I help you?»
Electronic assistants like Apple's Siri, Microsoft's Cortana, and Google Assistant represent the virtual staff of insurance and other companies. They can provide the first contact with the client by answering simple questions. What is the level of acceptance of Siri and co. among customers? What does it depend on?
Four out of five policyholders say interacting with a human being instead of a «robot» when filing a claim is of the utmost or high importance to them (see fig. 2). Most customers have reservations about depending on an electronic assistant in the case of a loss, as such an assistant lacks human feelings and may not have the relevant competence in this situation. It might be the case that the evolution of assistants is still too new for customers to trust them. In terms of acceptance, age is a crucial factor. Almost 72% of clients under the age of 30 consider human interaction to be important or very important, whereas this figure is 94% for those aged 61 and above.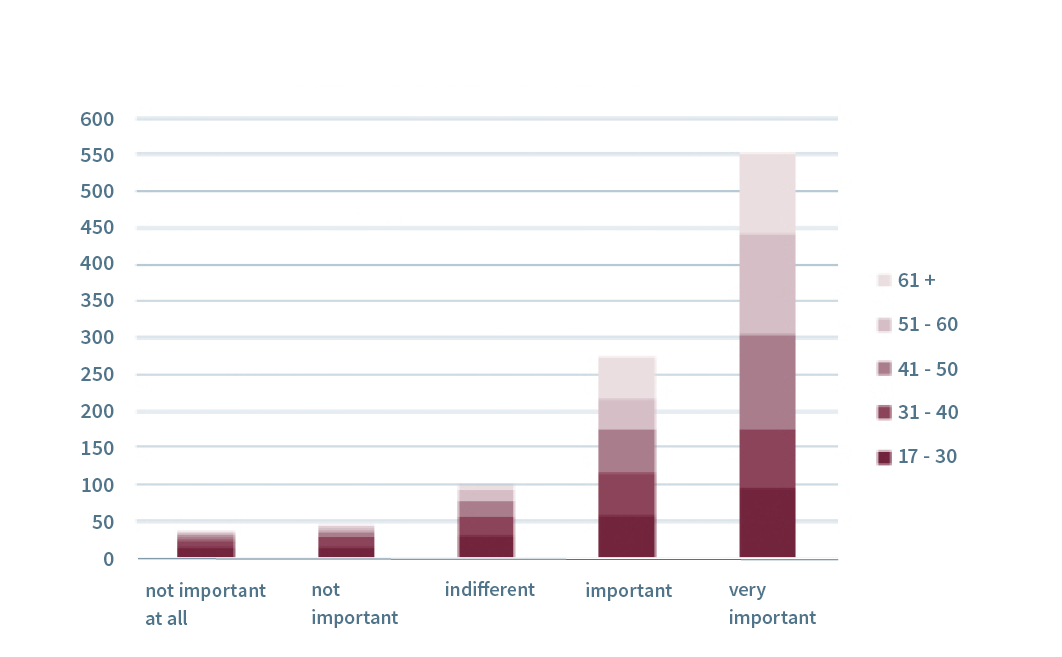 This discomfort is at a level that indicates a greater willingness to pay for contact with a person instead of an electronic assistant. Customers between 51 and 60 years of age are particularly willing to pay more; 69% of customers in this group attach greater importance to human interaction than to a low-priced policy. A completely different result was found for customers aged 31 to 40. They prefer a lower premium over personal contact. Whether this effect is related to the level of disposable income was not investigated.
Electronic assistants are capable of learning. The prerequisite for this is a sufficiently large database. In terms of insurance, this encompasses personal data (e.g. name, place of residence, email, age), claims data (e.g. frequency, claim amount, location of incident), and customer issues (e.g. frequent questions and problems). Insurers collect large amounts of data on a daily basis, allowing systems to be improved in a data-based manner. Due to the EU's General Data Protection Regulation (GDPR) of 2018, with which, in some cases, Swiss companies are already required to comply, as well as the frequent media reports on data theft, this topic has become increasingly pertinent.
According to our study, more than half of those insured are willing to provide personal data for services like online portals. This willingness decreases with age.
In claims processing, a different picture emerges with regard to personal data. Information from social networks and geo-tracking can help insurers assess cases. Exact circumstances of the damage can, in principle, be ascertained. This allows for a more precise determination of compensation and a faster settlement of the case. However, the willingness of customers to provide personal data to support the fast processing of claims is low (fig. 3). Around three-quarters of customers do not want to supply the insurer with social network or geo-tracking data. «Speed in exchange for data» is not attractive from the customer's point of view. Insurance companies must therefore find other ways to obtain such data to support their (claims) processes.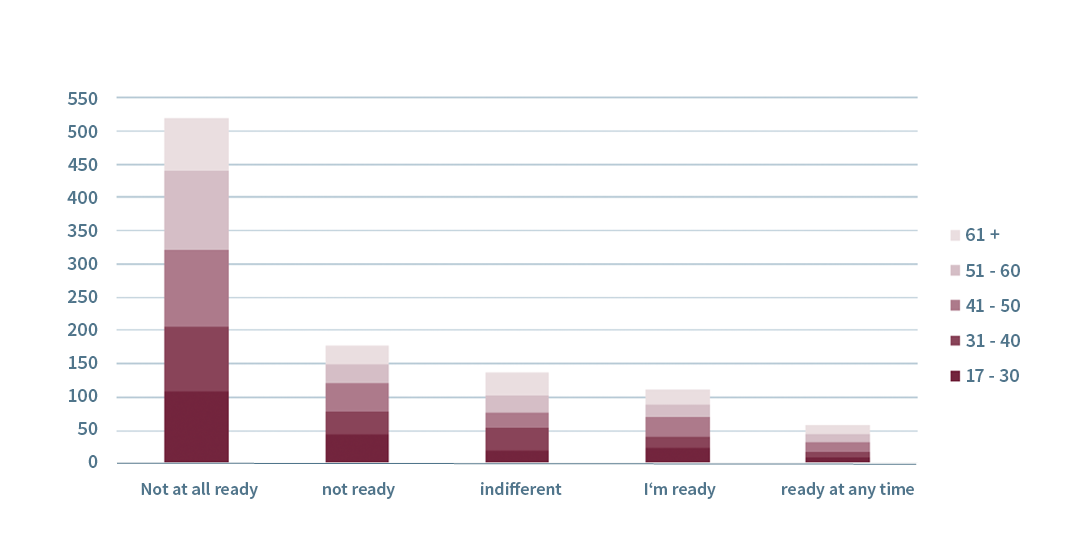 «I'm sorry to inform you that…»
Customers have a pronounced tendency change their insurance. The study revealed that every tenth customer has already switched to a new carrier after a loss. The main reasons include inadequate customer service and low or no claims compensation. Other, secondary, motives cited for switching are the premium amount and the long processing time for the claim. These results indicate that the quality of communication with customers was inadequate. The efforts of insurance companies should therefore in particular aim at satisfying their existing customer base and not triggering termination intentions in the first place. By means of clear communication, the insurance company creates a better understanding of its (expected) services on the part of clients. Thus, disappointments can be avoided in advance of an actual claim. Moreover, insurers should update their customers about the status of the claim processing. Our study finds that 90% of customers would appreciate this effort. By improving communication, almost two-thirds of cancellations due to long processing times, insufficient compensation, or poor customer service could be avoided.
Our research reveals the broad range of customer expectations relating to the claims process and the many challenges insurance companies face in meeting them. We assume that customer expectations in the insurance sector will continue to increase amid further advances in digital technology and interactions implemented in other industries. According to our experience, comprehensive implementation of the relevant requirements in terms of organization, processes, and systems is complex. The first step should therefore be an overarching strategy and architecture.