Hong Kong, China Framework Comparison – Investment Suitability (Part 1)
As China opens up the banking sector to foreign players at an unprecedented rate, many international banks — especially those already have a strong presence in Hong Kong, show keen interest in exploring the Mainland China market. In this series of three articles, we will examine the regulatory differences between Hong Kong and Mainland China, as well as the challenges of complying in a dynamic regulatory environment.
---
Background
In 2018, regulators in both Hong Kong (Hong Kong Monetary Authority 'HKMA', Securities and Futures Commission 'SFC') and Mainland China (People's Bank of China 'PBOC', China Banking and Insurance Regulatory Commission 'CBIRC', China Securities Regulatory Commission 'CSRC') continued to enhance and enforce the regulatory requirements of investment suitability ('IS') to ensure that financial institutions have robust processes and controls in place. The purpose is to protect customers' interests and to avoid mis-selling of products, as an ongoing effort to strengthen the regulatory framework.
With the guideline and notices issued to date, enhancement of the suitability framework will continue to be a key regulatory focus in the coming year. In this article, we cover a brief introduction on the IS framework in Mainland China, a holistic comparison of suitability requirements between Mainland China and Hong Kong, and the pain points observed by industry insiders.
The Status Quo of Mainland China's Investment Suitability Framework
By issuing The Guiding Opinions1, the Chinese regulators showed the determination of pushing forward the reform in Mainland China's financial market. The key task of such reform is to raise the risk-awareness from traditional depositors when they start investing in financial products.
The current status of Mainland China's financial market can be characterized by: 1) the rapid growth in wealth, 2) the proliferation in products/services/distribution channels offered by traditional and non-traditional financial services providers and 3) less sophisticated regulated environment. The private banking sector and wealth management business are developing. However,  the gap to match up with the international players is still large. As part of the regulatory effort to bridge the gap, two influential pieces of regulation, the Guiding Opinions and Guidance of Supervision2 were issued in 2018, with clearer guidelines on
valuation of investment products, mitigation of concentration risk, detailed requirements on pre-trade information disclosure and the use of Artificial Intelligence/Robo advisory. This reflects the drive of regulators to enhance the risk-aware culture as the  market continues to mature.
Comparison Matrix : Mainland China vs. Hong Kong
In general, in comparison with Hong Kong, Mainland China continues to lag behind in terms of the sophistication of regulation.  Such gap is beneficial for the banks already operating under a stricter regulatory environment such as Hong Kong.  By leveraging on hands-on experience in Hong Kong, banks will have a competitive edge to open up the greater market in Mainland China.

A comparison of the key components of the suitability framework has been performed showcasing level of maturity of regulatory requirements in Hong Kong and Mainland China (Figure 1 below). Three most important items will be discussed in detail
as follows: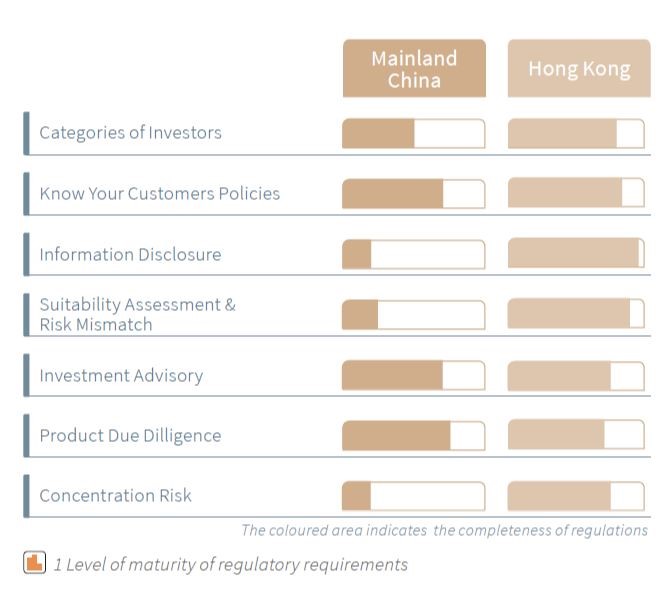 Categories of Investors
The category of «Qualified Investor»3 was established in Mainland China in 2018 as per the guidelines issued by PBOC. By contrast, Hong Kong regulators had already established a well-adopted mechanism for dealing with «Professional Investor (PI)» and «Corporate Professional Investor (CPI)». Moreover, Hong Kong regulators set out the criteria of «vulnerable
client» for investor protection a few years ago while the line between general investors and vulnerable investors is still blurred in Mainland.
Know Your Customer (KYC) Policies
Regarding client identification, there are more than three notices in Mainland China, with two issued in 2018: Notice on Strengthening the Client Identification4 and Notice Conducting Identification of Beneficial Owners5. To date, KYC has been a topic with the clearest requirements from Chinese regulators. However, Hong Kong still has more customer segments defined due to the smaller cluster of customer segments6
specified by HKMA/SFC.
Information Disclosure
A well-established system7 is in place in Hong Kong, specifying the content of disclosure, the time and frequency of disclosure as well as the documentation for disclosure. Meanwhile in Mainland China, banks are mainly required to avoid exaggerated language in their marketing materials and misleading words by their RMs during the pre-sales phase.
Industry Pain Points
For the banks that are venturing into the Mainland China
market, some key pain points are observed with simple
explanations ( Figure 2 below):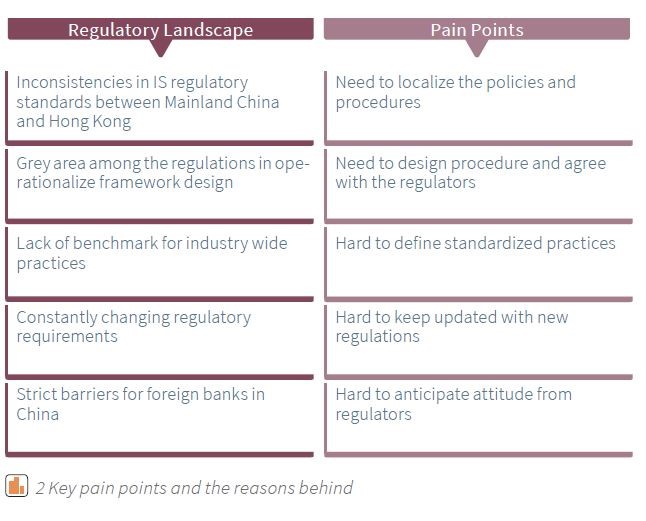 Conclusion
As summarized in Figure 3 below, with more comprehensive regulations in
Hong Kong, we note that the key requirements for investment suitability are stricter in Hong Kong than Mainland China.
By identifying and understanding the current and future state of regulatory environment for investment suitability, Synpulse can help implement an appropriate forward-looking framework that supports business growth.
With a global expertise and an APAC focus, Synpulse has helped many financial institutions to transform their suitability framework. Our proposed framework not only provides a meaningful and seamless experience but meets the dynamic regulatory requirements. We will be pleased to discuss further with you on your suitability framework or bridging the operational gap between jurisdictions for suitability compliance.