Succeeding in the Millennial Insurance Market with Speed and Stability
Competing with insurtech disruptors and catering to the millennial generation requires speed, while increasing oversight and compliance demands stability. By deploying a two-speed architecture, traditional insurance companies can improve both and more effectively respond to new age market dynamics.
Rapid disruptions and changing customer expectations are transforming the insurance market. Large companies with proximity to the industry are venturing into the space, thereby creating new distribution channels. Digital excellence, product innovation, data utilization and customer focus are at the heart of the new digital-first insurance companies. This has changed the rules of the game for traditional insurers.
Insurers and reinsurers in the Asia-Pacific region have reported losing more market share to these disruptors than those in Europe and North America.1 For example, «Tencent», the owner of the popular Chinese communication platform «WeChat», has launched an online insurance business that has gained significant traction in the Chinese market.
By 2030, Asia is expected to represent 66% of the global middle-class population. This large underinsured population promises significant opportunities.
Responding to challenges effectively
There are several options for insurers to respond to these challenges, while improving the organization's ability to exploit future opportunities. These include exploring new markets by ramping up a greenfield business or via acquisition and diversifying the product portfolio. Upstreaming integrations and strategic partnerships can also bring long-term benefits, while mitigating the impact of competitive threats.
Another effective method to respond to the new market dynamics is to improve the agility of the existing business. This leads to an immediate and sustainable improvement in the way business is conducted. It enables it to pivot quickly, while continuing to derive value from existing investments. Insurtech companies, with a fully embedded digital philosophy, have increased the transparency and agility for insurance customers. Competing with such disruptors and catering to the millennial generation requires speed, while increasing oversight and compliance demands stable data sources. Deploying a two-speed enterprise architecture improves both.
Introducing two-speed enterprise architecture
Some aspects of the insurance business like coverage, contracts and underwriting guidelines change slowly. Others like channels and client journeys change faster. A two-speed architecture addresses these changes and provides an end-to-end view of the business.This kind of architecture is a rethink of the existing enterprise architecture (EA) to accommodate new digital capabilities, while retaining the operational base of the organization. It speeds up the external facing aspects of the organization, while minimizing the impact on the daily operations and reporting structure. It allows the enterprise to operate at different speeds.
In a two-speed architecture, current digital trends and shifts in customer preferences are implemented in an agile, structured framework. From an IT perspective, a front and/or middle layer solution that can easily incorporate new ways of doing business is implemented. The solution is built to serve high frequency, high performance and 24/7 sales activities. This is accompanied by an organizational ability to support these new channels resulting in quick responses to disruptions.
It is done while maintaining operational stability at the back. Continuing the IT example above, the fast-moving, front-end solution is integrated with an existing core solution. The core system serves the stable but low frequency of operational needs. It provides business continuity, leveraging existing data and reporting structures including compliance mandates.
The front/middle office is, in other words, decoupled from the back office and can move at a different level of pace. This is what is meant by a two-speed EA. For the IT example, it allows for ongoing utilization of the established core system while running new, agile and customer centric systems in parallel (see  fig. 1).
The modern digital engagement layer acts as the enablement channel for sales, while the core system layer functions as the single source of truth for the organization.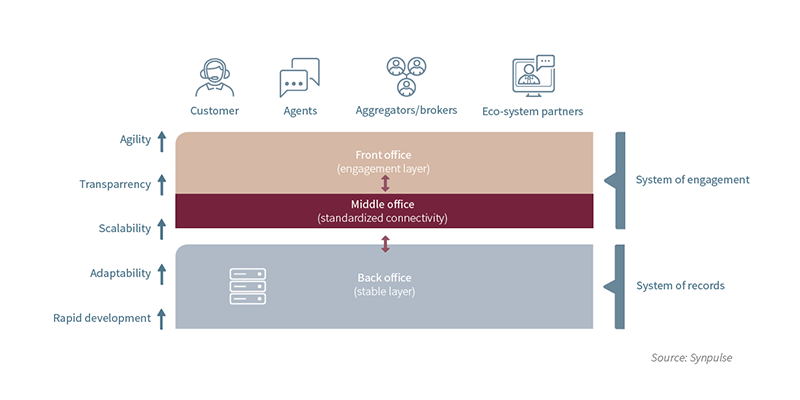 Benefit assessment for two-speed EA
Responsiveness to market conditions, flexibility to adopt emerging distribution channels, automation and operational cost reduction are among the key business objectives achieved with two-speed architecture. We analyze the impact of the architecture as follows.
Faster time to market
A responsive, high availability front-end coupled with a stable core provides the freedom to experiment with potential disruptors while significantly reducing the integration effort. This speeds up the response time. For example, a competitor may launch a new package product that is received well by the market. An agile front-end will enable the organization to quickly create and enable the sales proposition for that package. Internally, it continues to be a combination of multiple individual products.
Additional capability
The engagement layer provides the capability to integrate with new digital channels, including social media connectors. This enables new distribution mediums to be utilized while improving data governance. For example, WhatsApp conversations can be used to drive business and be managed within the enterprise environment. In addition, the digital channels provide partner establishments the flexibility to conduct business seamlessly with the hosting organization. In fact, a leading Singapore insurer now allows travel claims to be notified via WhatsApp.
Stability
As frequent changes are isolated to the front-end, the data model of the back-end changes less often. This ensures more long-term stability for the core system and improved data governance across the organization.
Return on Investment
The upfront costs for setting up an agile digital engagement layer are lower than for a complete core system replacement. Integrations to the existing core can be governed by a standardized integration framework, thereby reducing integration costs.
The two-speed organization is digitally enabled to pursue additional revenue by monetizing its services for partners and distributors alike. For example, insights from the large data repository available at traditional insurers can be given to distribution partners to enable targeted propositions for potential clients. If charged for, this service can provide additional revenues for the organization.
Implementing two-speed EA successfully
To implement two-speed EA successfully, focused effort and effective collaboration are required. A defined action plan for the following aspects of the organization is also necessary.
Leadership-driven governance
Building two-speed EA is a strategic investment and should be treated as a key business enabler. By embracing digitalization and customer centricity, two-speed EA can help insurers reach their strategic goals. To successfully deploy the new EA, a leadership-driven governance model should be established to provide appropriate organizational support.
Driving organizational consensus
A two-speed EA creates «fast-moving» and «stable» sub-organizations. To operate at two different speeds, mutual trust needs to be built by open communication between different stakeholder groups. The aim is to ensure that various teams collaborate in the most efficient and effective manner to drive the whole organization towards meeting their strategic business objectives. Equitable incentivization across different speeds is essential to the success of two-speed EA.
Agile for the fast-moving organization
The inherent need for the digital layer to be responsive makes it well suited to employ an agile methodology. Rapid sprints enable the organization to respond effectively to new market dynamics while pre-empting the possibility of late or significant changes. This also enables a quick assessment of the impact of the new functionality, thus providing the organization the flexibility to experiment.
DevOps for the stable back-office
Core systems, on the other hand, do not respond very well to agile development. DevOps, a software development methodology, should be adopted to help the development and operations teams to work together to achieve the business objective. DevOps helps break down internal silos and fosters the organizational collaboration across multidisciplinary teams. These two methodologies can be effectively linked together by a robust organizational change management process.
Conclusion
Digital innovation and customer centricity are the focus of a significant number of digitally aware insurance companies. Tactically, the transformation to two-speed EA can help insurers that want to develop a competitive advantage and are looking for a value-for-money proposition.