«Stopping ocean plastic while reducing poverty with blockchain is our goal»
The Plastic Bank has gained a lot of attention for its global eff orts of turning plastic waste into currency and providing economic opportunities for the poor. The bank received an award at an UN Climate Change conference and is subject of the documentary «A Plastic Ocean». Even Pope Francis wanted to know more about it.
Plastic Bank aims to solve two problems at once, namely environmental pollution and poverty. How do you go about this?
We look at our solution as a metaphor. Let's imagine that you walk into your kitchen and the sink is overflowing. What would you do first? The answer is you turn off the tap. So when we looked at ocean plastic, we said we must turn off the tap flowing into the ocean. We discovered that in developing countries, where 80 per cent of ocean plastic originates, there is an opportunity to develop «social plastic». The model puts a price on plastic that is collected and recycled by the local community. The goal must be to increase the rewards for collecting in these countries, so our price is above the market rate for the plastic. That enables us to deal with the root cause of ocean plastic and improve people's lives as the same time.
Your use of blockchain technology is fascinating. How does it work exactly?
We needed a way to ensure that those in poorer countries would receive the value of the plastic they collect and recycle. There is a lot of corruption in these countries, so the money earned from waste recycling doesn't always go to the right people. This is where blockchain technology comes in. We partnered with IBM, which helped us design our back-end blockchain solutions. These solutions allow us to track the entire process of that recycling supply chain. Our application has a feature for collectors, for those running our collection centers and for those operating the processing plants to get the plastic ready for shipping to clients. With blockchain, we can bring this supply chain onto one platform.
---
Benefits in figures
Since its founding in 2013, Plastic Bank
has established 35 Social Plastic collection centers with

2'000 collectors who have

retrieved eight million pounds of plastic waste, which is the

equivalent to 144 million plastic bottles kept out of the ocean and

turned them into Social Plastic for reuse by corporations.
---
How are the collectors paid?
We have our own asset-backed tokens, which means that there is money in the account to match the value of the tokens created. The tokens allow collectors without a bank account to save the amount they receive digitally and spend it within our ecosystem. For example, they can spend their savings on solar-powered smartphone charging, cooking fuel or even school tuition. Or they can cash out and set up a banking account on their mobile phone. We use our blockchain application to keep track of all participants in the collection and recycling system. In that way, we ensure that the rewards go where they should.
We understand that you have persuaded some companies to use your social plastic. Who are they?
German household goods firm Henkel and oil giant Shell were our first customers. Marks & Spencers is another client, using our plastic for a reusable bag. The US household goods firm S.C. Johnson has also just announced that it will sponsor our entry into Indonesia. We are helping companies understand that if they have to use a plastic, it should be social plastic.
---
Social Plastic
Plastic Bank created a supply of ethically-sourced «Social Plastic» for multinational corporations to use in manufacturing. Purchasers include Shell Oil, Marks & Spencer and Henkel and the bank continues to build partnerships with other Fortune 500 brands. Plastic Bank was founded in 2013 by David Katz and Shaun Frankson in Vancouver, Canada.
---
In what other countries beyond Indonesia are you doing business?
We started our first project in Haiti where we got our collection model right. We then went to the Philippines and now we're also in Brazil and Indonesia. We aim to sell out all the plastic that can be collected in a target country and then move on from there. The more we have of those supply chains, the more we can expand. To get our message out, we recently held a TED1 Talk.
How can banks and insurers support your business?
Banks can play an important role in our model, if you just consider the different methods of cashing out our tokens. Examples include savings accounts on mobile phones, access to automated bank tellers and prepaid credit cards. It's also one of our goals to provide insurance to collectors. The types of cover we are thinking of are health insurance as well as that for farmers and businesses. We would like to enable our participants to pay their premiums with the plastic they collect.
What are some of your company's long-term goals?
One of them is to prevent one billion kilograms of plastic from getting to the ocean by 2025. That of course is the same amount of value transferred to the hands of the collector and the same amount of new plastic not created. Ultimately, however, we want to stop ocean plastic from being a possibility. This can only happen when plastic has so much value that discarding it would not be an option. The convenience would also be such that you would have to go out of your way not to recycle.
What are some of the challenges related to using blockchain?
You see a lot of case studies, prototypes and white papers regarding blockchain but very slow adoption of it on behalf of companies. As the CTO of Plastic Bank, I see a need to explain the technology simply. Too many people overemphasize its relation to crypto currency and that can be offputting to some. We need to simplify the definition and say that blockchain is just a method of coding an exchange of value on a shared digital ledger.
How can technologies like artificial intelligence (AI) help your business and humanity generally?
I'm quite optimistic about what AI can unlock. For example, our program has lead to the introduction of cell phones in a community for the first time. The cell phone and the AI that goes with it are a beautiful way to put education in the hands of anybody. I just imagine that anyone with a family can have a complete education thanks to the smartphone. AI can also improve decision-making at companies by providing better reporting on the social or environmental impact of one's business.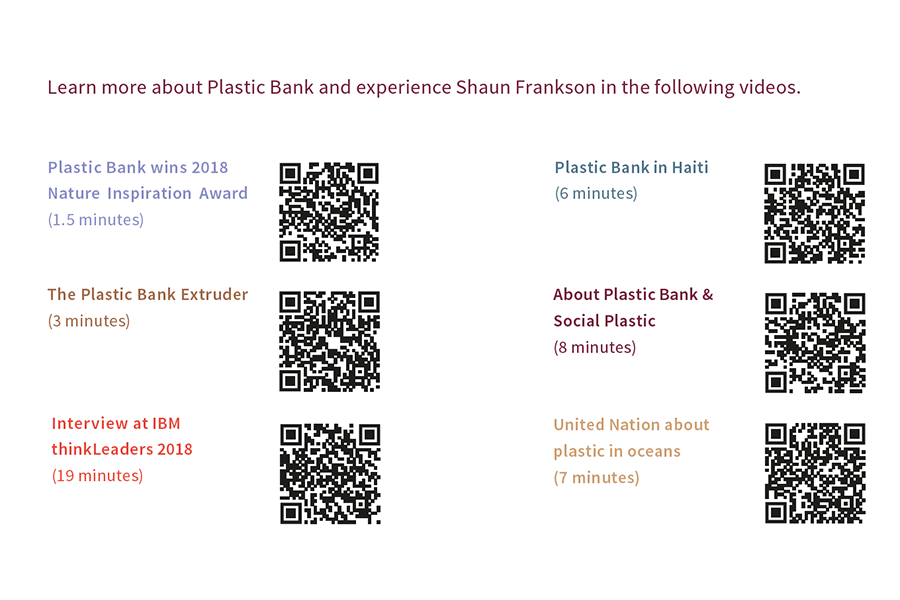 How did you and your partner David Katz get the idea for Plastic Bank?
When I was 22, I had a near-death car accident. I could barely move but I thought about what I wanted to do with my life. I realized that while I had played in a rock band, I wasn't going to be a rock star. When I recovered, I decided to get involved with micro-businesses and gained lots of experience. I joined David at a GPS tracking company that he had founded. There, I was first vice president of marketing and later vice president of the company. Aft er we sold the business, we asked ourselves if we could create a business that would really aff ect people's lives. One day at Singularity University, where David was taking a technology course, he had an idea: We could build a business based on the premise that plastic is too valuable to be thrown in the ocean. He called me up that day and said: «Shaun, I've figured it out. It's called the Plastic Bank.» David and I launched the company a month or so aft er then and have been figuring it out since.
Finally, a personal question: How do you stay fit to deal with the task of running the company?
If you're stressed and not taking care of yourself even while doing a dream job, you won't be very productive and can even get depressed. So we're big on meditation and most of our employees are either vegans or pescetarians. I personally find myself on the phone for four hours sometimes. So what I then do is just go out on a hike while on the phone. I want to be out in nature yet still doing the same thing I'd be doing at a desk. You have to be mentally and physically fit to keep up with the workload, the long hours and the travel. Meditation and hiking help me with this.