Know the 6 Components of Blended Learning to Enhance Your End-to-End User Training
Statistics show that businesses could lose USD13.5 million per year due to ineffective training, yet the majority of employees are not very satisfied with job-specific training.
---
Corporate training requires hefty investment and presents a
challenging feat for both staff and the organizing team.
In this article, we will explore the definition of blended learning
and its components, followed by practical use cases and
outcomes. There will also be strategic emphasis on blended
learning design from planning initiation to finalization.
Current situation of training in the financial
services landscape
Traditional corporate training approaches present significant
challenges, and the following situation outlines an example
of employees' needs and the training department's goals, that
may not be fulfilled with traditional training approaches.
Bank A situation
Bank A is replacing its core banking system. The project's 'golive'
date is approaching and the organization understands the
importance of training. Bank A is, however, unsure on which
courses should be developed, how they should be arranged,
and who should take them.
Staff perspective
For the staff side, training programs are unengaging at times,
with little knowledge retained from the session and therefore,
reducing user motivation to participate in further programs. Figure 1
illustrates specific examples and statistics for each issue.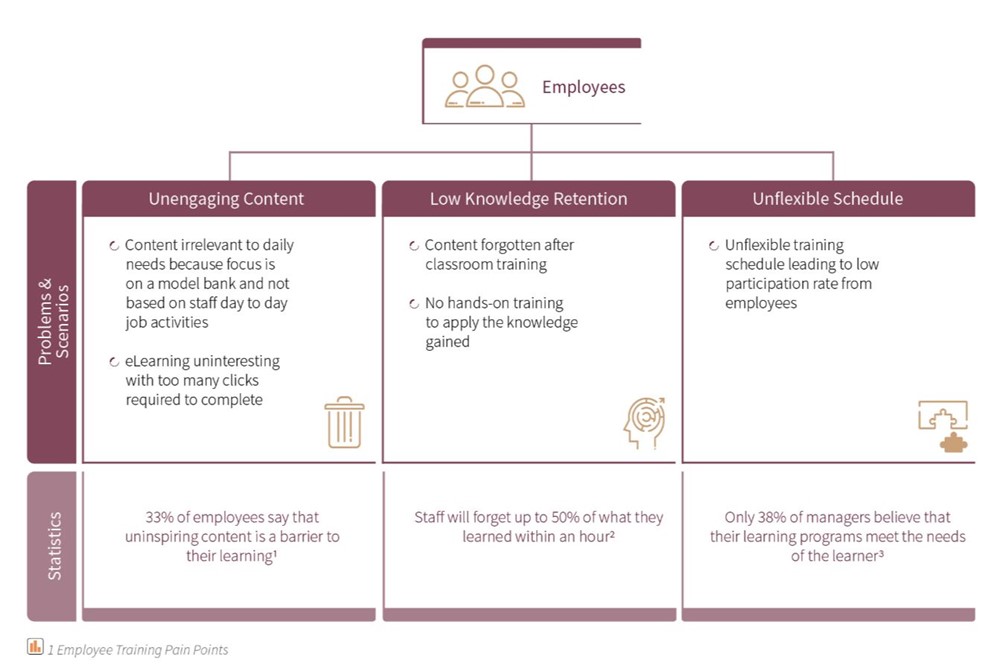 Training organizing team perspective
For the training project team, the high cost and significant time
needed to organize the trainings are the common challenges.
The team is often concerned about low staff participation rate,
and desires to identify solutions that can maintain interest
levels. Figure 2 illustrates specific examples and statistics for each
issue.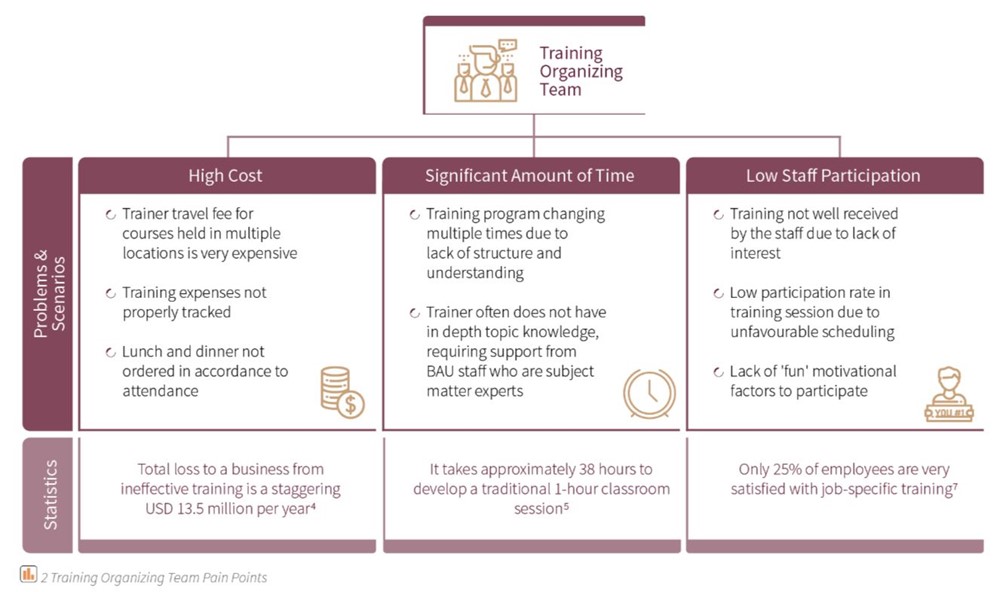 Using blended learning to solve the traditional
training dilemmas
Blended learning is a program that combines online methods
with the traditional classroom training landscape. The collective
elements allow flexibility in terms of time and location (of
trainers and trainees) across the learning journey. Synpulse
enables financial institutions to implement training programs
that fulfil the needs of both the employees and the training body
by utilizing a mix of training methodologies in Figure 3.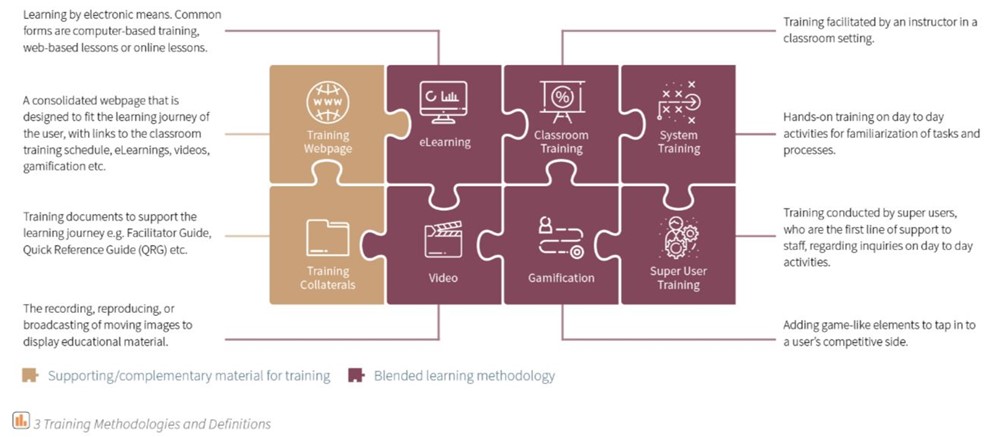 Blended learning use cases
The training methodologies can be utilized based on the needs
of the organization, categorized by the size of the audience,
topic complexity, trainee's flexibility for attending the training
sessions, and trainee's access to daily testing environments, as
shown in Figure 4.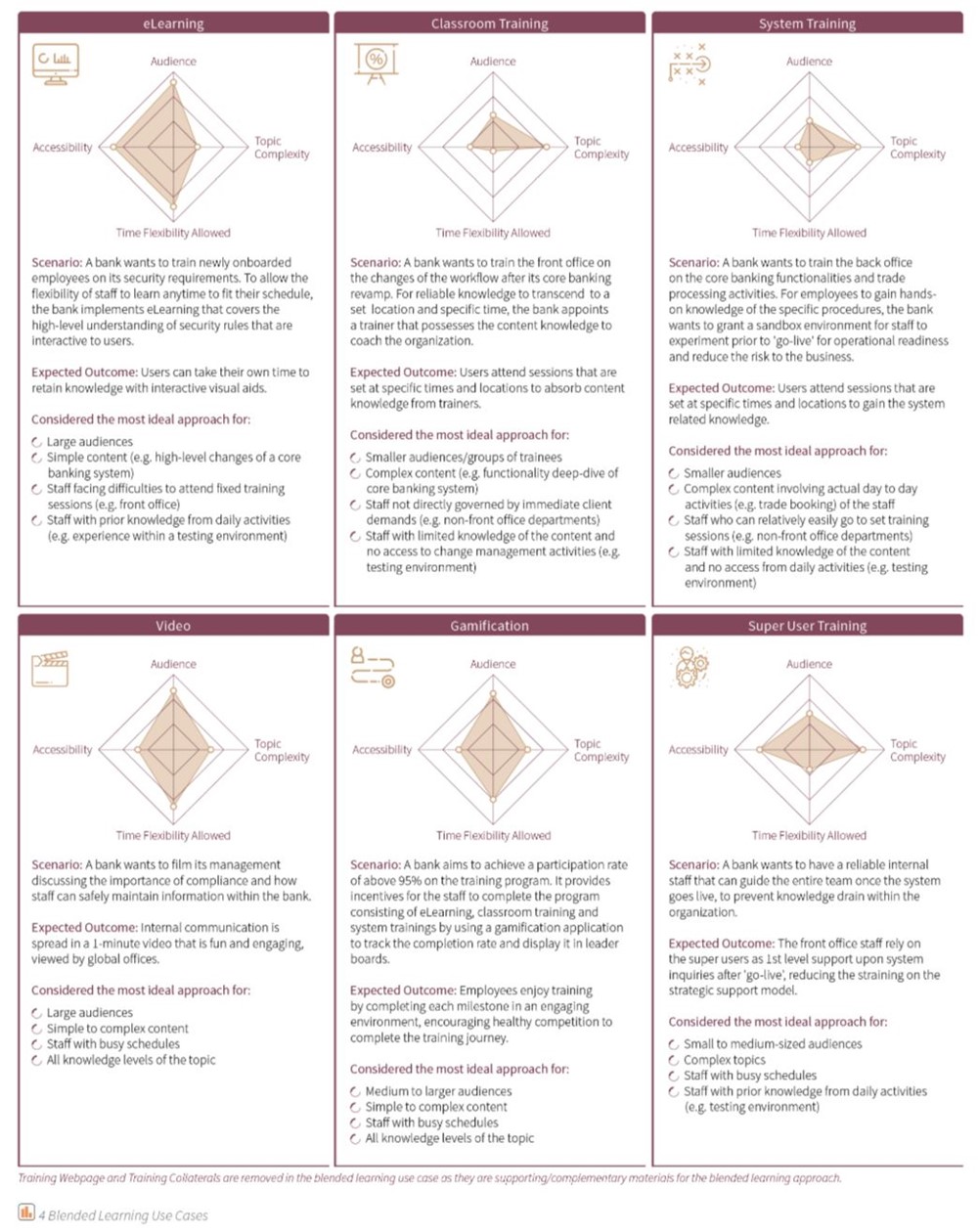 Real life blended learning use cases and
outcomes
Synpulse has led multiple engagements with financial institutions
to deploy blended learning solutions into our client's
training programs. With experts in the private banking space
that can identify the requirements of the organization, a training
journey that fits the organization can be strategically designed
and implemented.