Lean: Discover it's True Potential!
In its original Japanese form, this philosophy is unrivaled in its conclusiveness and effectiveness. While the western version received great fanfare at first, its individual components were shoehorned into methods to the point of becoming ineffective, with the result that people's perception of the Lean approach in this part of the world is often utterly wrong.
When Toyoda Sakichi developed a loom with built-in error prevention at the beginning of the 20th century, he laid the foundation for one of the most efficient companies in the world – operating in a production system that is strictly geared to customers' needs, that appreciates the value and skills of each individual employee, and that consistently eliminates all unnecessary, costly work steps. Weaving looms became cars, and the methods more difficult, but the principle remained the same: «Avoid waste and be a little better every day than the day before». Out of this developed the concept that is now known as «Lean». Rather than a theoretical approach, it is an approach based on reality and the experience of coping with scarce resources.
Lean – misunderstood and only partially implemented
When scientists and consulting firms discovered Lean management for themselves in the 1990s and offered it to their clients as the latest «must-have», this supposedly westernized approach spread not only to local production halls, but also, from mid-2000, to the upper floors of established banks.
The main aspects of the Lean philosophy adopted by such companies were analytical methods. Although these are indispensable as a basis, the decisive elements were woefully neglected. Lean is successful when it manages to train employees to continuously develop and optimize «their» processes. This central finding received little or no attention. Furthermore, operational improvements achieved through the Lean approach must be coupled with strategic objectives.
All in all, the projects were therefore usually no more than isolated islands of a watered-down Lean experiment, where the Lean idea, which was heavily shaped by theory and methodology, quickly ebbed away after the initial euphoria. Instead, thanks to the allure of colorful slides with big promises, the main focus was often simply on a rapid ROI. Accordingly, the first Lean wave was mainly a matter of cost cutting.
Why Lean remains important
It would be easy to simply move on to the next-best approach and set Lean aside, adding it to the pile of many outdated management methods, but unfortunately, the challenges of the past have since developed into real problems. The classic restructuring and optimization measures that had been initiated often left the remaining workforce frustrated and overworked without the core problems having been resolved.
The ongoing low-interest phase, regulatory pressure and increasingly individualized customer requirements, together with new competition from direct banks, FinTech companies and the like, are creating a disruptive market situation. In addition, every day companies invariably experience a spanner being thrown into the works of their operational processes, be it in the form of new products or product features, regulations, new employees in the process, decreasing attention, or misunderstandings and errors resulting from unregulated details and coordination problems. This leads to the creeping, inexorable disintegration of value creation.
In order to ensure long-term competitiveness, it is therefore essential for companies to position themselves through stringent, efficient processes, quality, high customer focus and satisfaction, motivated, satisfied employees and ongoing further development. When properly understood and applied, Lean is superior to other methods and approaches. After all, the benefits of Lean never end and make the organization better and more flexible every day, while increasing satisfaction among customers and employees. Financial success is almost a by-product, so to speak.
The power of the original Lean
What is the real Lean now, and where does it get its «magic»? Just imagine
achieving the same output with half the employees, without everyone working endless overtime;

employees continuously and autonomously improving this situation, in line with the company's objectives;

increasing quality for customers and raising customer satisfaction at the same time;

changes being welcomed by employees as a form of motivation, rather than being seen as a threat?
Lean makes all this possible. Not overnight, but step by step. It continuously addresses all wastage, large and small, and deals with points of conflict in a company's everyday processes.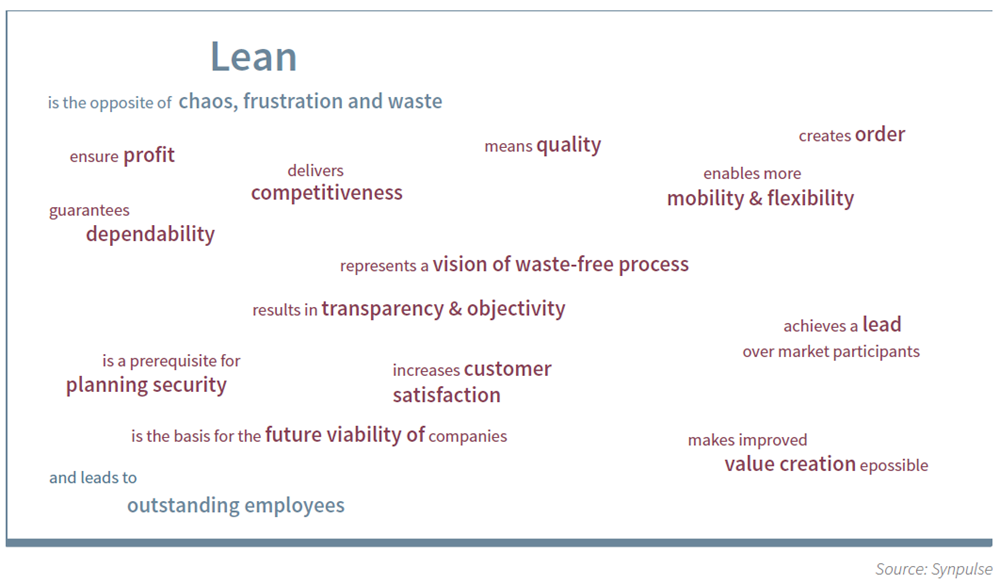 Derived from the Toyota production system and its corporate culture, Lean consists of a variety of methods for implementing the Lean approach successfully. This does not, however, mean that all of the methods, from «Kanban» to «Jidoka», should be applied indiscriminately. It is essential to understand that each method was initially developed to solve a specific problem. When building a Lean House, the same principle applies to every organization: «The method follows the problem ». There are three basic ideas that must be internalized.
Lean changes the perspective
In the course of our lives we learn to see what we want to see and what we should see. Our environment and experiences determine what we perceive. If we then see something that we do not recognize (in a particular form), our brain quickly overcomes this knowledge barrier and fills the gaps with information that is familiar to us and that provides the best possible fit. This mechanism is crucial to allow us to get our bearings in our daily life. Yet it also means that our perception is distorted and that we no longer question it. Lean gives new sharpness to our vision. It sets to work where things happen and where day-to-day work is carried out: in the customer center, the back office, and at the desks of employees in the credit department. Taking the «real place» (called «Gemba» in Lean jargon) as the starting point, all improvements are fueled from the root of the problem – without filters and with complete transparency. This approach also reactivates what we have lost in the course of growing up, namely the problem-solving ability inherent to all human beings: questioning, learning, trying out and constantly working on further improvements. This approach is called «Kaizen». It allows the development of a systematically learning, agile organization that regularly adjusts to new circumstances.
Less of the superhero, more of the ant colony
These days, there are a lot of things that only work because companies have a few «superheroes» – employees who are constantly troubleshooting, who often bear responsibility for the lion's share of projects, and thanks to whom everything still just about works, despite inadequate standards and processes that are at times chaotic. Lean, on the other hand, is designed in such a way that «normal employees can work together in a well-functioning system to deliver top performance – because the system is stable and has standardized processes that are transparent to all. Lean promotes a change of attitude in many other ways. Traditionally, profit-oriented sectors in particular, including the financial industry, have been calibrated to ensure that all employees are working at their full capacity. This results in congested processes. Lean is based on the river principle: those who constantly have a manageable amount of work to do can do more in total.
Employees are extremely familiar with their processes and usually also know how to improve them. Lean creates the framework that allows management to learn the art of letting go and that teaches employees to develop. It gives them the necessary combination of autonomy and involvement to bring these ideas for improvement to bear on their work.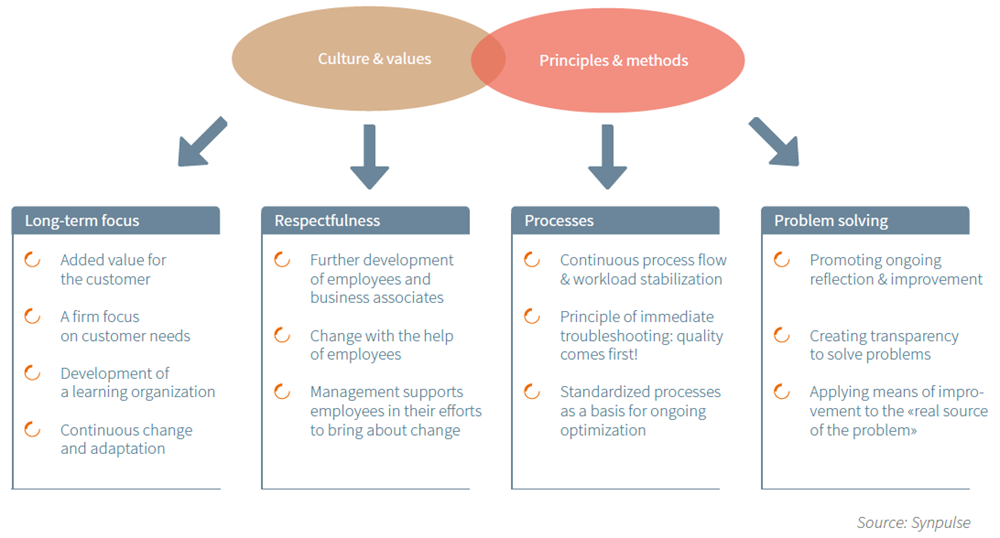 Lean is more than just a method: it is a philosophy and a culture
Although Lean makes use of various support methods, it only reveals its true potential when it is understood and lived out as a philosophy and culture.
Above all, this involves adopting a long-term value and business focus that goes beyond the next annual plan, as well as showing vital respect to employees as the decisive problem-solvers. Lean places the customer in the center and aligns all activities strictly to the customer's needs. Echoing Hermann Hesse («An achieved goal is not a goal»), Lean never ends, and every goal that has been achieved forms the starting point for a new improvement. While support may initially be required from the outside, such patterns for thinking and acting soon become embedded within the organization's memory, allowing the upward Kaizen spiral to continue.
Starting Lean properly
Above all, Lean is pragmatic. Lean philosophy thrives on the fact that there is no need for endless theory. It is all about getting started, trying things out and adapting them. By simply making a start, trying and adapting measures on an ongoing basis, the Lean idea evolves bit by bit. With every approach and every action, it penetrates deeper, involving more people, so that Lean is transformed from an island into the mainland.
One proven method is to start with Lean in a pilot area. While there is often a lack of imagination and deeper understanding of the possibilities of Lean at the beginning, introducing it successfully within a pilot area creates in-depth expertise and often generates a high level of motivation within the rest of the company due to the first visible results.
It is important not to stop at this point, but rather to gradually include more areas and work continuously on improvements that will transform the entire organization. Lean thus moves from an «island» to the mainland, and the company becomes a sustainably successful bank that adapts flexibly to new market requirements and gets better every day.