INSURANCE
INABOX

: A Reference Model for Digital Non-life Insurers

The insurance industry is currently subject to many changes: start-ups and Internet companies as new competitors, extended legal regulations, e.g. in data protection, new risks, and digitalization. Synpulse has developed a holistic reference model that helps insurers master such challenges.

Fintechs have long recognized that the insurance industry offers potential for change and improvement, be it with chatbot-based sales processes, intermediary platforms, or via apps. Young market participants are challenging the traditional ones: they place new demands on insurance products, services, customer processes, organizational structures, and sales partners. Technological developments, changes in legal conditions, and ongoing digitalization also demand more adaptations from insurance companies. Changes in behavior and increased expectations on the part of insurance customers are also accelerating transformation activities.

INSURANCEINABOX is a best-practice reference model for non-life insurance. On the one hand, it can be used as a value-enhancing starter kit for greenfield insurance projects in order to support the development of an insurer quickly and cost-effectively. On the other hand, it can also guarantee high delivery quality and enable focused insights. Especially for large-scale projects, structured framework conditions are very important for the employees involved. INSURANCEINABOX automatically provides a solid and detailed project framework for a quick start.
How is the reference model structured?
The reference model has a modular structure. This means that only individual modules can be selected as support for specific questions. Our modules at a glance (fig. 1):
Services 


Services includes the process library, a collection of necessary capabilities and use cases, a damage framework, and possible service level agreements for the connection of service providers.
Regulation & Compliance
This module includes a possible reporting framework, including reporting specifications, as well as a «library» on legal regulations such as the EU Insurance Destribution Directive.
 Prroducts
Under Products, the model offers a selection of possible product structures, market comparisons, modular product components, and service components.
Templates & Documents
Among these templates are possible product documents and output documentations, e.g. for customer interaction.
Design Organization
The «Design Organization» module contains functional role descriptions and a responsibility assignment matrix.

B

enchmarks
Various market comparisons are available that provide deeper insights into the insurance industry, e.g. cost drivers or loss causes.
Specifications
Changes usually leave their mark on systems. For this reason, the model also considers requirements for the back-end and front-end system, which are matched to possible product models.
Information Technology
Digitalization, in particular, often requires an adaptation of the structures and interfaces. Here we provide support with strategic concepts, system integration methods, data models, testing concepts, and corresponding interfaces.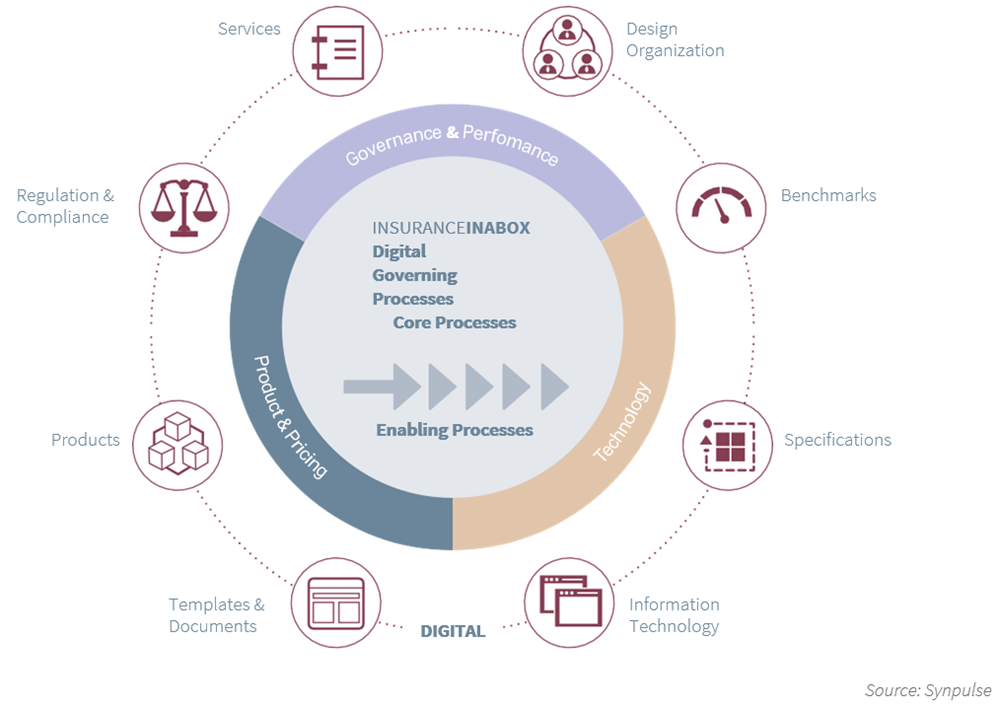 Focus on a digital product model
Our experience shows that increasing the degree of automation in the  conclusion and claims process is an important lever for maintaining our market position in the future. It is therefore necessary to convert the entire product framework from analog to digital (see fig. 2).
It should also be noted that the product structure consists of several levels; starting with the sales product, the level of the product itself, and the coverage up to the loss causes with dedicated benefits. The insured object can also be part of the product model. The modular structure allows several individual product configurations to be created from predefined modules. A highly structured product model greatly simplifies or enables automation in underwriting and claims management. Our product model consists of a detailed cause-and-effect structure underpinning each individual cover. Thus, this information is now available in real time, for example to digitally design a claims journey for the customer. In object insurance, the insured objects can be assigned to certain types of cover (e.g. a sofa is only insured against fire) or to a single contract. This means that the objects are insured for all the types of cover contained in the contract.
In object insurance, the insured objects can be assigned to certain types of cover (e.g. a sofa is only insured against fire) or to a single contract. This means that the objects are insured for all the types of cover contained in the contract. The modular product structure also allows individual types of cover and services to be flexibly defined. Services can either be assigned to specific risks, objects, or, as an independent service, to an individual contract.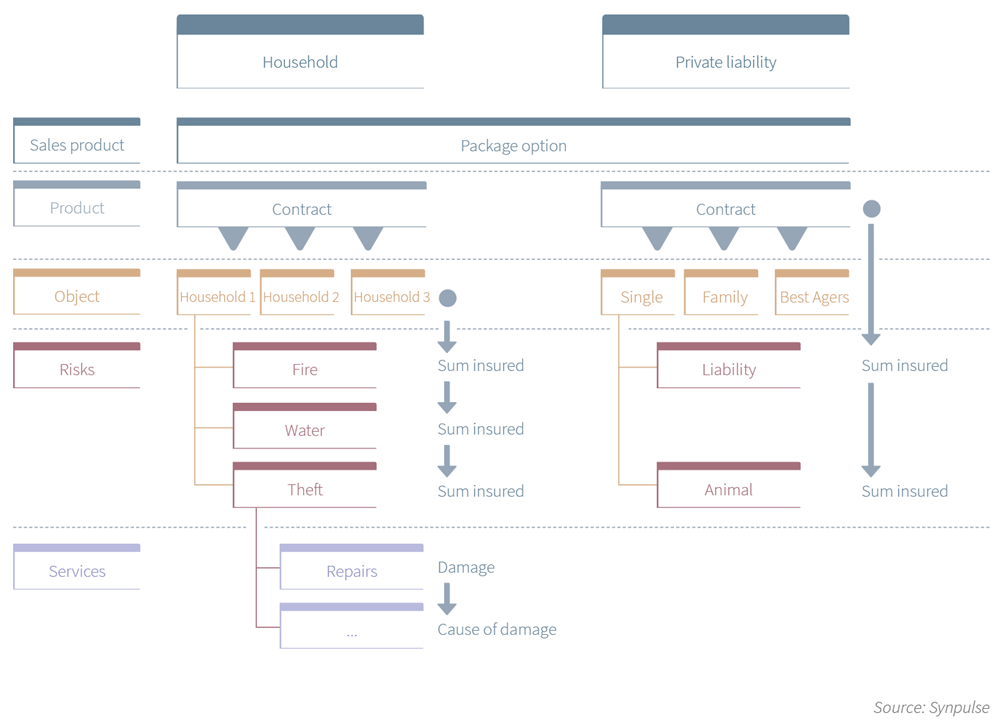 Two application examples
With INSURANCEINABOX, Synpulse provides a targeted basis for dealing with digitalization.
Consideration of External Data
The fact that digitalization is generating ever more data and that insurance companies therefore often have an ever greater selection of data at their disposal is nothing new. However, in many cases these additional data and thus this additional knowledge cannot be integrated into product structures. Digitalization in combination with the need for more and more flexibility therefore places new demands on the design of products. This ranges from the data model to the resulting price structures. Product structures should therefore always be structured in such a way that modular building blocks can be flexibly added or removed and external data can be taken into account.
Real-time decision-making
In order to meet the demands of customers that have changed with digitalization («anything, anyhow, anytime, anywhere»), it requires processes that can be carried out almost in real time. The application processes must be designed in such a way that a decision is made immediately upon application. It must also be possible to respond to special requests in real time. This requires a premium calculation module in the background that can process as many eventualities as possible in the shortest possible time. The INSURANCEINABOX model can also provide valuable information for this area, e.g. on the basis of the most meaningful tariff factors.
Application possibilities of the reference model
The possibilities for using the reference model are very broad. The following list is not exhaustive:
Support for digitalization projects throughout the entire process map

Reduction of lead times in product and pricing processes

Reference framework for product development initiatives, e.g. product and service bundles

Market launch of new products, including connection to platforms and integration at interfaces

Conceptualization of claims management processes

Support for the development of new risk carriers
The INSURANCEINABOX reference model serves as a basis for the implementation of change or optimization projects and guarantees a high degree of structure and classification. The different modules allow a detailed consideration and elaboration of specific questions. The complete process library of the reference model serves as a solid framework for the identification of strategic and operational gaps or for the conversion of entire business architectures. Depending on individual requirements, the modules of the reference model can be individually selected and combined with each other.