From Internal Service Provider to Strategic Partner: the IT of the Future
New technologies open up opportunities for insurers, but also challenges. In order to address the relevant issues in a targeted manner, IT is dependent on a modern understanding of its role and a sustainable strategy – from vision to roadmap.
Insurers should not only cover the financial losses suffered, but also solve the associated problems of the policyholders comprehensively. In the event of a car breakdown, for example, the primary objective is to restore the customer's mobility as quickly and easily as possible.
By contrast, the coverage of the core product in the private customer segment becomes more exchangeable («commodity»). Insurers are increasingly differentiating themselves through advisory and other services that are directly perceptible to the policyholder.
On the other hand, the circle of competitors is expanding: insurtechs are partly successful in mapping individual steps of the insurance value chain in a more efficient and customer-friendly way.
Large players such as Google and Amazon are already showing market entry tendencies. In the areas of customer focus and settlement efficiency, they are already far superior to most existing players thanks to much more efficient platforms and, due to their financial strength, can quickly acquire the sector-specific know-how that they lack.
Against this background, the IT of insurance companies plays a key role: it must be able to provide products with competitive cost structures and at the same time ensure the flexibility of offers at the touchpoints relevant to the customer. This requires harmonization and standardization as basic prerequisites for flexibilization. The oft-quoted «two-speed IT» for the flexibilization of offers at the front-end, based on powerful back-end systems, will continue to remain relevant in the coming years. To achieve this, a future-oriented IT strategy combined with a cultural change in both IT and the specialist areas active in the core business is indispensable.
Procedure for strategy development
Synpulse has already successfully accompanied customers along this path. A strategy process from the vision to a sustainable roadmap, including an administrative or supervisory board decision, can be conducted in six months (see fig. 1). A careful stocktaking of the internal IT situation, the cooperation with the departments as well as the market situation provides the basis for a sound analysis. This is consolidated in a SWOT matrix. Knowing this initial situation, it is necessary to define a clear and broadly supported vision.
Goals and measures can be derived on the basis of this vision. These are prioritized, meaningfully grouped together and mapped in a roadmap.

Success factors
As we see it, the success factors for an IT strategy are as follows:
Embedding in the corporate strategy
An IT strategy cannot be developed independently of a company's long-term ambitions and strategic goals, but must serve them (see  fig. 2). In addition, it must be as closely interlinked as possible with the existing divisional strategies so that their interdependencies are recognized as well as possible, and that no divergent goals arise within the company. If divisional strategies are not or only incompletely available the following point becomes even more important.
Integration of divisions
As described in the previous point, there are various interdependencies between the business areas and IT, which must be identified and structured at the strategic level at the outset. In addition, there are often unspoken and implicit mutual expectations that need to be made transparent and aligned. It is therefore essential to involve specialist representatives in the development of the strategy from the very beginning.
Visionary thinking versus «doing homework»
The decisive factor in developing a truly sustainable vision is a bold, perspective-oriented way of thinking that stands out completely from the current situation and is not tainted by existing structures. On the one hand, this requires creativity, and good knowledge of current technological and organizational developments on the other. At the same time, it is essential to do the inevitable «homework» of IT and to ensure efficient and stable operation.
Thinking and arguing in value contributions
For the purpose of ensuring the connectivity of the IT strategy and the resulting roadmap in the company, it is helpful to show the value contributions made by the IT as a whole, and the measures taken in detail. The «Value Proposition Canvas» helps to sharpen IT's performance promise to internal customers. It can be seen relatively quickly that IT delivers far more value than classic cost savings through automation and increased efficiency. It can, for example, enable the development of new business areas in ecosystems through technological expansion of the value chain, i.e. the connection and integration of partner companies, and thus generate positive premium effects. Through the standardization and harmonization of offerings and processes, it can contribute to a significant acceleration of product development times and thus noticeably reduce «time to market».
Change management and communication
Strategy processes can lead to fundamental reorientations and thus always harbor a certain threat potential in the eyes of employees. Fear of change or job losses causes insecurity. This can lead to resistance. This aspect must be taken into account in the sense of active change management. In doing so it is essential to bear in mind that employees may be at different stages along the change curve, depending on the situation. The change measures must therefore be defined in a very differentiated way. In each case, a suitable communications roadmap is crucial for the targeted implementation of the strategy.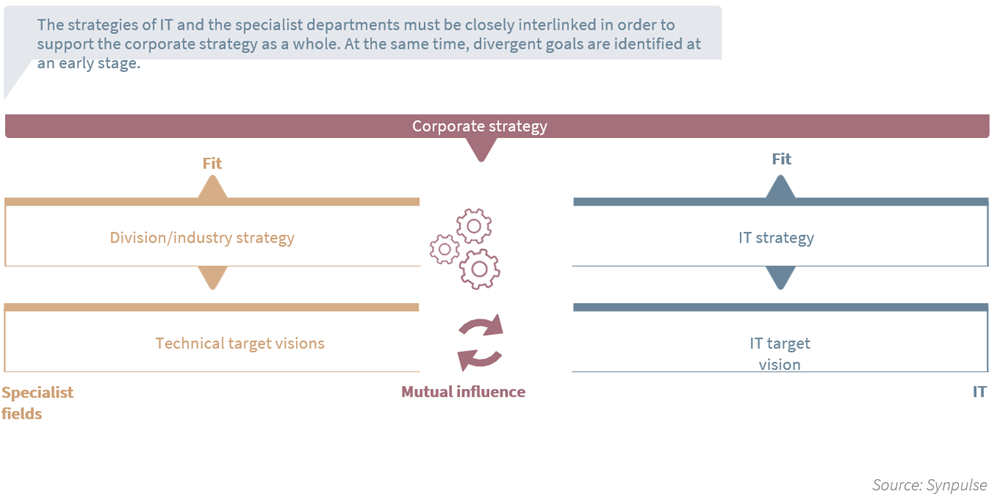 Strategic fields of action
Of course, the results of a strategy process vary from company to company. Nevertheless, we believe that there are common features in the Swiss insurance industry with regard to strategic fields of action.
The role of IT
The market dynamics accelerated by technological change cannot be mastered with IT in its traditional role as an «on-call service provider».
Only if the respective specialist departments and management accept IT as an «equal strategic partner» and the role of IT is also proactively perceived can it be possible to develop truly sustainable solutions in a network. For this to happen, many companies – both in all specialist areas and in IT – must undergo a cultural change that is initiated by top management and supported at all levels.
Positioning with regard to the desired vertical range of manufacture
While many insurers used to operate, parameterize, specify, and partly develop their core and support systems themselves, today there are significantly more options, ranging from standardized platforms to «Software as a Service» (SaaS). It is necessary to take a clear stance and provide the necessary justification as to what should be done «in-house» today and why, and what should be bought in. The following sub-strategies are relevant for this:
Development of a sourcing strategy: this gives a clear answer on «what» is outsourced, as well as «how», and «to whom».

Development of a strategic partner capability: this is the ability to orchestrate system and service partners confidently. This goes hand in hand with coping with a cultural change in the sense of «no longer doing everything yourself".
Sustainable IT architecture
The transformation of IT as a (system) landscape must follow an overarching plan and be geared to future challenges. In many cases, this includes:
the development of a flexible, quickly adaptable front-end as a platform for sales partners and for integration at relevant customer touchpoints,

the decoupling of the front systems from the (often still highly fragmented) back-end by means of an integration layer.
The role of the IT architect becomes of central importance in order to strategically control the target vision of the IT landscape in harmony with the corporate and divisional architecture.
Driving automation and standardization
Cost reduction is not (or no longer) the main argument for automation and standardization. In fact, shortened time-to-market, a better customer experience and greater flexibility are often decisive reasons for being able to react more quickly to changes in customer behavior. This requires highly standardized and automated processes in the back-end system.

Building ecosystem capacity
It is generally undisputed that insurance companies also benefit from a well-developed ecosystem in order to be able to sustainably maintain the customer interface. The resulting IT requirements are of a system-related, technical nature on the one hand, and require the development of corresponding skills on the other.
Skill management
Against a backdrop of altered customer behavior and technological change, skill management is becoming a significant strategic lever. This applies not only to new requirements for developer capabilities, but also to the sustainable development of comprehensive control functions such as service or security management or planning capabilities.

Conclusion
Formulating an IT strategy based on a sustainable vision is extremely challenging, but of the utmost importance. Essential fundamental questions such as the desired vertical range of manufacture, the understanding of the role of IT, or the importance of ecosystems must be clarified. In addition, a defined target architecture is required, as is an analysis of the skills required in the future.
The development of an IT strategy is only successful if it is oriented towards the corporate strategy, understood and accepted internally, sustainable, and if it can clearly demonstrate the value contribution of IT.