Ecosystems: The Logical Consequence of Digitization?
The consequences of digitization and the associated opportunities to create digital ecosystems or to integrate into existing ones have been particularly evident in the Internet industry for several years. However, these developments are also opening up new opportunities for insurance companies and banks.
The subtitle of the book «Digital Transformation» by Tim Cole is deliberately provocative: «Why the German economy has slept through the start of the digital future and what needs to be done now!» Cole compares digital networking with 19th-century steam engines, which triggered the transition from an agricultural to an industrial society.
Digitization could indeed be a challenge for established companies who do not take this development seriously: more than half of the Fortune 500 companies in 2000 have either been merged, purchased, declared bankrupt, or are otherwise no longer on the list. The future is defined by a new type of global corporation, the new «Big Four»: Amazon, Apple, Facebook, and Google. These companies have not only grown enormously quickly, they are also among the world's most capital-rich companies. They are so successful because they have understood like no other how to offer customers a holistic experience in the form of a digital ecosystem.
Ecosystems on the advance
The «Taobao», «Tmall», and «alibaba.com» websites of Alibaba, China's largest online commerce company, have hundreds of millions of users and host millions of retailers and businesses. Alibaba was founded in 1999 and today manages more business than any other e-commerce company. Transactions processed via Alibaba's online sites already amounted to well over USD 200 billion in 2014.
Alibaba was also the first company to coin a term that symbolizes the phenomenon of digitization: «ecosystem». Alibaba used the word «ecosystem» more than 160 times in its IPO prospectus when it floated on the New York Stock Exchange in 2014, the largest flotation in the world to date at USD 25 billion. However, this term has little in common with that familiar from the natural sciences. A «business ecosystem» can be understood as an economic community that is supported by an association of interacting organizations and individuals.
This economic community produces goods and services for the benefit of the customer, who in turn becomes a member of the ecosystem.
Alibaba is a prime example of a digital ecosystem: a marketplace, a search engine, and a bank, all from a single source. The financial services area is covered by the Ant Financial Services Group: Ant owns and operates an online payment platform, provides mobile payment services, offers small loans to companies that set up virtual storefronts on Alibaba's retail websites, and sells insurance products online.
Alibaba is involved in «Zhong An», China's first online insurer: Zhong An was founded in 2013 by the Chinese Internet giants Alibaba, Tencent and Ping An, the latter being the second largest insurer in China. Zhong An initially started with only one insurance product to cover return costs in online trading and now
offers a large number of other insurance products from the property and health insurance sector. (For further examples of ecosystems see also fig.  1.)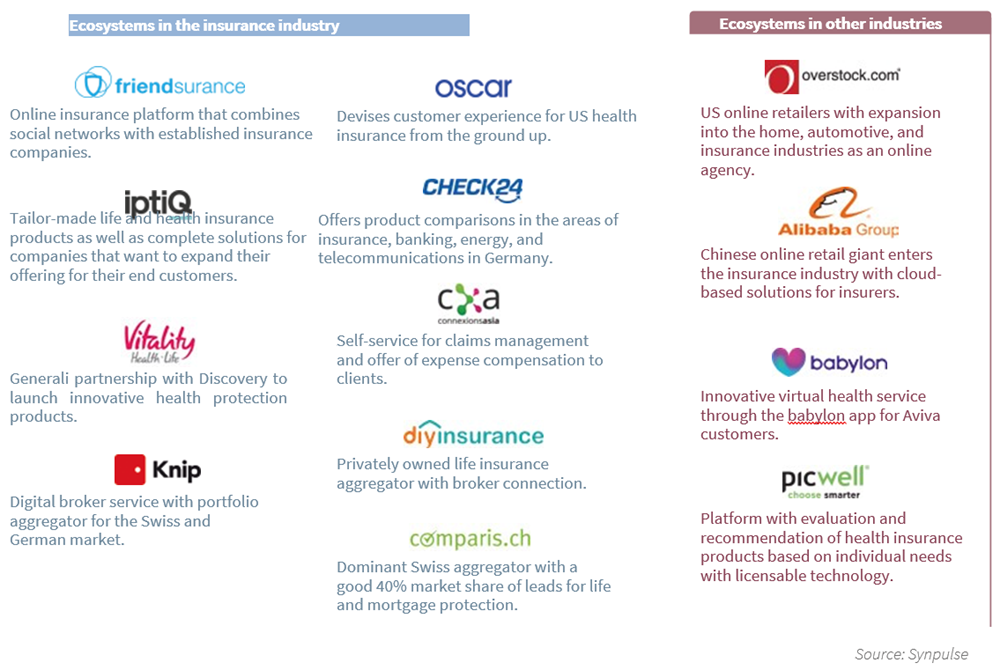 Impacts on the financial sector
What does this mean for the financial sector? Customers quickly adopt digital channels and tools for interacting with vendors. They expect the same accessibility, transparency, and responsiveness they are used to from the data giants Apple or Amazon. Customers want more transparency to be able to compare products, flexibility in the form of products that adapt to their changing needs, and control to be able to decide for themselves what to buy when. Competitors from neighboring industries also represent added competition, with a high degree of customer loyalty. The share of non-insurance competitors, such as manufacturers of motor vehicles, telecommunications providers, Internet giants, and start-ups is still on the rise. «Game-changers», who have so far had little contact with the insurance industry, use their strengths to gain a foothold in this market as well.
They do this via the following means:
ular customer interaction,

digital and mobile contact options for interested parties beyond the established distribution channels,

comprehensive data know-how, analytical skills and the use of tools for collecting, processing, and evaluating data.
These providers do not act primarily as providers or distributors of insurance services. In most cases, the focus is on a very specific customer need that these providers satisfy. Insurtechs are very strong in this area of customer interface and are often more flexible and agile than the established insurers. But they should not be seen as competition. Rather, they also offer opportunities for potential partnerships from which all parties could benefit.
In the USA, for example, people use the financial planning instrument «mint»: «We collect all your financial information in one place and give you a complete overview, in a way that is easy to understand and use. Add accounts, cards, and bills as you like and see at a glance what you have and what you owe» is the advertising promise. Of course, customers who want to keep their finances under control will also be offered the opportunity to save money. «mint» analyses thousands of offers in the field of current and savings accounts, credit agreements, credit cards, but also insurance, and automatically submits recommendations to the customer according to his or her lifestyle and financial goals.
Another example in the insurance sector is online comparison portals, also known as «price comparison websites». They offer a wide range of products, including insurance and financial products (e.g. «Check24», «Verivox», or «Toptarif»). Comparison portals position themselves as a natural part of the user's search process – ostensibly to help them save money. The insurance offered focuses on policies that Internet surfers can actively inform themselves about and then take out directly online – so-called «pull» products.
Customer expectation determines the way forward
The user who moves in such an ecosystem may also be a client of an insurance company that distributes its insurance products through this ecosystem. However, such customers may often be more likely to see themselves as members of the ecosystem, rather than customers of the insurance company.
Ecosystems – in the sense of digital transformation – are therefore both an opportunity and a risk. The opportunity lies in gaining a valuable sales network. At the same time, there is a risk that the relationship between customer and insurer will be severed: the operator of the ecosystem stands in-between. In the digital age, insurers are faced with the choice of either creating and operating their own ecosystem or becoming part of other external digital ecosystems if the latter are preferred by their customers.
A popular example of a health-oriented ecosystem created by an insurer is «Vitality». This is the wellness product offered by the South African insurance company «Discovery». Vitality rewards its customers for becoming increasingly healthy. The main driver for Vitality customers is to «stay healthy», not just to be insured. Vitality's approach was built around three main principles:
Rewarding healthy behavior through discounts and promotions provided by a wide network of partners, such as nutrition experts, fitness studios, or tour operators,

Personalizing customer relationships with frequent interaction and customized programs to motivate customers to engage in activities that improve their lifestyles,

Creation of a new link between the insurer and the customer through a dedicated shared value offering.
As you can see, the issue of insurance is not necessarily at the forefront of most examples that can be tailored to ecosystems. Often other topics come into play, such as «security and well-being», «mobility», and, first and foremost, «health».
Putting the user at the center
Anyone who talks about digitization and thinks only of technology is overlooking something essential: the human being. Customers who are used to the convenience of ordering and buying over the Internet feel more comfortable taking insurance products «on the fly» if they match the product they have just purchased. In particular, insurance policies that cover damage to or loss of a valuable consumer product are often taken out on occasion. Customers who buy valuable consumer goods on the Internet are more likely to look for and purchase insurance products online. If there is already a connection to an existing ecosystem, then it would be a good idea to link into it.
The Chinese online giant Alibaba has been mentioned above. In the German mail order business «OTTO», the search for the keyword «insurance» leads to a link to «ERGO Direct Insurance", mediated by «OTTO Finanz-Plus». Anyone searching for the term «insurance» on amazon.de will find books on the subject of insurance as well as an entry on «Amazon Protect», which can be used to purchase extra guarantee insurance from the «London General Insurance Company». In addition, Amazon offers the skills of individual insurers such as Allianz, iptiQ, Versicherungskammer Bayern, or Deutsche Familienversicherung via its service assistant «Alexa». With the Allianz skill, you can calculate, among other things, the premium for «Mein-Haushalt» (my household), a liability/household goods combination from Allianz, or an offer for travel health insurance. Incidentally, Alexa also responds to the following command: «Alexa, open Allianz and play the Allianz song»; according to the skills description on Amazon, this is a true classic.
APIs as technical enablers of digital ecosystems
The programming interfaces (APIs) largely form the technical basis for the creation of ecosystems. This is one of the reasons why they are regarded as among the most important cornerstones of sustainable IT systems. This will enable insurers to build up digital ecosystems or to link into existing digital ecosystems. This opens up new opportunities for companies to offer their customers additional services. This ranges from integrating external underwriting engines into the online sales channel, directly connecting self-service portals to the portfolio management system, to linking insurance products with apps or standardized B2B solutions to reach customers of other companies. Internet companies like the Big Four above have long enabled smaller companies and start-ups to quickly realize their digital business models through access to their APIs, and are themselves big beneficiaries.
Notwithstanding all of the technical possibilities, however, it's important never to forget the motto of Alibaba founder Jack Ma: «Delight the customer, and the company will flourish». In the end, the customers are the ones who decide. Their needs and financial possibilities, their preferred buying behavior and preferences for certain access modes define how insurance needs are best recognized and covered, whether analogously or digitally.