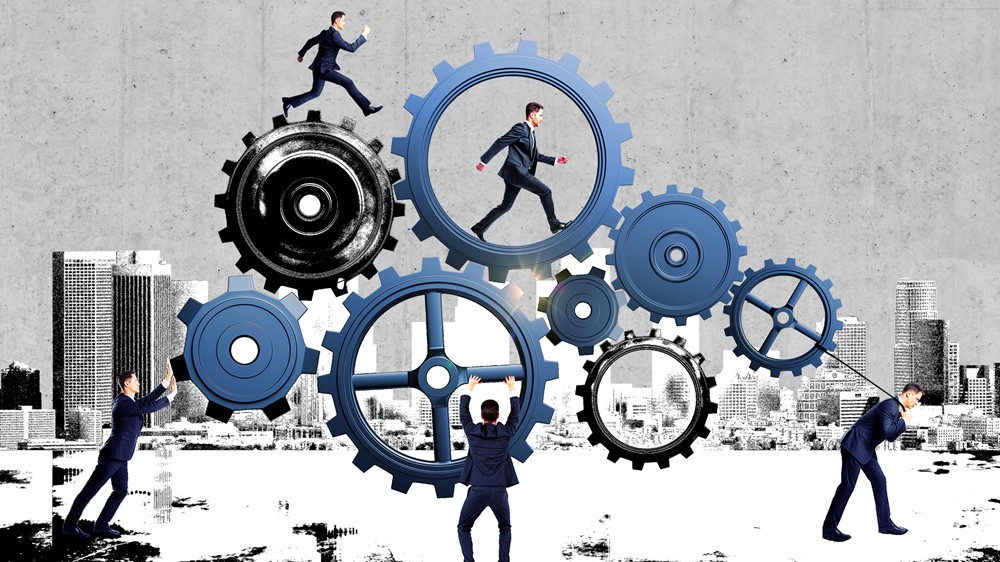 From One-Time Transformation Projects to Agile, Continuous Improvement
Target operating model (TOM) projects are an excellent opportunity to establish and strengthen the enterprise architecture (EA) practice of a company given the overlap between EA and TOM initiatives. A solid enterprise architecture helps define future operating models and is a key enabler of any transformation efforts.
---
Large software implementations are often carried out to support major strategic decisions for a company. New implementations of core enterprise systems have a significant impact on the existing processes and IT architecture. For example, the replacement of a banking customer relationship management (CRM) system or that for insurance policy administration can cause significant disruption. Therefore, implementation should be carefully planned to ensure a smooth project without major interruptions of the daily business. Continuous updates and enhancements ensure that a large one-time investment can be leveraged for the long term and keep the software up-to-date with the newest business requirements for years to come.
Most business transformations lack adequate maintenance programs
Synpulse has engaged in several business transformation projects that have had a significant impact on the company. Whether it is about introducing new business processes or developing a new target operating model, many, if not all areas of a company can be affected to varying degrees. During the transformation planning phase, such impacts are thoroughly evaluated and accounted for in the project plan and in the business case. In our experience, however, few companies plan for and implement a maintenance plan as part of their transformation projects.
This is in stark contrast to most technology-related projects. To ensure sustainable transformation success, we propose to hand over developed operating models to maintenance – just as we do with software. This facilitates continuous improvement and increases organizational agility by providing a solid framework for future transformation endeavors.
Synpulse's business transformation framework
Synpulse has developed a TOM framework to assess the impact of strategic changes on a company. It is divided into four dimensions:

Products & services

Processes & organization

Technology & architecture

Partnership & sourcing
These dimensions help to operationalize the company's strategy. For every change to one dimension, the impacts on the others need to be evaluated. As an example, changing the strategic product offering might require organizational adaptation and new sourcing partners. Likewise, organiza-tional responsibilities and IT requirements may need to be revised to automate existing processes.
Synpulse's TOM approach consists of describing the target state per dimension, identifying gaps in the current lands-cape and creating a transformation plan along with a busi¬ness case on how to achieve the target state. This framework is designed to support one-time change projects.
Enterprise architecture as key enabler and driver of transformation
Many are not familiar with the difference between TOM and EA. To put it simply, Synpulse believes that TOM tells a company, which direction to go and EA is the means to get to that destination. In contrast to our TOM approach, Synpulse's EA framework is designed to continuously assess how a company's capabilities, processes, systems, and orga¬nization and information structures are set up to support business needs and adapt to changes. The EA framework consists of four phases: First, the current architecture is evaluated in the «as-is landscape phase». Then future enter¬prise architectures are designed and assessed in the «target landscape phase». The third phase is the «gap definition phase» which describes necessary process, systems and organizational changes to reach the target landscape. Finally, any changes are mapped against different projects and time¬lines in the «roadmap phase».

Depending on the enterprise's needs, it is also possible to start with the target landscape phase. But wherever one starts, EA assessments can add great value to an organization by thoroughly assessing the current architecture. This is based on which transition or target landscapes can more easily be developed. Moreover, EA efforts are not just key enablers for any transformation efforts. Lately, the EA practices of many companies have taken a seat at the strategy table and have become key for the development of target landscapes and target operating models due to their profound understanding of a company's current process and systems architecture.
Leverage your target operating model to enable ongoing enterprise architecture
The EA and TOM deliverables overlap significantly in most evaluated dimensions. Therefore, we recommend strength-ening an EA practice by building on and assessing the trans­formation work developed within a TOM project. The trans­parency that this brings can increase the institutionalization success of a TOM and better position a company for future changes. The EA implementation can begin during the trans­formation project to capture synergies in the creation of shared documents and deliverables from the TOM project. Using the TOM's methodology and deliverables as a basis for EA will also broaden the view of the assessment, as TOM covers additional dimensions not in focus of enterprise architecture.
As shown in diagram 1, for each dimension the comprehensiveness of EA and TOM initiatives was determined based on the num­ber and depth of typical deliverables, the duration of rele­vant assessments and Synpulse project experience. TOM was used as a benchmark, and numbers above 100% described dimensions in which EA initiatives tend to provide a deeper assessment compared to TOM. EA initiatives often have a strong focus on the technology and architecture, while TOM assesses products and services as well as partnership and sourcing in more detail. The processes and organization seem quite similar in terms of developed artifacts for both approaches.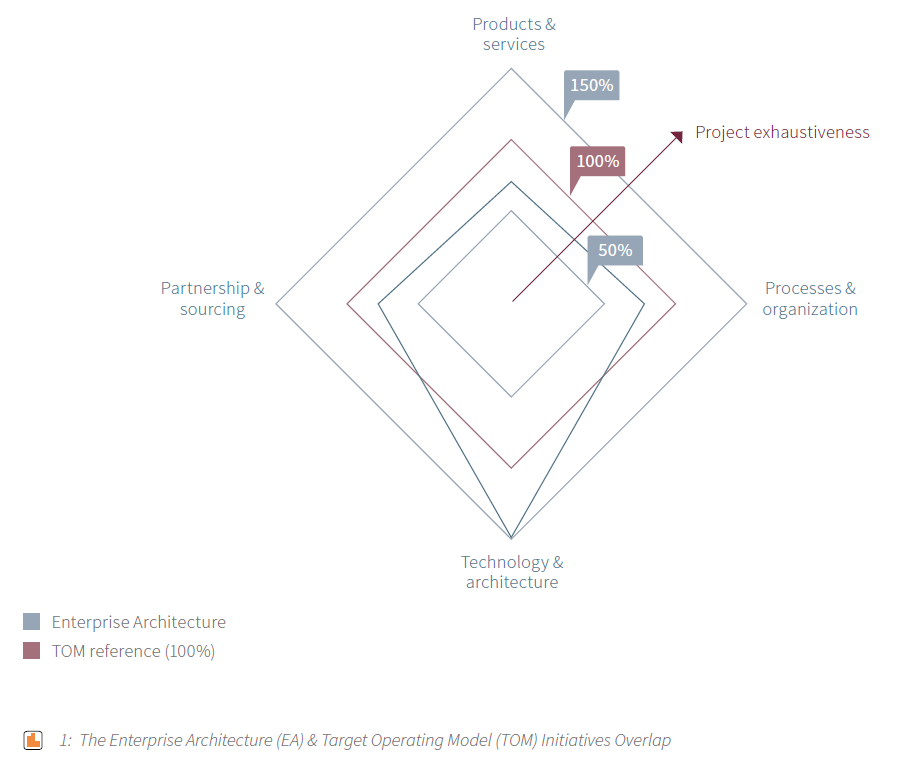 Long-term benefits of continuous project maintenance
As soon as the TOM deliverables have been handed over to the EA team, continuous maintenance of the as-is landscape is ensured. This means that small fixes, enhancements and major changes can be evaluated against a current EA model. In other words, EA ensures a lasting realization of the TOM vision and blueprint. Moreover, a well-managed EA frame­work will prepare a company for future business transforma­tion projects and also becomes a driver for them. Any future TOM efforts will be significantly reduced, as they will build upon a solid as-is architecture. Joint TOM & EA efforts enable a faster, more thorough assessment of the target landscape and a more agile organization, adapting quickly to new stra­tegic requirements.