Partnering to Create a Better Journey for Customers
The life insurance industry faces challenges gaining and retaining customers. The traditional approach continues to underperform modern proceedings such as a data-driven underwriting. To stay competitive, insurers have to adopt a digital ecosystem with other technology providers.
Life insurance is out of touch with young families, one of the core customer segments. Analyzing the typical customer journey of traditional life insurers quickly results in the conclusion that there are many built-in sales barriers. In fact, the product is not easily accessible for many and straight- through-processing is nonexistent for over 80% of the applicants. These observations are also valid for the servicing and administration of existing customers. It is a myth that people who do not own insurance do not want it. According to the research organization «LIMRA», 19 million insurance shoppers got stuck because they did not know what or how much coverage to buy.
New players like «Haven Life» and «Ladder» in the US concentrate on the engagement and distribution of new customers. A data-driven underwriting approach advertises quick and simple application processes at competitive rates. Traditional players must rethink their positioning, because significant transformations are predicted in most areas of the industry's value chain. Technology partners offer new opportunities but if insurers do not catch up with the present, tech-savvy and disruptive players, they will fall behind; thus they disaggregate the insurance value chain in the future and change the nature of the insurance business to a digital ecosystem.
Requirements for life insurers
Product development requires the specialization of product features and the ability to customize the products quickly to fit the channels provided through the digital ecosystem. Here, customers expect to spend less time researching products and easily understand features, terms, and conditions. Aggregators and technology providers disconnect the distribution of personal policies and the ownership of customer relationships from insurers. Customer loyalty decreases as aggregators create distance between the individuals and their insurer. Competitive advantages offset existing retail channels (e. g. agent force, brand). As health (risk) awareness rises, individual risks are increasingly standardized and commoditized. The importance of actuarial and underwriting capabilities grows as other parts of the value chain disaggregate. Insurers' margins on personal and small commercial products are decreasing.
A larger proportion of investment risks are transferred outside the insurance companies as more alternative providers of capital (e. g. hedge funds) offer costffective options. Growth of insurers is less constrained by their access to risk capital. Increased underwriting capacity, transfer of catastrophic risks and commoditization of risks may lead to a decreased impact of insurance cycles.
Change has yet to come
The above results in insurance companies facing challenges on several fronts. Insurers' legacy IT systems are complex, which limits their agility. A bias towards largely intermediated distribution and the technical nature of products hinder a shift towards greater consumer orientation. Complex insurers, often siloed by branches or lines of business and long-term view, tend to have a limited focus on innovation. In many countries, the economic environment creates significant  
pressure in terms of investment capability, increasing the short-term focus of insurance companies. Facing these challenges, insurers need to focus on the following:
Consumer centricity:

Insurers will need to tailor their offers and services to the real needs of their customers. For many, this will entail a radical shift in their core processes, such as new product development, customer contact and claims process design.

Cutting across silos:

The digital paradigm requires that silos between branches and functions are broken down.

Partnerships:

Insurers need to sign up suitable partners to develop more immersive ecosystem offerings.

IT evolution & flexibility:

Digital technology requires (front- end) IT systems to operate on a different level. Consumer data must be easily accessible; operations need to happen in real time. New alternative distribution partners need to be on-boarded in no time. Consequently, IT systems have to find a way to manage the evolution of insurers' core systems at a measured pace while enabling rapid absorption of technological innovation. In short, they need to manage «two-speed IT».

Innovation:

Adapting to the digital world requires sound knowledge of the technology available; ability to develop, test and pilot at the right pace; readiness to fail in an entrepreneurial spirit; and capacity to do all that without jeopardizing the core business. Insurers will also have to scan the horizon for new, game-changing technology that may be too far ahead to commercialize now, but could have a significant long-term impact on the industry.

Data analytics:

New capabilities offered by big data technology need to be embedded within insurance and need to support most of the underlying changes.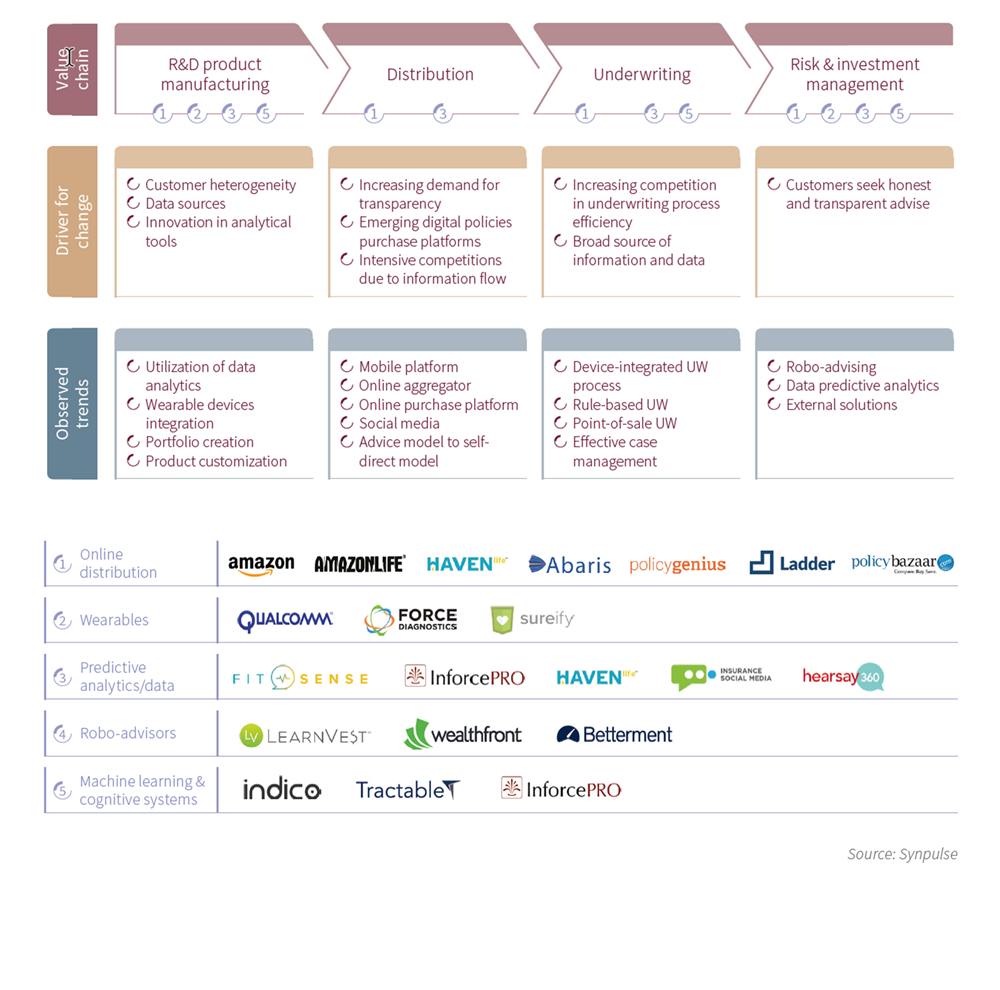 Unleashing the potential
An ecosystem can help life insurers become more customer centric, data driven, innovative and efficient. Ecosystems are best achieved by assessing the value chain and identifying partners for synergies along the customer life-cycle and cost effectiveness. Potential partners, who complement or substitute an insurer in a value chain activity directly or indirectly, are identified by mapping core competencies required in a complete customer lifecycle   and   servicing   framework. The thought process behind structuring the partnership portfolio begins with core competency mapping and matching against the customer lifecycle and servicing framework. From there, partners are assessed for their readiness to synergize with the insurer's requirements and cope with regulation, process and service quality boundaries.
Most common are ecosystem partners who support the need and research stages of the lifecycle. Aggregators, concierge services, and marketing profiling, all these can be found frequently on the market and strive to engage closer with potential customers. For life insurers, it is important to select the right partner according to their own attribution. With respect to aggregators, for example, these shall include:
Reaching the mass versus segments:

Many aggregators and other ecosystem partners may be segmented into mass players or players who personalize the offering to a specific market. Therefore it is important for the life insurer to choose between commoditization or individualism in product design and distribution.

Showing collaborative capabilities:

Successful lead conversion can only happen if both players, the insurer and the aggregator, can integrate to the extent that the critical mass is reached. Web traffic on the aggregator's website provides an initial indication. However, the product mix of the insurers has to correspond to the offering of the aggregator to convert the web traffic into leads. Multi-line aggregators might be a better fit for multi-line insurers.

Covering the value chain:

It is also important to assess how far the aggregator covers the value chain. Nowadays aggregators cover lead generation to underwriting and policy servicing. On the one hand, there might be a business case for life insurers to gain savings, because the aggregator covers the operational aspects at a lower cost. On the other hand, the life insurer's processes have to be mature to allow for such deep integrations.
Involving aggregators and other potential ecosystem partners into the business model generates value for all three – the customer, insurer, and partner – but only if these synergies can be unleashed.
---
New ecosystem business models
New business models have emerged and now pose potential competition to incumbents.
Aggregators: Online aggregators that allow customers to compare prices and purchase insurance products online may displace traditional distribution channels as customer preferences change and more insurance products are commoditized (e.g. UK P&C market).
Telematics: Use of existing and new data. In underwriting, medical assessment at point of sales as well as flexible client analytics are made possible. In pricing, dynamic pricing models such as «Pay-As-You-Live», flexible yearly premium, and product adjustments are offered. Sales and distribution develop into new, electronic distribution, multi-channel marketing, and a holistic, customer-centric approach. Portfolio management now allows increased client touch points and target-group-oriented marketing for e. g. 50+. Sources may include electronic  
health and prescription records, credit history, and behavioral data.
Sharing economy: As sharing economies emerge from «Pay-As-You-Go» rentals to shared vehicles   and   houses,   the concept of ownership may radically change, challenging traditional insurance models developed based on one-to-one ownership structure.
Securitization: Insurance-linked securities such as catastrophe bonds are introducing new pools of capital providing fully collateralized coverage to insurers, outside traditional re-insurance and insurance pools.
Entry of tech players: Technology providers with brand recognition and trust may enter the insurance distribution market, leveraging their extensive data and distribution capability. Largest technology companies acquire InsurTech startups, e.g. Google acquired the UK e-aggregator «BeatThatQuote», who charged insurers up to USD 54 per click.
---