Next Generation Community Bank
Personal customer relationships play a vital role for the success of community banks. But new players with extensive digital capabilities threaten these personal service-oriented banks. In order to stay competitive, community banks have to consider taking advantage of digital strategies that enhance their customer relationship management.
Current environment
Two essential factors for keeping up with today's competitive banking industry are technology adoption and digitization. New technology platforms like «cloud computing» and «robo-advisors» present countless choices for executives that are now required to understand bank customers as well as how technology enhances their customer experience. Traditional banking services augmented with strategic technologies enable community banks1 to compete with large e-commerce and national banks while still embracing a client-centric operating model.
The most important attributes for community banks are summarized in the classical «SWOT» analysis (strengths, weaknesses, opportunities, threats) in  fig. 1.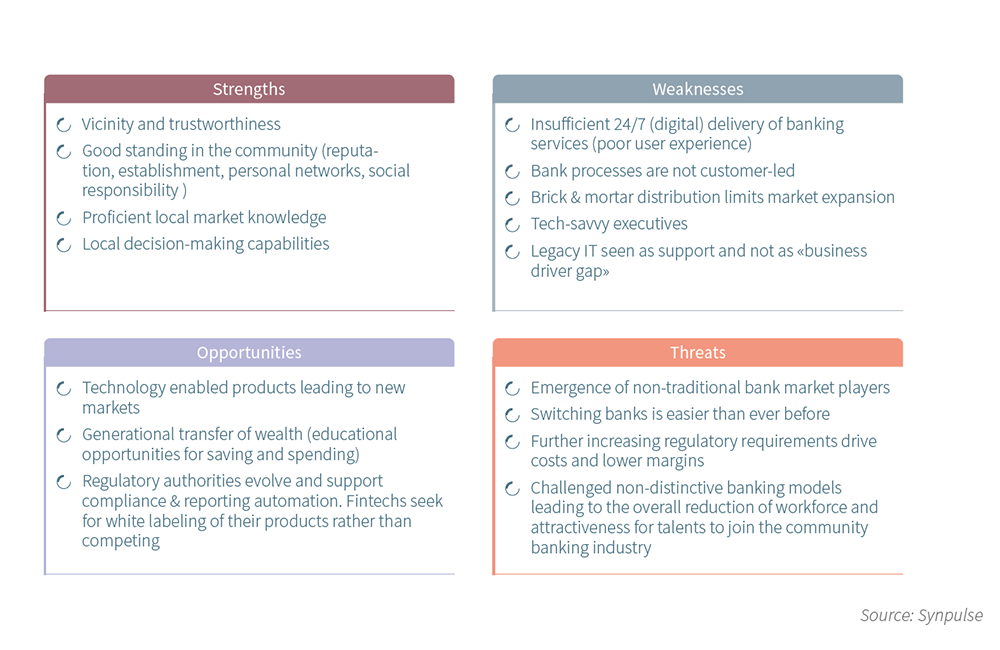 Target landscape
Face-to-face advisory will still play a role for community banks but clients' expectations will shift towards a digital, self-managed banking experience. The evolution of traditional bank services means that future demand for client service representatives will decrease. Also the remaining advisors will assume new technology-augmented roles that will involve consulting on estate and wealth planning, insurance coverage, philanthropy, and tax planning. Simple tasks such as account and checking management will be left for machines to manage.
The following five strategic initiatives provide areas where community banks heading into the future could leverage technology to assist with digital demands ( fig. 2).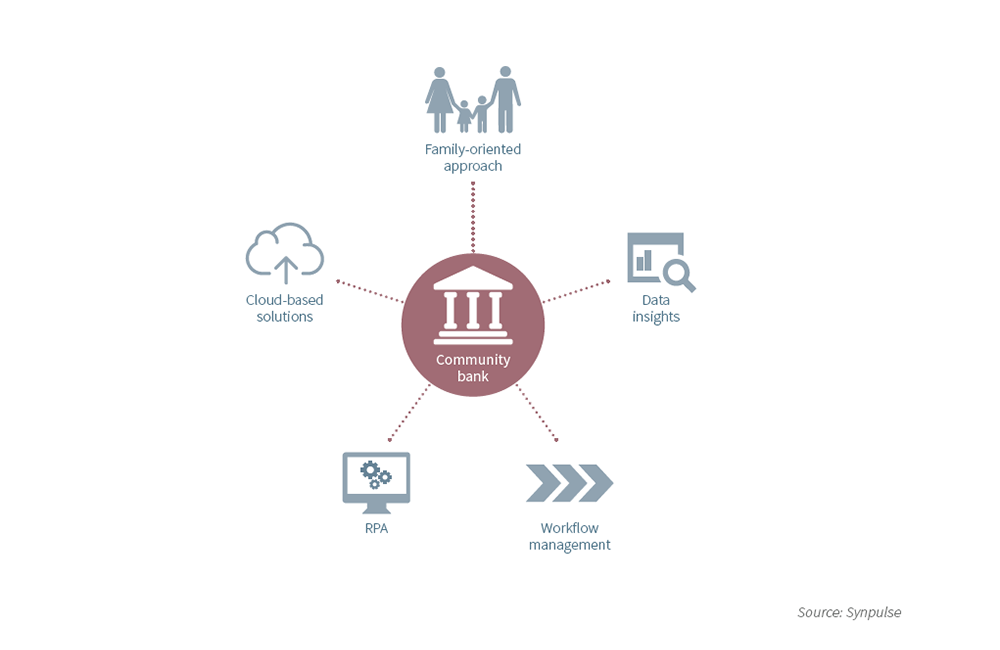 1. Tapering of process inefficiencies through Robotic Process Automation; main goal: cost reduction
Introducing Robotic Process Automation (RPA) solutions can reduce operational errors and increase process efficiency by providing rule-based systems that detect and correct errors in real-time. RPA technology provides comprehensive support for time-consuming manual tasks, such as «Know Your Customer» (KYC) data collection and loan submission. As a first step, in order to understand where there is potential to implement RPA technology, bank executives need to analyze and map their complete existing process landscape with regard to products and business units. After a feasibility assessment, robots can be programmed and embedded into the existing operating model, resulting in reduced manual labor, freeing up resources for more value-added activities. For example, robots replace database administrators to ensure complete and accurate data models, which allow administrators the time to develop analytical tools and to better understand client behavior.
2. Enhance client interaction through data capitalization; main goal: increase client experience & profit
By leveraging community presence and utilizing affordable technology to improve customer insights, community banks can secure their place for a vital role in future economic development. Community banks must focus on customer retention with enhanced customer insights for sustainable business. With the appropriate toolset (e.g. data insight platforms like «Squirro»), community banks can better understand client needs and proactively provide solutions or products to meet their  demands.  Besides  assisting  with  cross-selling  opportunities, customer insights solutions enhance the already individualized role of community banks. Customer insight technologies pull information from both external and internal sources to generate a 360 degree, comprehensive representation of the clients' circumstances and anticipate their next best action. Community banks could use customer insights to focus on generational wealth transfer, asset retention; and additionally, as a security layer for local loan decisions.
Properly applied, data analytic tools will reduce time consuming and labor-intensive processes in the community bank and allow representatives to better serve the clients. High employee tenure and lower labor cost provide a unique opportunity for community banks to invest in educating and retooling their current workforce. With an enhanced skillset,  representatives will build upon their alreadycustomer-oriented interactions and provide better understanding and structuring of services for their target segments.
3. Automation of risk & compliance rules and reporting requirements; main goal: cost reduction
Currently available and used by large banks, real time processing and reporting of multidimensional and complex data provide advance governance and risk mitigation capabilities. As regulators apply more compliance regulations to banks, data management solutions will help community banks to apply changes quickly in order to control models, avoid late or incorrect reporting, and better capitalize on economies of scale for regulatory compliance efforts. Specific software solutions, such as «Qumram», allow banks to monitor digital client interaction in real time continuously to identify new errors, abuse, fraud and non-compliance.
4. Cloud-based workflow solutions to enhance the regional market; main goal: business volume increase
As clients become more digitally adept, extensive networks of local branches will become obsolete and the focus will shift to enhanced technology capabilities. Bank representatives will be required to support and utilize technology among their day-to-day duties. Work-flow solutions create order and efficiency for community banks. As the full customer lifecycle will bedigital, workflow solutions delegate tasks to the appropriate bank employee to ensure seamless and prompt response time for clients. Workflow solutions also support the expected digital customer experience, for example, by assuring faster loan origination due to decreased manual processing while reducing fraud and compliance risk with detailed audit logs.
5. Holistic, family office like  «Advisor of Trust Approach»; main goal: a larger percentage of individuals' portfolios
Local banks should become a family office like a one-stop-shop agency that provides services such as education, investment, tax and philanthropic planning, as well as lifestyle management. As an example, the local advisor of a trust consults a family on better health insurance conditions by making use of wearables, refer them to nutrition coaches and so forth.
Once the family has been coached and accompanied for a more financially optimized «family life cycle», the risk of losing the younger generation that inherits current wealth will also shrink. Currently there is a high chance that subsequent generations will remove assets from community banks in exchange for a larger bank with a more digital and user-friendly experience. Community banks pride themselves on their strength in person services, community presence and customer loyalty. To succeed in the increasingly competitive digital banking era, community banks must develop loyal relationships with not only clients but also third-party vendors. Third-party vendors allow community banks to leverage cutting-edge technology without building out complex IT infrastructure. This allows community banks to benefit from the power to provide a digital experience like a large institution, with a state-of-the-art IT service environment at a fraction of the cost.
Conclusion
Plain vanilla banking services such as loans, checking accounts, and credit cards could remain with community banks but it is vital that these services are augmented with innovative digital solutions to meet customer demand. Alternative and larger competitors will offer them faster, cheaper, and more integrated with existing products. To keep pace in a rapidly evolving market, the operating model of community banks must evolve.
---
A use case
Cost reduction and geographic expansion
Issuing and servicing small and medium loans within a US south-west community bank was reaching a point of unprofitability. Wishing to provide smaller loans in a faster, more mobile and digital manner to local business owners, the bank began exploring possibilities that would help reduce cumbersome manual processes, perform a holistic risk assessment and expand their geographical footprint.
The bank's legacy loan generation software required business owners personally attend loan consultations, complete applications, and closing activities with a loan officer at one of their branches.
Synpulse's major contributions to tackle the challenge!
The bank approchaed Synpulse to support their decision process and we created, modeled and validated a benchmark framework and assessment for loan origination processes. Our benchmark framework establishes costs associated with a bank's current loan generation process and identifies areas of gained efficiency associated with the to-be process.
A digital loan platform promotes efficiency among employees who will service more loans and generate more profit. Additionally, the solution will support a geographic friendly online interface, ultimately reducing or eliminating the need for business owners to visit one of the few brick-and-mortar locations.
The role of Synpulse includes process analysis and coaching for management and employees on the benefits of the new digital loan solution.
---