Setting out into the Digital Future of Insurance
«iptiQ» enables its partners to apply a digital business model to the life protection market. This allows faster time-to-market and a high customer orientation. In this case study we take a look at the advantages of the young, pan-European insurer.
While digitalization is a buzzword in the financial services industry, iptiQ has implemented an innovative digital business model that builds on partnerships and technology, and has the power to place an insurance operation on the market within months. Owned by the Swiss reinsurance company «Swiss Re», the player is a «white label» insurance provider, working with leading consumer brands across Europe to offer term life, whole of life, and critical illness insurance policies, i.e. elementary protection products to be sold directly to the consumer.
A new player offering a digital business model
iptiQ's offering consists of bespoke white-labeled life insurance solutions tailored to the needs of distribution partners and their customers. Hence, iptiQ combines its own expertise with that of its partners to offer suitable products to their customers. What makes iptiQ unique is the flexibility and agility it provides in several areas:
partnering (based on a white-labeling capability)

products

time-to-market
Cooperating with insurers & specialist distributors
When it comes to partnering, iptiQ will work together with insurers and specialist distributors that distinguish themselves through strong brands and a high level of customer engagement:
Insurers might be searching for possibilities to expand into other markets with new protection solutions. iptiQ can provide such partners with life insurance licenses across Europe. This allows the partner to enter a market with significantly reduced risk and capital. It also offers an entire insurance manufacturing solution to underwriters who have not been offering life insurance so far, but would like to complement their product portfolio.

Specialist distributors typically seek to leverage their existing brand and customer relationships, and are offered the ability to sell life insurance products under their brand. This entails a completely branded customer experience with a branded customer journey for buying and managing an insurance policy, tailored tone of voice for client interactions, and customer correspondence designed according to the brand's image.
Optimized products
iptiQ aims to take a customer view to ensure products are clearly understandable and easy to buy for end consumers. Distribution partners are offered products which are designed to be flexible and can be configured according to their own and their customers' needs. All products include extensive rider options that can be tailored as well and increase their flexibility.
Go-to-market within months
In order to optimize the time-to-market, most operational components are «turn-key» ready. This implies that iptiQ's partners can focus on product design, pricing, branding, and distribution and get ready to launch within months.
An innovative digital twin engine
The key to the success of this offering is how distribution partners integrate iptiQ's operating model:
Front-end portal: The modern digital portal provides a fully white-labeled distribution channel – it is branded and tailored according to the needs of distribution partners and end customers. This platform goes beyond a simple buying process: Its objective is to enable deep customer management and sales optimization through personalization, smart analytics, and multivariate testing. Purchasing a policy is supported by automated underwriting based on Swiss Re's world leading underwriting tool «Magnum». This creates a whole new spectrum of products from guaranteed acceptance to fully underwritten, using dynamic underwriting questions. Beyond distribution, the front-end also enables customers to conveniently manage their policies themselves. As a whole, the front-end provides an intuitive customer journey, and achieves a high conversion rate.
Back-end servicing: Contrary to other insurers that have to deal with legacy systems, iptiQ has designed its back-end to offer standardized and highly scalable administration. Run by a third party administrator (TPA), the back-end performs all the largely automated processing required to manage the business. Beyond written correspondence, customer interaction takes place through a service call center that serves customers consistently with the distribution partners' way of handling its customer relationships. Service Level Agreements with the TPA measure the quality of services that are provided to customers, and ensure the high level of customer experience to which iptiQ is committed.
Overall, this twin engine – the combination of front- and backends – creates an end-to-end manufacturing solution that can be plugged into the existing business of a distribution partner, reducing the time-to-market for life products while requiring minimum investment.
Taking «digitalization» a step further
The operational setup which has been achieved allows providing customers with protection that tackles issues life insurance has historically been associated with: complicated products, lack of transparency, and high prices. Beyond this, technology will provide opportunities to improve customer experience even further, as the following avenues show:
Predictive analytics may allow determining at what point of time it makes most sense for customers to buy insurance for themselves and their families.

Personal virtual assistance and robo advice during the buying process may clear up any questions that arise, and make it even easier.

Pricing has to be tailored to match the client's lifestyle.

Peer-to-peer insurance models could further reduce overhead costs, increase transparency, and advise customers on the right protection for their needs.
Our contribution
Synpulse has supported iptiQ over the past three years through all stages of its build-up. We have been involved in establishing the business case, the initial setup of the insurance carriers, the definition of the operating model based on the digital front-end and the capabilities of the TPA, product development and pricing, business analysis and requirements engineering, and ultimately the testing and go-live of the systems that support operations.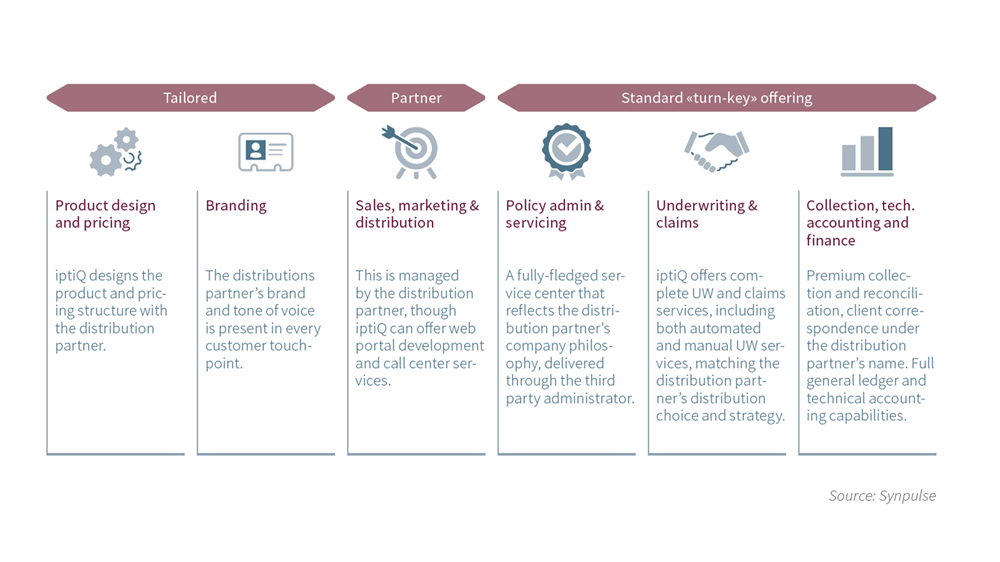 Ingredients for digital innovation
With iptiQ, Synpulse has supported the setup of a digital B2B2C white-labeling platform that focuses on life protection products, and allows distribution partners to offer their products through its digital platform. Beyond that, Synpulse has helped several leading insurers and brokers to establish their «digital business model». By experience, we know that the substance behind the buzzword is characterized by what distinguishes a digital from a more traditional business model:
Customer relationship

: Customers ask for digital interaction channels. They have a growing expectation of a comfortable and seamless integration; therefore, the level of convenience becomes a selling point – especially in mature and competitive industries.

API-based collaborative ecosystems:

Organizations work together to create a service or product (e.g. a broker may interact with multiple insurers to present an overview of policies and associated premiums to their customers). Cost effectiveness requires a high level of automated integration across organizational boundaries, which is achieved through APIs (application programming interfaces). In the example referring to the broker, a set of APIs would be able to list a customer's policies but may also allow extending, canceling, or changing the coverage of a policy. Hence, each organization offers its capabilities to integrate.

Value chain:

Not only distribution, but the entire value chain needs to be based on an operating model that supports speed, automation, and standardization to enable this kind of cooperation.
These ingredients make digital business models a breeding ground for a multitude of FinTech companies. They thrive based on customer-driven product and service design and integrate their value chain with other organizations as part of their core offering. We believe that the innovation we have seen to date is only the beginning.