Reduce your Life Insurance Sales Cycle from Weeks to Minutes
Is your traditional life insurance business ready for a change? A technology based on the concept of Straight Through Processing transforms the way individual termlife insurance policies are underwritten – for those insurers and agents ready to embrace change, new business and significant profits are sure to follow.
From the moment a customer decides to buy individual term life insurance, it can take up to ten weeks to have the policy approved and in hand. In today's fast-paced world where delivery of product is expected within days, this process is less than optimal for the customer and the insurer. While a simplified issue product is faster, it isn't ideal as the customer will pay twice the price for a fraction of the coverage. However, the «Straight Through Processing» method is available, thus paring the process from weeks to minutes. With sophisticated software and real-time third party data using predictive data models, it is possible to offer life insurance that is instantly approved for most applicants. This means immediate coverage of large insured amounts at competitive premiums for most applicants. STP in the USA is available since 2017.
Streamlined approach for new business
Straight Through Processing is the fully-automated initiation and completion of a life insurance transaction. Better known as STP, the goal is to streamline business processes and underwriting to reduce time and effort along the value chain and lower transaction costs. It is data-centric and dependent upon the integration of systems, data standards, and data requirements. As the availability of data multiplies and as predictive underwriting matures, more life insurers will adopt a quicker approach to processing new business applications. Third party data, ID validation tools, and the availability of accurate and cheap predictive mortality models will streamline and transform the industry (fig.  1).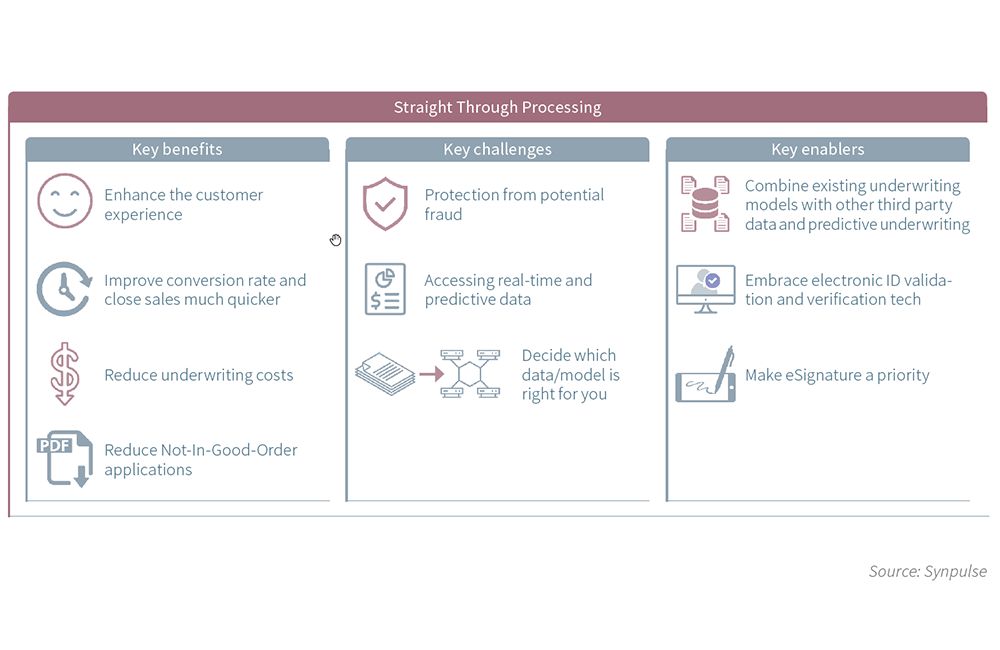 Key Benefits
Happy customers grow word-of-mouth business: The current life insurance application process is slow, intrusive, disjointed, and inconsistent. In the end, this cumbersome operation may still require the completion of paper forms. Additionally, most life insurance purchases rely on agents with different incentives to sell products and riders which customers may not need. STP eliminates these unwanted challenges to the standard term life insurance application process. The carrier reclaims control. The outcome of this is that the customer is satisfied and spreads the word, resulting in more and hassle-free business. Even better news – developing a better online journey and a consistent omni-channel offering is now very achievable.
Making the sale more quickly: A life insurance sales cycle typically takes many weeks and many touch points. Using an STP method allows you to close most of the sale when the customer is most engaged – very early on during the application process.
Skip manual underwriting to drop operating costs: An eventual goal of STP is to significantly reduce or eliminate the need for the manual underwriting process, even in the most complex cases. As more confidence is gained, life insurance companies will move away from time-consuming, labor-intensive tasks, like fluids, medical exams, and other expensive manual underwriting costs. These factors will come into play only with extremely high face amounts and other unique exceptions.
Slash «not-in-good-order» applications: Another key advantage of STP is the marked decrease of not-in-good-order (NIGO) applications. NIGO applications are considerably reduced when all the required information is collected and validated in real-time during the electronic application process.
Key challenges
Potential fraud: The single largest concern with any life insurance policy is fraud. That is true of the traditional process and STP. If a virtual transaction is completed and a binding contract created based on fraudulent input, this would be online fraud, which directly links to the Know Your Customer regulatory requirements (known officially as the Customer Identification Program from the 2001 USA Patriot Act). «LexisNexis», «Experian», «Mitek», «Verifirst», «Jumio», «Alloy», and some other big data players provide real-time integration with tools essential for customer identification. These tools can verify an identity profile with the individual completing the application and conduct Anti-Money Laundering and OFAC reviews. An insurance firm's risk tolerance will play a critical part in determining to what extent these tools are used. Additional fraud prevention tools can dampen any leftover risk.
Accessing third party data: All life insurers use data from third parties to build each case's rate class. One of the changes of the last few years is the speed at which this data can be collected and analyzed. MIB, ExamOne and Milliman for prescription canvassing and most state motor vehicle reports, can be accessed in real-time via API integration. Historical look-back models can also be purchased with the right applicant authorizations. Most essentially, the availability of real-time predictive mortality models by third parties has become a tipping point to achieve STP. Predictive mortality models are not new, but their accuracy, availability, and low cost is. The most widespread model is that of LexisNexis – which is used by Haven Life and Ladder Life in addition to other companies offering STP. LexisNexis «Risk Classifier» product is a proprietary scoring algorithm. It predicts relative mortality risk, aggregates public legal and property records, motor vehicle reports, and credit information. Governed by the Fair Credit Reporting Act, the scoring algorithm outputs a life risk score between 200 and 997, where the higher score suggests a higher relative mortality. The scores are then normalized, producing actionable data. Use your underwriting engine to handle the real- time third party data and predictive data. Flexibility of the engine is paramount. Ensure rules can be added and modified by business users to only identify exceptions and very difficult cases for human intervention. This will enable the reduction of manual underwriting.
Key enablers
Recommendations for the way forward: As data becomes more accessible and cheaper, more life insurers will move to a streamlined underwriting process and offer Straight Through Processing. This will be an iterative process as insurers find the right balance between cases that are processed straight through, versus the need for additional underwriting (whether that is fluids or a tele-interview). With data readily available to insurers (predictive models, telematics, etc.), insurers must be prepared to acquire it and then refine their model. Insurance companies that employ STP will be able to decrease underwriting expenses, and thus reduce premium costs. Additionally, they will be able to meet the needs of changing consumer behaviors, and create a flexible distribution strategy that allows for quick integration with agents and distribution partners, as required. Insurance firms need to get on board with STP or there is a real threat to eventually being priced out of the market.
Overcoming the legacy challenge: Many life insurers that have been in business for decades are tied to their legacy systems. These systems do not allow real-time applications processing nor do they integrate new data easily. This is especially critical in processing new business, where real-time processing and incorporating data from external providers is a key differentiator. An innovative approach is to develop a «service-oriented software» that allows for additionally needed flexibility on the distribution side, while keeping traditional policy and claims administration for the less time-sensitive process. Another option is partnering with another firm, or creating a new division for work that starts from scratch (greenfield).
Understanding that the costs associated with modernizing legacy systems can be very expensive and take too long to implement, new establishments can facilitate an STP approach to compete in the new insurance age. The ideal path to STP is a careful move to service-oriented architecture that fosters flexibility and distribution options.

eSignature: eSignature will reduce the need for many paper documents and allow the transactions to happen in real-time. As this form of conducting business is now mature, many players with varying offerings can probably meet the security and legal requirements. Start by looking at the larger players to ease your internal stakeholders. These include «DocuSign», «Kofax», «Adobe», and «HelloSign».