Hybrid Customer Behavior- A Challenge for Silo Organizations
Customers today can no longer be expected to behave in a certain way, which also makes it impossible to assign them to a specific sales channel. Even the most internet-savvy customers will, at some time or other, have a question they would like a qualified advisor to answer in person. Insurers therefore face some organizational challenges that can only be met with new solutions.
Direct insurers first began establishing themselves on the market in the last decade. With them established insurers were concerned that customers could go to highly qualified and therefore expensive insurance agents for personal advice, only to take out their insurance policies online. In fact, what we are actually seeing is a trend in the opposite direction, towards the so-called ROPO (research online, purchase offline) effect: customers go online for information but conclude their policies with an agent/advisor.
From these observations we can draw the following conclusions:
Customers who only interact through one channel, for example solely with their agent, are in a clear minority and their number continues to decline.

Insurers who only measure where customers conclude their policies miss the dramatic changes that have taken place in customer behavior in terms of gathering information and accessing advice.

Customer behavior is difficult to predict. The present ROPO effect could also simply be a temporary phenomenon based on a lack of sufficiently good online completion options. That is why it is important to constantly monitor and measure customer behavior. This flexibility needs to be reflected organizationally.
Hybrid customer requirements demand integrated, seamless customer journeys
«Hybrid» customers have an entirely new view of insurance products. They not only see the core product, the coverage concept and the premium, they can also follow how products are presented across several different channels and how advisory, completion and service processes are integrated. Customers who gather information on the website and then compare prices through a portal (aggregator) expect a call to the Service Center or talk with an agent to pick up seamlessly on the preceding process. For that to happen, all points of contact need to have the details provided by customers so far. What is more, products and prices offered through different routes must be identical, or any intentional differentiation by the insurer must be explained clearly. Customers expect this seamless integration as much when switching between routes (agent, direct, aggregator) as between media (telephone, face- to-face, portal, email, messenger).   Fig. 1 shows the ensuing complexity.
This creates some entirely new demands for the insurer's offer, in the sense of an extended product concept, and for channel management.
Fig. 1 similarly shows that under these new conditions, organizational adjustments also need to be made. The offer of information, advisory services and product lines must be coordinated across all customer routes. An organizational structure that has silo-style access routes, often also called channels, cannot adequately support an integrated approach. Information, advisory concept, product and price structure are the elements that customers are aware of, and they choose which routes they take. That, at least, is the theory; in reality, it only applies in part. Depending on what form the customer journey takes, customers are influenced in their choices. Where they look for any advice they may still need depends on whether the Service Center number or a selection of insurance advisors' photos and contact details appears at the end of the online application process.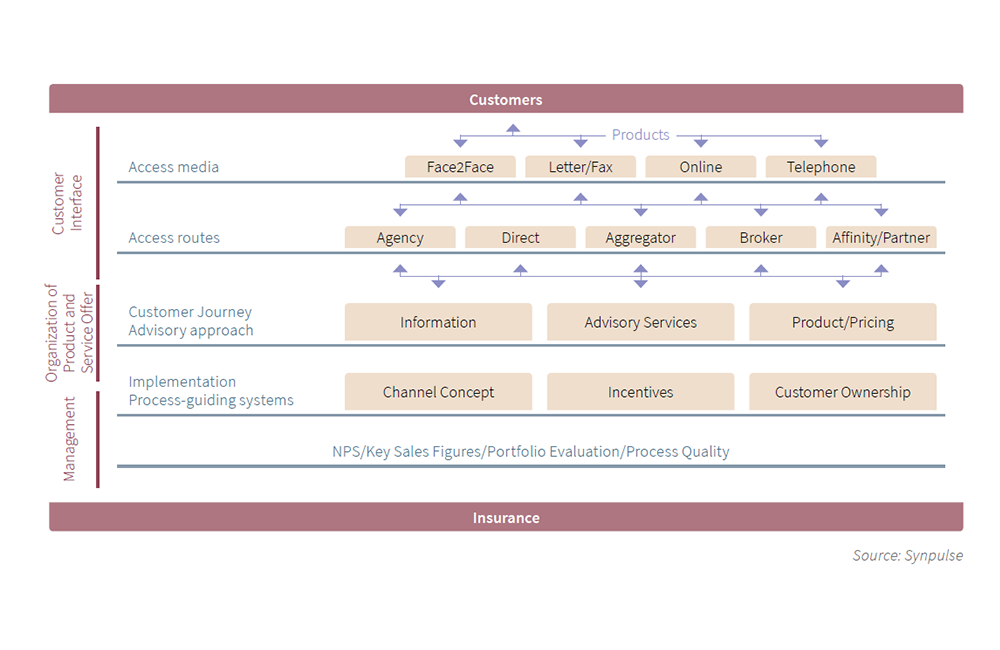 The customer journey is also guided, to some extent unconsciously, by sales incentives. For instance, if a budget product line is being sold through the agency channel without commission, the customer journey will automatically be swayed towards upselling.
If we accept that customers are switching their routes to information, advice and sales increasingly frequently, this means that traditional types of sales commission which only reward the points of sale, no longer have the desired effect. The future here lies in «attribution modeling», with incentive models that are based on the customer journey. Here, every contribution to a customer success is acknowledged accordingly. The full available commission is distributed as a percentage between the different customer access points. Unlike static «attribution modeling», in dynamic models the value of the contributions from the individual contact points is regularly adjusted according to detailed statistical analyses. In some individual models, distribution of these contributions is even adjusted per sale.
An organizational structure in which «sales channels», Service Center and back office are not controlled jointly in some way makes a tightly-knit customer journey virtually impossible. Attribution modeling that ensures that customer satisfaction and sales production are optimized then becomes unthinkable. In the new hybrid world, traditional models of customer ownership are entirely irrelevant. Even contract ownership will fail to deliver a seamless customer journey.
Experience in life insurance has shown, however, that spreading responsibility homogenously holds just as little promise of success. At least some customer interactions, whether they are «inbound», such as a purchase interest or policy adjustments related to a move, or «outbound», like policy renewals or divestments, must have an owner to see interactions through to completion in the customers' interests, or in the case of divestments in those of the insurer. This ownership should be assigned according to the probability of success, economic factors and customer characteristics, however, and not according to where the customer concluded the contract years ago.
If customers belong to nobody and their journeys are constantly changing, that must be reflected in the operational and structural organization. It is fair to say that hybrid customers and seamlessly integrated access routes are creating entirely new challenges where information and advisory services, product concepts and pricing are concerned. These elements are perceived by customers and heavily influenced by the internal organization of an insurer's offer, by the channel concept, incentives and by customer ownership. A conventional silo organizational structure makes it difficult, if not impossible, to develop and implement good concepts.
A potential solution: Customer-centric organization
If we now assume that an integrated and seamless customer experience takes top priority in a hybrid world, there are good arguments for structuring an organization by customer groups. The following is a proposed outline of this kind of organization. Here it makes sense for private customers, commercial/SME and corporates to be the first structural criterion for this type of organization, including at senior management level. This way, a single entity is responsible for a private customer's entire customer journey, through several routes and across several product areas. On the next organizational level, responsibility for customer processes, products and access routes must be allocated and those responsible for the different areas assigned. The area of customer processes would cover information, advice, underwriting, service and claims; product responsibility would extend across all offers to private customers, ideally life and non-life insurance; and customer routes would include all points of contact with private customers.
Naturally, this kind of organization creates new cross-functional roles in the form of a matrix. For example, in the area of commercial/SME, the same channels are operated. There are also areas of overlap among customer groups, for example where the owner of a business is also a private customer. It is clear that the type of organization outlined here meets the requirements of hybrid customers well, but it also brings with it some new challenges.
In conclusion, it is fair to say that any type of organizational structure is always a compromise between the dimensions illustrated in  fig. 2. Depending on which is the first structural criterion, the other two dimensions must be added to some ex- tent in matrix form. As this article has argued, however, in today's hybrid world, with its multichannel/omnichannel solutions, there is a need for organizational adjustments up to senior management level.