How to Survive the Perfect Storm: A Perspective from an Ailing Private Bank in Asia
Asia's competitive and challenging financial industry is undergoing unprecedented change. Margins and returns on equity are shrinking. Factors behind these shifts include margin compression, increasing regulatory and compliance costs, and declining cost efficiencies. In order to survive and succeed, senior management is required to re-define their operating models.
---
In Singapore and Hong Kong, more than 50% of operating private banks are small foreign onshore private banks (AUM < US$15 billion)1. Fundamentally, the banks have three main options to avert costs, target economies of scale and achieve growth:
Specialize (Core Business Focus) and restructure/ standardize the Operating Model (includes innovative models of cost sharing through community building)

Pursue Business Process Outsourcing (BPO) via industrialized third parties

Extend footprint by acquiring additional assets and front office (as opposed to an exit strategy)
In this article we will take a closer look at some of the opportunities and challenges a typical foreign onshore bank would face if they opted for pursuing BPO. In order to lay out the fundamental problems and draw up solution options, an illustrative example, Asia Private Bank2, is used to represent a typical small foreign onshore private bank operating in Asia (fig. 1)

Is Asia Private Bank's operating model competitive enough?
Over the past 3 years, Asia Private Bank has seen profits stagnate although business is growing. This can be attributed to the following factors:
Decreasing profit margins due to increase in operational overhead as a result of regulations

High cost to innovate and long period to realize benefit

Inability to achieve economies of scale
Like other private banks in the market, Asia Private Bank's profit margin is eroded by regulatory pressures. Synpulse estimates that going forward, banks are expected to spend an incremental amount on regulatory changes such as CRS (AEoI), transparency rules around OTC trade reporting5, and investment suitability, to name a few.
At the same time Know Your Client (KYC) documentation standards and regulatory scrutiny are increasing, imposing additional controls and KYC remediation programs. Furthermore, Asia Private Bank needs to shoulder risk management challenges such as fraud and cyber-crime.
Asia Private Bank's clients are demanding and expect the bank to be innovative in its service offering. In order to remain on par, let alone stay ahead of the competition, a minimum of online services needs to be developed. This requires the bank to invest into end-to-end digitization, requiring big upfront investments of several million dollars6.
How Industrialization can help Asia Private Bank to get in shape
Asia Private Bank's margins have been declining over the past 3 years. The current operating model is unsustainable in the long run. This is because cost per transaction and CIR are expected to go up due to the increase in unit labour costs, process inefficiencies and pressure on margins. In this environment, economies of scale are crucial and will allow banks to relieve the pressure on margins with reduced cost per transaction. Fig. 2 indicates how Asia Private Bank's costs will rise if no concrete action is taken.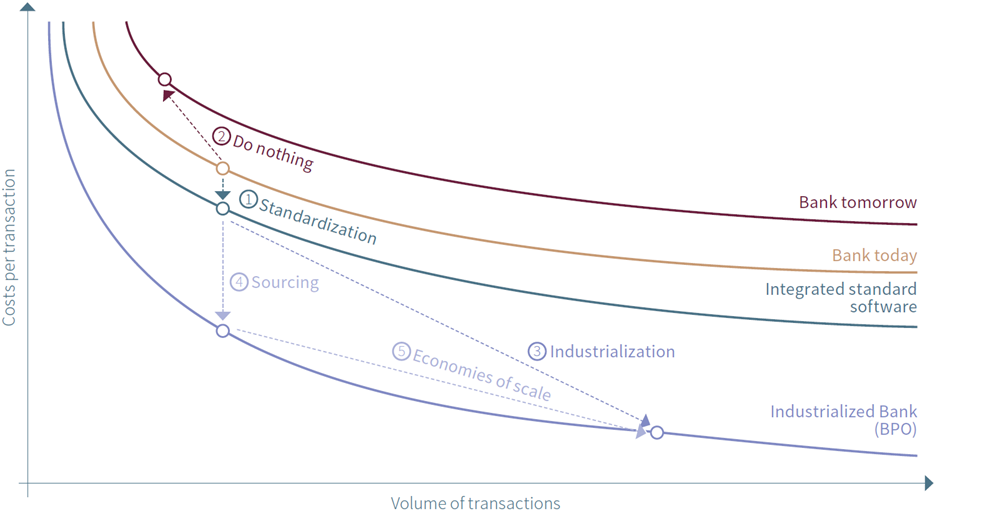 To reduce cost, achieve economies of scale and improve growth, Asia Private Bank needs to industrialize. Industrialization allows banks to free up resources from non-differentiating (back office) activities and focus on where the attention is needed; to build up a sustainable business pipeline and manage and groom front office staff.
Industrialization can be explored internally by leveraging synergies through convergence of processes and IT platform. This can be done horizontally, across business divisions, and/or vertically, across booking centers. If internal synergies are not existing or not adequate, a BPO (Business Process Outsourcing) via highly industrialized third parties (BPO platform providers) can be pursued. On a high level, BPO will enable access to state-of-the art innovations and access to the BPO community, which facilitates the possibility of cost sharing. In addition, the provider will pass some benefits of economies of scale they receive from the BPO community back to the bank.
Based on the emergence of BPO offerings in the market, we will take a closer look at industrialization via BPO as an option for Asia Private Bank.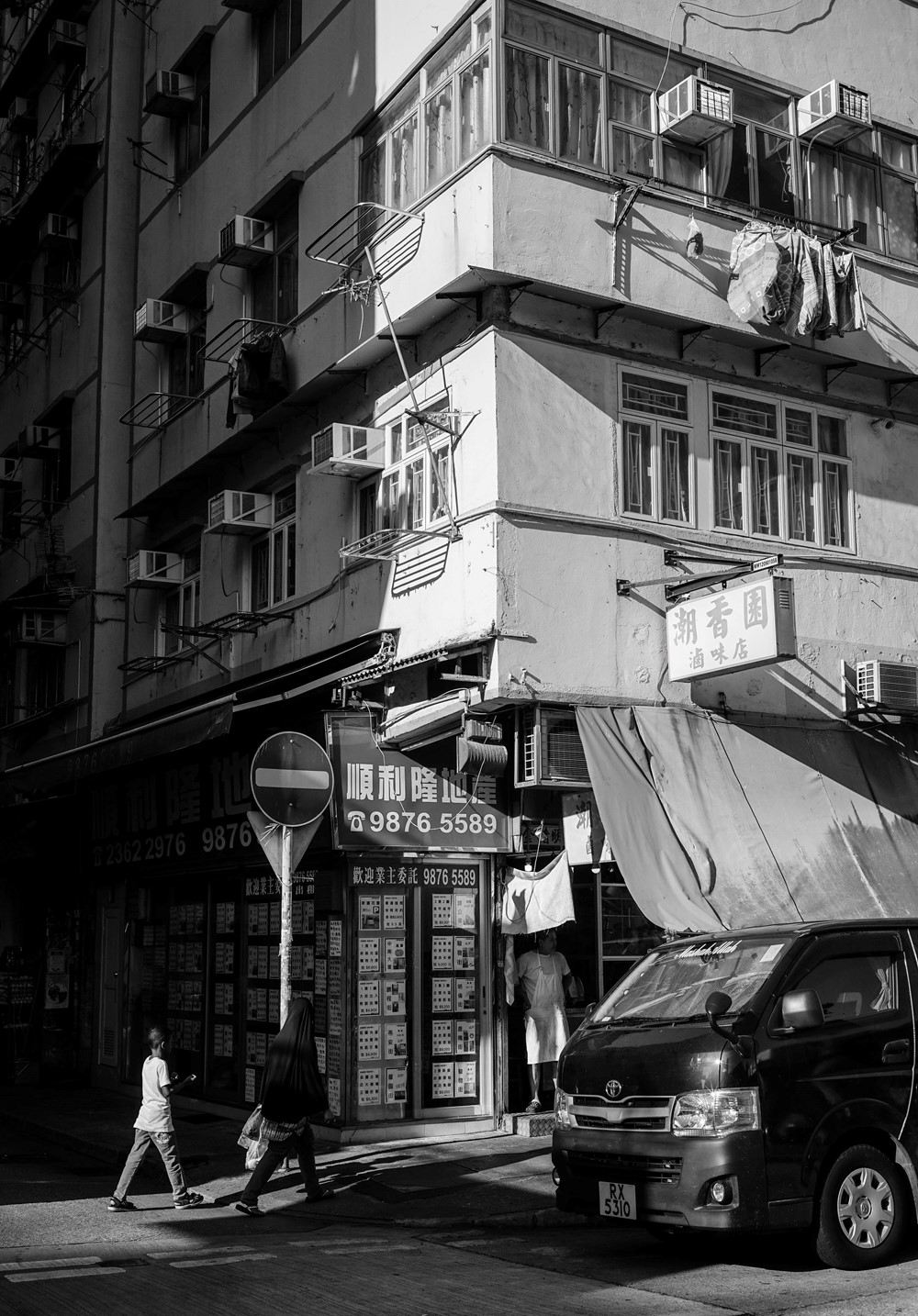 Can industrialization turn Asia Private Bank's CIR of 80% into ~ 50%?
In general, a well-tailored BPO solution will enable Asia Private Bank to:
Reduce overall cost and achieve a scalable business model

Avoid CTB and regulatory cost

Reduce and avoid RTB cost Gain access to innovation and cost sharing

Increase revenue potential
BPO relieves Asia Private Bank from most of the regulatory cost pressures as operational regulatory changes will be handled by the BPO provider. Access to the BPO community also means that Asia Private Bank will be able to share implementation costs of new changes and new market trends with the community. Synpulse experience shows that similar banks to Asia Private Bank have cut CTB cost down by USD 3-5 million every year. As a bank which is still trying to catch up with market innovations, BPO can grant access to the latest technology without the need of putting a huge upfront investment. This also means that Asia Private Bank does not need to engage in innovation at high risk and cost that may not pay off in the future.
In an industrialized private bank, all non-differentiating functions such as operations and IT will be taken up by the service provider. Some middle and front office processes can also be outsourced and/or automated. From process and associated functions outsourcing as well as decommissioning of systems and infrastructure, Asia Private Bank will be able to reduce their operations and IT headcount by more than 70%, which will result in RTB cost savings of USD 9-11 million every year. From all these benefits, BPO can bring a total cost saving of more than 25% of total operational cost for Asia Private Bank.
Through BPO, administrative tasks previously performed by RMs, such as reporting (7.4% of total RM time) and paperwork (17.9% of total RM time), will be automated and/or outsourced. Our analysis8 shows that time spent on client facing activities are expected to increase (37% to 60% of total RM time) as RMs can re-allocate their time for activities such as client interactions and client acquisitions. This results in a better and more active advisory experience, increasing both the revenue/RM and AUM/RM by 10% – 20%9 and 5% – 15%10, respectively. This means a potential revenue increase of USD13.6 million every year. In addition, scalable technology and additional products out of the box will also be available, increasing speed to market and revenue potential.
Overall, industrialization via a well-tailored BPO solution can help Asia Private Bank to reduce and avoid cost, increase potential revenue, and enable access to innovation and community cost sharing. Properly implemented, these benefits can translate into ~30% reduction in CIR.
Asia Private Bank — The new benchmark for small players
As the business case in fig. 3 illustrates, BPO can help bring about a promising return on investment. After a successful transformation project, Asia Private Bank is expected to have total net benefits of USD186 million (revenue increase USD130 million + cost savings USD 56 million) over a 10 year period, which would completely turn its profitability equation.
Overall, industrialization via a well-tailored BPO solution can help Asia Private Bank to reduce and avoid cost, increase potential revenue, and enable access to innovation and community cost sharing. Properly implemented, these benefits can translate into ~30% reduction in CIR.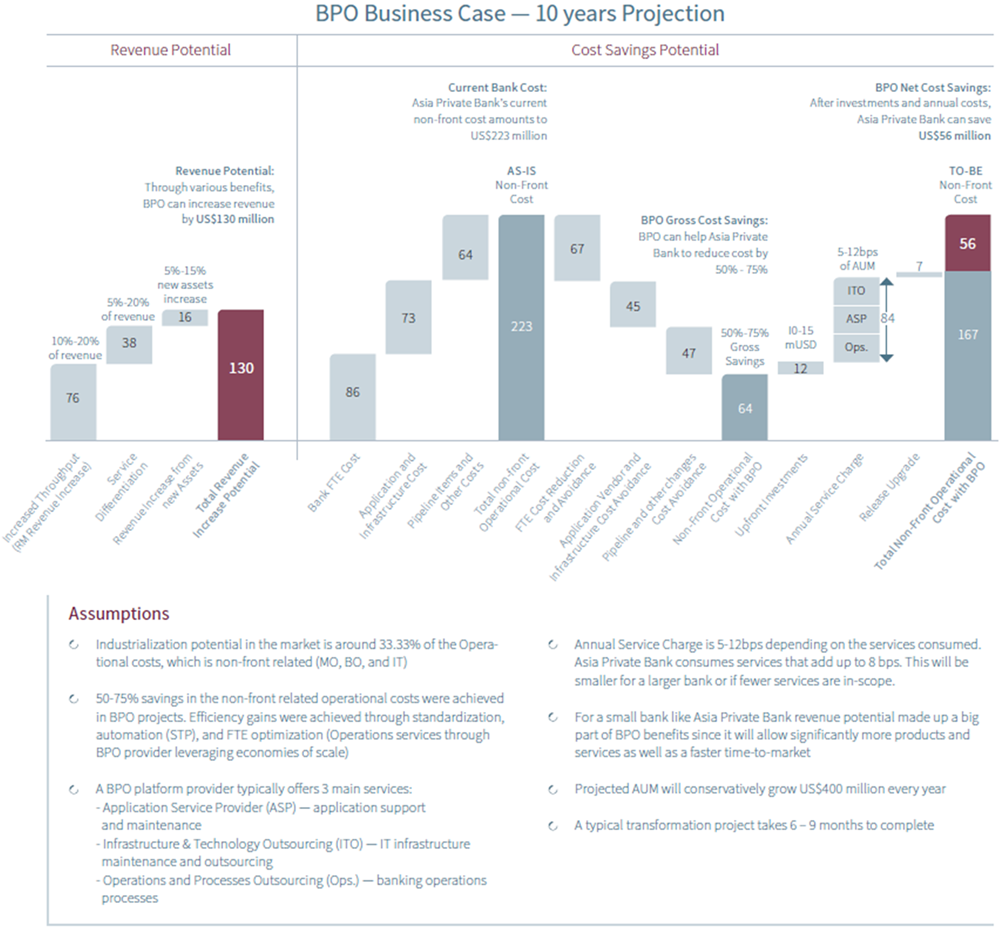 «In Asia, there are many private banks like Asia Private Bank, which are struggling to survive. Due to pressure from regulators and the need for innovation and client differentiation, they need to find a way out of the cost trap. It is difficult to sustain the business in the long run with an antiquated operating model. Pressure to change in operations and technological capabilities means that merely continuing with reliable performance is no longer enough. A number of banks look for opportunities to consolidate in the hope of increasing revenue and improving cost synergies. Those who want to »follow the footsteps» of Asia Private Bank can industrialize internally or leverage on BPO, which is a valuable option to drive down cost, refocus the business on clients and front office, and grow the bank at the same time.
This article was jointly written by the Synpulse Singapore and Synpulse Hong Kong teams. The authors from Singapore are Yves Roesti, Partner & Managing Director, Jerreme Yeo, Consultant, and Adrian Prayoga, Associate Consultant. The authors from Hong Kong are Salomon Wettstein, Associate Partner & Managing Director, and Winnie Lau, Associate Consultant.