Customer Insights
Today's client relationships in reinsurance can benefit from better insights into the client's business and circumstances. A thoughtful process of providing valuable client information   by the underwriter as well as generating additional insights based on an analytical approach and data consumption will change the way underwriters and the entire cross-functional   team will prepare for touch points with the client. The technical backbone of this process relies on the traditional Customer Relationship Management system interacting with trending Data Analytics tools.
The reinsurance market is currently experiencing a number of headwinds. Low interest rates not only depress investment returns, but also bring large amounts of return-seeking alternative capital into the market. A soft market means premiums must be reduced to remain competitive, leading to internal cost cutting and restructuring in an attempt to pro-vide comparable service at a lower cost, measures which do not go unobserved by customers. However, a singular focus on lower price need not be the only answer to today's multifaceted challenges.
Consider the following scenario, the logical result of the Customer Journey diagram that accompanies this article: «Hi, great to speak with you again. After further examining your risk profile, it appears you have a significant coverage gap regarding the marine and cargo policies written for your East African customers. Our experience with multiple insurers has shown that you could consider further piracy coverage to fill this gap. I would even suggest speaking to Mr. Jones about this, as I see that he was recently appointed as your company's Chief Underwriting Officer and he is an expert on the topic.»
Isn't it nice when a business leaves you feeling that you as a customer are more valuable than simply the cash you handover? This situation, despite being fictitious, is a great example of how a clever reinsurer leverages customer data into insights and uses these to make a higher level value offering to the client. In this example, we are cultivating a meaningful client relationship using a positive strategy that engages the client emotionally. By using data to add an extra layer of care and expertise to the interaction, we can encourage the reinsurer can strike up a partnership with clients. This allows a reprioritization of a client's values, putting quality service and business relationships ahead of just costs. Let's break this example down, looking at where this business's offer lands on the value pyramid, how data was used to generate insights without significant cost, and what this means for the reinsurance industry.
The value pyramid in business is not like Maslow's hierarchy of needs — as you ascend, needs or values added become less fundamental, but far more satisfactory. A business can survive by providing customers only functional services like simplification of a daily task or cost and effort reduction. However, to truly engage and create lasting relationships beyond the transaction, one must seek to reward or motivate the customer, create something fun or anxiety-reducing, or simply provide a uniquely attractive product. This type of added value constitutes the emotional, life changing, or social customer impacts at the top three quarters of the pyramid. In the above example, the underwriter was able use the hard expertise of risk profile analysis and the soft expertise of latest news in the client organization to provide a product offer supplemented by an emotional component. By moving up the value pyramid, our reinsurer has created a feeling of trust among the client that their best interests, and not simply the reinsurer's bottom line, are foremost in mind.
One of the most crucial points of the example is how the insight was generated – existing customer data. In the end, all the added value took was an investigation of data that the client already provided and a mechanism to seamlessly deliver this information to the underwriter. This interplay can   be seen between the underwriter and a sophisticated underwriting cockpit in the accompanying diagram ( fig 1).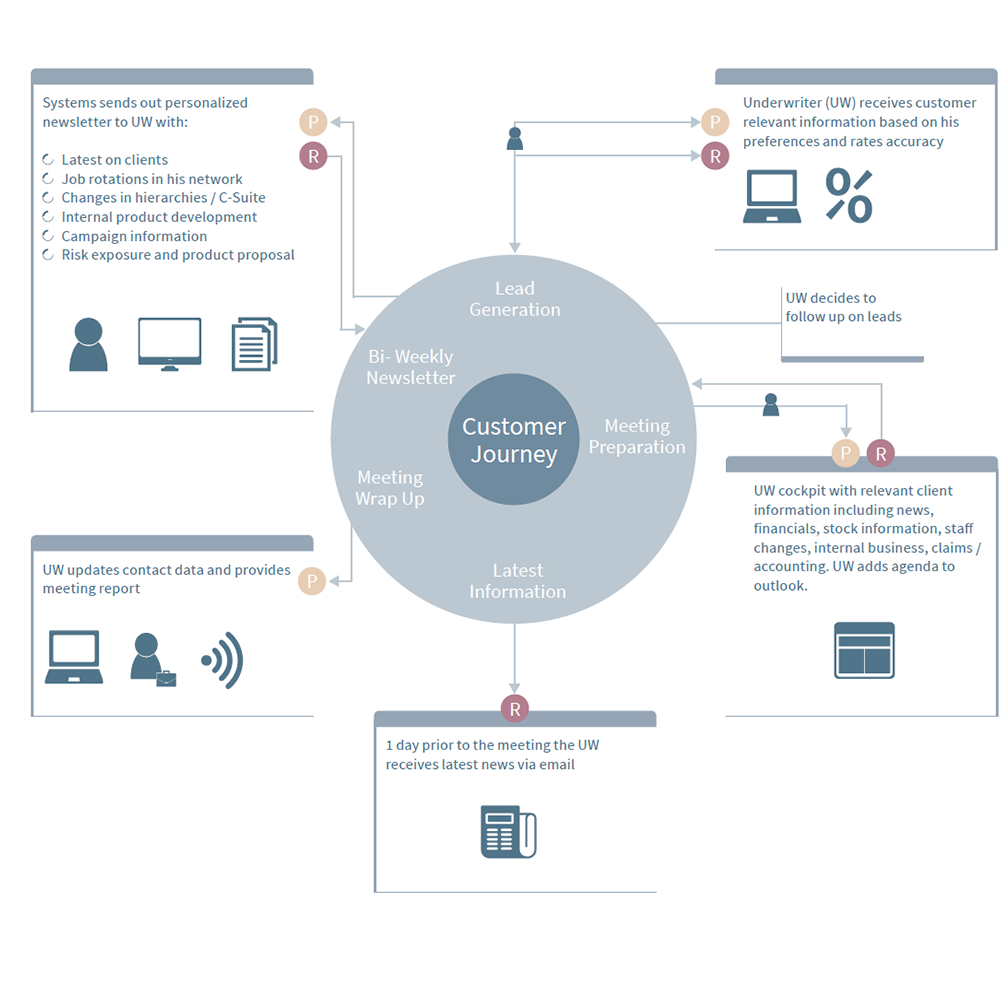 Additionally, the extraordinary wealth of information that reinsurers have regarding who they are insuring or what they are insuring for means this type of insight generation is well suited to the industry. New big data analytics software, like MondoBrain, Squirro and others, can provide relatively cost effective solutions for a host of enhanced offerings. These may include developing new products that are more suitable to client needs before they request them and enhancing first-line support with highly relevant customer data in order to expedite expert advice. When information from the back office is combined with information gathered by the underwriter in the sales lead process, opportunities with leveraging data into customer insights abound. Reinsurance clients will take notice when their needs are predicted by their reinsurance partners and cared for with a more nuanced approach.
Instead of simply looking to relieve price pressure by cutting costs, we should look to innovate, and encourage reinsurers to create relationships with customers through the power of data. When underwriters combine data gathered through the  customer  journey  with  analytics  of  existing  customer data, they can predict client needs more accurately. As a result, clients see their reinsurer as a partner rather than just a provider and a reinsurer can stand out in a largely homogenous industry. This translates to trust: they will be more inclined to keep doing business with the reinsurer and seek them out first when in need of reinsurance products and services.